Dylann Roof, the alleged mass shooter who killed nine people at a historic black church in Charleston, South Carolina, should not have been able to buy the firearm used in the attack, FBI Director James Comey said on Friday.
In comments made during a meeting at FBI headquarters, and first reported by the Washington Post, Comey said failures in the federal background check system may have allowed Roof to acquire the weapon used in the mass shooting last month.
According to the FBI, Roof's name should have been entered into the bureau's National Instant Criminal Background Check System after an arrest in April in which he admitted possessing illegal drugs.
Comey said the FBI background check examiner missed Roof's arrest when she evaluated his request to purchase a gun because the wrong police agency was listed, the Associated Press reported.
Comey said the examiner knew a drug-related arrest took place because it was listed on Roof's background check, but she was unable to reach the proper authorities and obtain the police report during the three-day waiting period and Roof's transaction went through on April 16.
"We are all sick this happened," said Comey, who ordered a 30-day review to investigate what went wrong. "We wish we could turn back time."
On Monday, Lexington County Sheriff Jay Koon told the Associated Press that the wrong information was corrected two days after Roof's Feb. 28 arrest, but that correction wasn't sent to the State Law Enforcement Division, which maintains the records that are checked by the FBI.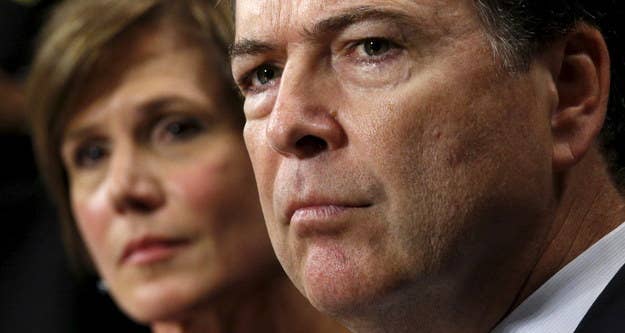 The National Criminal Instant Background Check System (NICS) was mandated by the Brady Act, which took effect in 1998. NICS allows gun sellers to call law enforcement and instantly review a purchaser's criminal record before selling them a firearm.
According to the Brady Center to Prevent Gun Violence — a nonprofit that advocates for programs to reduce gun violence — the Brady Act has prevented the sale of 2.4 million firearms to convicted felons, people with mental illnesses, and domestic abusers since it took effect.
"This is a tragic example where one fell through the cracks," Dan Gross, president of the center, told BuzzFeed News.
Gross, whose nonprofit has been at the forefront of lobbying efforts to expand the federal background check system, expressed concerns that the pro-gun lobby would use the Roof failure to argue that the NICS system is not working and therefore should not be expanded to include background checks for online purchases and gun shows between private parties on the secondary market.
He acknowledged, however, that the NICS system does need to be improved.
"There are a number of states that have been less than stellar at getting those names into that system," Gross said.
John Feinblatt, president of Everytown for Gun Safety, pointed to the three-day waiting period provision of the background check law as a "deadly flaw in the system."
"Our current background check system allows a clock to run out: When three days have passed, even if a background check isn't complete, a dealer is allowed to make the sale, meaning dangerous people are able to get their hands on guns," Feinblatt said.

Sen. Patrick Leahy of Vermont called for the Senate's Judiciary Committee to hold hearings on Roof's failed background check.

"It is heartbreaking to learn the tragedy that struck the members and families of Mother Emanuel Church and shook the entire nation possibly could have been prevented," Leahy said.
He added: "We simply cannot have such failures in our background check system, and peoples' lives are at stake. Clearly, more oversight is needed. I expect the Senate Judiciary Committee will be looking further into this matter so we can make sure such a tragic mistake is never repeated."
Roof has been charged with nine counts of murder for the killings at Emmanuel African Methodist Episcopal Church and could face the death penalty if convicted. The Department of Justice is also determining whether to charge him with a federal hate crime.