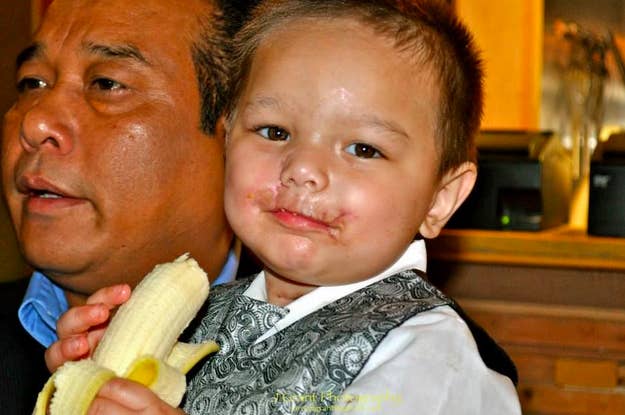 The family of a toddler who was maimed by a grenade during a botched drug raid has settled with officials in Habersham County, Georgia, for nearly $1 million.
On May 28, 2014, SWAT police descended on the Phonesavanh family's home in the town of Cornelia, Georgia. The officers were searching for a drug dealer they believed lived at the house and had obtained a "no-knock warrant" to seize the residence. When they busted down the door, an officer hurled a flash-bang grenade that exploded in 19-month-old Bou Bou Phonesavanh's crib.
Bou Bou's nose and nipple were blown off, and he suffered severe burns on his chest and face.

On the night of the raid, police were attempting to arrest Wanis Thonetheva, the nephew of Bou Bou's father, on drug charges. Thonetheva was apprehended a few hours later at a house down the street without incident — the officers just knocked on the door. When Thonetheva answered, he was taken into custody without a struggle.
Bou Bou spent more than a month in a Georgia hospital fighting for his life. The Phonesavanh family, meanwhile, were left with more than $1 million in medical expenses.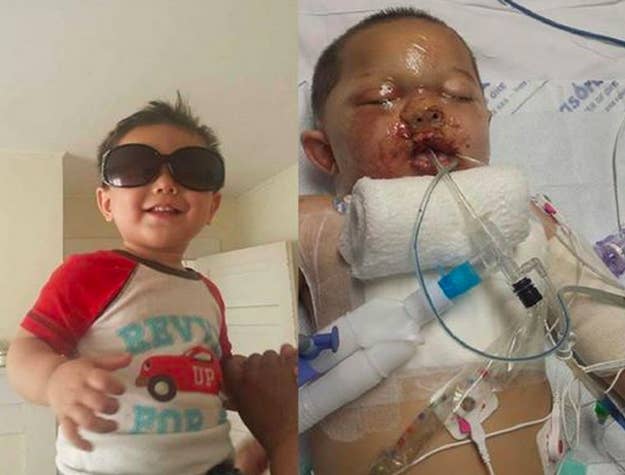 Earlier this year, the Phonesavanh family filed a civil lawsuit against Habersham County, claiming their state and federal civil rights were violated during the raid. This week, the county commissioner's office announced that the family would be paid a $964,000 settlement for the pain and suffering it suffered from the botched raid.
"Over the last few months, the Board of County Commissioners has sought a way to bring some measure of closure to this matter while doing what is right, both for the Phonesavanh family and the law enforcement officers involved," a spokesperson for the county commissioners said in a statement. "While it is not a perfect solution, it is one that is as fair as possible under the circumstances."
BuzzFeed News obtained a copy of the settlement, which details how the money will be distributed:
• $538,000 to Bou Bou's parents, Alecia and Bounkham Phonesavanh, for his medical expenses.

• $200,000 will be set aside "for future periodic payments of damages," which will be paid to Bou Bou after he reaches 18.

• $137,000 to Bou Bou's father for his personal injuries.

• $62,000 to Bou Bou's mother for suffering and emotional distress as a result of witnessing the baby's maiming.

• $9,000 to each of Bou Bou's three siblings, Emma, Malee, and Bounly.
County attorney Donnie Hunt told BuzzFeed News that the settlement is only a partial agreement.
According to the document, the deal does not preclude any additional litigation that the family pursues. For example, the family is still seeking federal charges against some of the specific officers responsible for the raid.
Mawuli Davis, an attorney for the family, declined to discuss the settlement.

"Unfortunately, because the case is still being litigated, we have to decline any comment at this time," Davis told BuzzFeed News.
A grand jury eventually cleared the officers involved in the botched raid of any wrongdoing, although a federal investigation by the office of acting U.S. Attorney John Horn remains ongoing.
Habersham County Sheriff's Deputy Nikki Autry, the officer who was responsible for obtaining the no-knock warrant, resigned after it was determined that the information she wrote in the affidavit was false. Autry had claimed that there were armed guards at Bou Bou's residence, weapons inside the home, and that there were no children inside — claims that proved to be wrong.
Bou Bou's mother, Alecia Phonesavanh, spoke with BuzzFeed News earlier this year just before her son's 10th surgery, describing how surgeons were trying to "scrape away the gunpowder."
"There's just so much [gunpowder] in his face and his arms and his chest that they can't do it all at once," she said.
Alecia told BuzzFeed News that her son will face one surgery about every two years through his teenage years to help his skin grow normally.
"His nerve endings are dead around his mouth and chest, so they will not be able to properly develop as they are supposed to, so they will have to go in and do stretching and grafts," she said.