Facebook Says It's In Talks To Prevent Illegal Gun Sales On The Site
Facebook confirms that it is in talks with gun control advocates regarding its content policies with guns.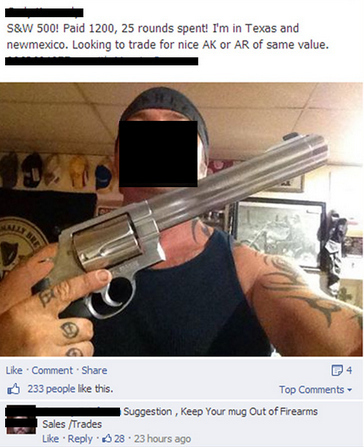 Facebook is in talks with the gun control group Moms Demand Action for Gun Sense in America, which is aiming to stop illegal gun sales and trades to minors and convicted felons on the social network, a Facebook spokesperson confirmed to BuzzFeed.
"We recently began conversations with Facebook about what they can do to end the easy access to guns on its platform — because until they do, they are taking the risk that they are facilitating the illegal sale of guns on their social network," said Shannon Watts, founder of Moms Demand Action.
Facebook said it is starting the conversation with the gun control group and others regarding Facebook's content policies.
The development comes on the heels of recent gun arrests tied to illegal sales facilitated through Facebook.
An Ohio man was recently indicted on charges of illegally selling a gun across state lines to a 15-year-old Kentucky high school student he reportedly connected with via Facebook. The minor was apprehended at a high school football game with the 9 mm handgun by local police.
A convicted felon in Storm Lake, Iowa, was recently busted after he illegally acquired guns via Facebook from an undercover cop conducting a sting operation.
In a recent statement, Facebook said that nobody is technically selling guns — legally or otherwise — through the platform since there is no e-commerce engine to conduct a transaction.