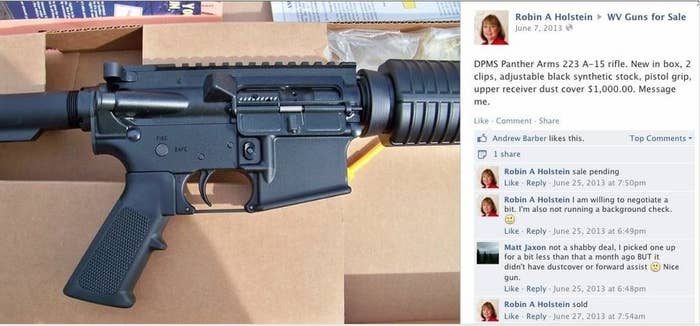 For years, Facebook has policed the posting of drugs, alcohol, tobacco, and porn on its platform. On Wednesday, the site officially added guns and ammo to the list of adult items it will more closely monitor on Facebook and Instagram.
Facebook will roll out enforcement measures such as age-gating and the "unpublishing" of gun enthusiast pages that do not comply with new rules for firearms it's adding to community standards.
"While we've recently heard specific concerns from people about offers for the private sales of firearms, this is one of many areas where we face a difficult challenge balancing individuals' desire to express themselves on our services, and recognizing that this speech may have consequences elsewhere," Facebook said Wednesday.
The new measures include:

• Any time we receive a report on Facebook about a post promoting the private sale of a commonly regulated item, we will send a message to that person reminding him or her to comply with relevant laws and regulations. We will also limit access to that post to people over the age of 18.

• We will require Pages that are primarily used by people to promote the private sale of commonly regulated goods or services to include language that clearly reminds people of the importance of understanding and complying with relevant laws and regulations, and limit access to people over the age of 18 or older if required by applicable law.

• We will provide special in-app education on Instagram for those who search for sales or promotions of firearms.

• We will not permit people to post offers to sell regulated items that indicate a willingness to evade or help others evade the law. For example, private sellers of firearms in the U.S. will not be permitted to specify "no background check required," nor can they offer to transact across state lines without a licensed firearms dealer.
As recently reported by BuzzFeed, many licensed gun dealers and private individuals use large Facebook pages to advertise firearms they're looking to sell or trade.
The Bureau of Alcohol, Tobacco, Firearms and Explosives confirmed for BuzzFeed that any sale inspired by a Facebook post is legal as long as the buyer and seller comply with federal law by not selling guns across state lines in places where it's illegal and a formal background check takes place.
Despite the vibrant commercial culture of some of these pages — with fan totals numbering in the hundreds of thousands — Facebook maintains the position that no actual selling is taking place on the site because it does not have an e-commerce engine to support such deals that come together in the comments.
The formal decision to tighten up its policy on guns comes just 10 days after Facebook announced it was in talks with gun control groups that voiced their concerns in the wake of several juvenile gun cases involving Facebook.
Last month, an Ohio man was indicted on charges of illegally selling a gun across state lines to a 15-year-old Kentucky high school student he reportedly connected with via Facebook. The same week, a convicted felon in Storm Lake, Iowa, was busted after he illegally acquired guns via Facebook from an undercover cop conducting a sting operation.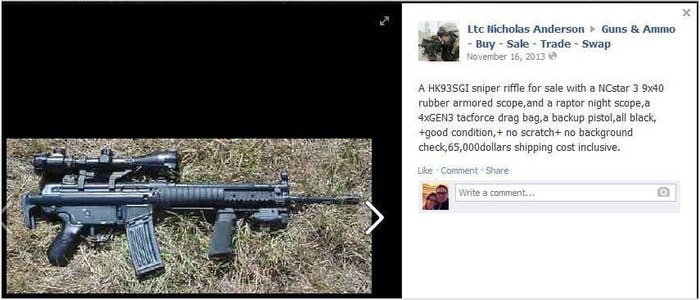 The pressure on Facebook to examine gun sales facilitated on the site started in November of last year, when New York Attorney General Eric Schneiderman sent a memo to Facebook that included illegal gun posts the A.G.'s staff had identified.
"I applaud Facebook and Instagram for taking the lead in helping avoid illegal gun sales on these increasingly ubiquitous platforms," said Attorney General Schneiderman. "Responsible social media sites know that it is in no one's interest for their sites to become the 21st century black market in dangerous and illegal goods that place our families and communities at risk. I congratulate Facebook and Instagram for taking these simple, common sense steps to protect the safety and security of their users, and encourage other social media sites to follow their lead."
Schneiderman, Facebook, law enforcement, and prominent gun control groups Americans for Responsible Solutions, Sandy Hook Promise, Mayors Against Illegal Guns, and Moms Demand Action have been working behind the scenes for the past several months to identify enforcement measures that crack down on illegal behavior while still preserving the openness of the platform.
To that end, rather than sweep the site for illegal activity, Facebook will rely on the community to report sketchy gun posts on Facebook pages, in status updates or on Instagram before asserting the new rules. (Gun control group Moms Demand Action told BuzzFeed it will be "on the case" flagging and reporting illegal gun posts.) Prior to Wednesday's announcement, Facebook pre-identified a number of firearm promotion pages that it will require to sign off on its new policies before they can continue publishing, a spokesperson told BuzzFeed.