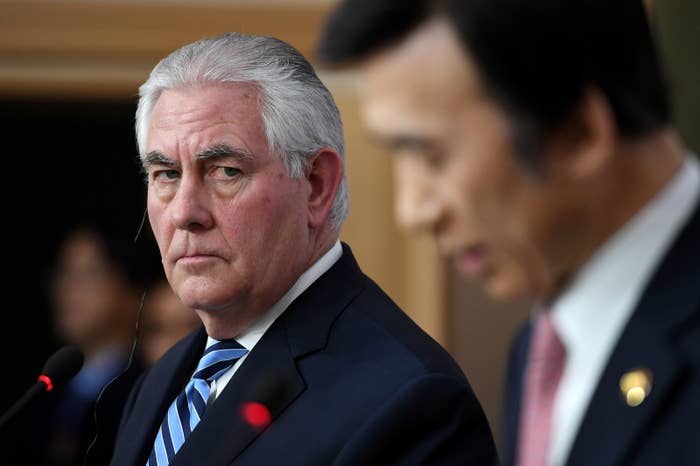 ExxonMobil cannot say whether it deleted emails from a second email that Secretary of State Rex Tillerson utilized while CEO of the company, according to documents obtained by BuzzFeed News in the New York state attorney general's climate change investigation into the company.

Last week, NY Attorney General Eric Schneiderman's office revealed in a letter to the NY State Supreme Court judge in the case that while running ExxonMobil, Tillerson used a second email under the alias "Wayne Tracker."
The AG's office asserted in its letter that Tillerson may have received relevant information to its investigation into how ExxonMobil's management communicated about climate change with company shareholders. The AG requested that the judge order the company to immediately turn over Tillerson's emails in compliance with its subpoena to share managerial communications in the case.
But, in a March 16 response, ExxonMobil's attorneys disclosed that the company cannot say at this time whether the Wayne Tracker emails were preserved.

The letter reads:
In the course of this process, ExxonMobil confirmed that it placed a litigation hold on Mr. Tillerson promptly after receipt of the NYAG subpoena. The legal hold process at ExxonMobil, which was designed and implemented prior to this subpoena, engages a technology that protects emails in accounts from automated processes for persons subject to legal hold. ExxonMobil determined, however, that despite the company's intent to preserve the relevant emails in both of Mr. Tillerson's accounts, due to the manner in which email accounts had been configured years earlier and how they interact with the system, these technological processes did not automatically extend to the secondary email account. ExxonMobil is in the process of determining whether this preexisting technology process design had any impact on the production process. A number of factors suggest that any possible impact will not be significant. First, ExxonMobil searched the Wayne Tracker account within two months of receiving the NYAG's subpoena. Second, many of the emails sent to or from the Wayne Tracker account included Mr. Tillerson's primary account as a recipient, which means email would appear in both accounts. Third, a limited number of senior executives used the Wayne Tracker address to communicate with Mr. Tillerson, and many of them—including, as relevant here, those who work on matters related to climate change—are on litigation hold. As ExxonMobil's evaluation of this issue continues, we will provide the Court and the NYAG with further information.
Schneiderman's office responded Monday in a letter to the judge claiming that in this letter ExxonMobil "admits that its automatic preservation procedures did not capture files associated with Mr. Tillerson's alias email account, and that Exxon still does not know if emails located in that account were in fact preserved after it received the Subpoena."
Schneiderman alleges that from "at least 2008 to 2015," Tillerson, whose middle name is Wayne, used the "Wayne Tracker" pseudonym email "to send and receive materials regarding important matters, including those concerning to the risk-management issues related to climate change."
His office has been investigating whether ExxonMobil made "significant misrepresentations" about the risks posed by climate change to its shareholders.
"More than 16 months after receiving our subpoena, Exxon is just now admitting it may not have preserved or produced the emails of its former CEO, who used an alias email account," Amy Spitalnick, press secretary for the NY attorney general, told BuzzFeed News. "We look forward to addressing these, and the other issues our letter raised, in court."
ExxonMobil declined to provide further comment for this story.