Judge Denies Tsarnaev Lawyers' Attempt To Delay Trial After Paris Attacks
His attorneys filed a motion to delay jury selection in the trial of the accused Boston bomber, citing "extraordinary prejudice flowing" from the events in France. The judge denied the motion on Wednesday.
Dzhokhar Tsarnaev filed a motion Tuesday to delay jury selection in his trial by at least one month in light of the attacks in France.
The judge denied the motion on Wednesday, the U.S. Attorney's office said on Twitter.
Judge O'Toole said his review of prospective jurors' questionnaires "confirmed, rather then undermined, my judgement that a fair and impartial jury can and will be chosen."
The motion cited the "extraordinary prejudice" flowing from the Jan. 7 attack on French newspaper Charlie Hebdo in which terrorists killed 12 people.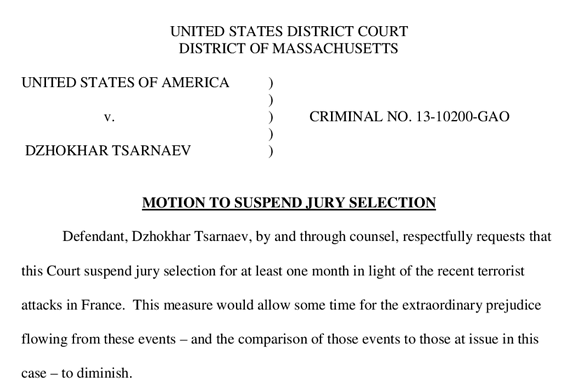 The motion points to supposed parallels the press drew between the attacks in Paris and Boston, including that the suspects were brothers, allegedly influenced by the teachings of radical cleric Anwar al-Awlaki, described as "home-grown" terrorists, and carried out attacks on Western cities.
The motion cites multiple media reports about the Paris attack and quotes former Boston Police Commissioner Ed Davis from USA Today calling the similarities between the two attacks "shocking."
The motion is the defense's third attempt to delay the Boston bombing trial. Tsarnaev's team was successful in getting the start of the proceedings delayed from November 2014 to January 15. Another motion to bump the January start date to September was denied by the judge.
Individual juror questioning is scheduled to begin Thursday, Jan. 15, in Boston. At least 300 of the 1,350 prospective jurors who filled out questionnaires during jury selection last week have been moved on to the questioning phase by the judge.
Read the motion filed by Tsarnaev's attorneys Tuesday seeking the delay.
Download PDF