Drug Sentences Rise, While Time Served For Other Crimes Falls
A new study finds that drug offenders are serving more time in federal prison while all other sentences are on the decline.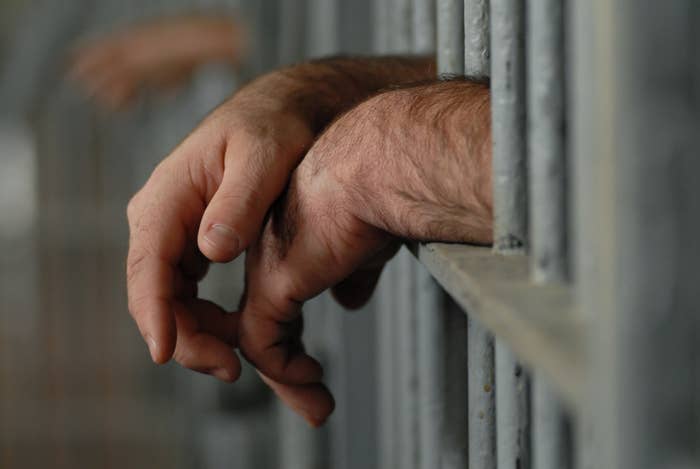 A Pew study released Thursday shows that sentences for Americans convicted of federal drug crimes rose 36% — an average of 20 months — in 30 years, while sentences for all other offenders in federal prison declined by 3%.
In the report, Pew says "the increased imprisonment of drug offenders has helped drive the explosive overall growth of the federal prison system, which held nearly 800 percent more inmates in 2013 than it did in 1980."
Citing the most recent inmate numbers from the Federal Bureau of Prisons, Pew says there are currently more than 207,000 people serving time in federal prisons, and 95,000 of those inmates are incarcerated for drug-related offenses — up from fewer than 5,000 in 1980.
The jump in the number of inmates has led to huge amounts of increased spending. From 1980 to 2013, federal prison spending increased 595%, from $970 million to more than $6.7 billion. According to the report, prison spending now represents one of every four dollars spent by the U.S. Justice Department.
Pew's report claims that the growth in the length of drug sentences and the number of inmates is largely due to the series of laws passed by Congress over 30 years that increased prison terms for drug offenders.
In 1984, Congress passed the Sentencing Reform Act, abolishing parole for federal offenders and requiring that all federal inmates serve 85% of their sentences. The law also established the sentencing commission, which set guidelines that federal court judges must follow when sentencing. According to the report, by 1985 there were more than 40,000 federal inmates in federal prisons, nearly double the number in 1980 (24,363).
In 1986, Congress passed the Anti-Drug Abuse Act, establishing mandatory minimum sentences of five and ten years for drug offenders. Two years later, Congress would add an amendment that said anyone involved in a conspiracy to sell drugs also faced a five-year mandatory minimum. The amendment also added a five-year mandatory minimum for anyone convicted of crack possession — a provision that would stand until 2010 when the Fair Sentencing Act eliminated it.
In 1994, Congress increased penalties for drug related crimes with the Violent Crime Control and Law Enforcement Act. According to Pew, by 1995, the number of federal inmates rose to more than 100,000.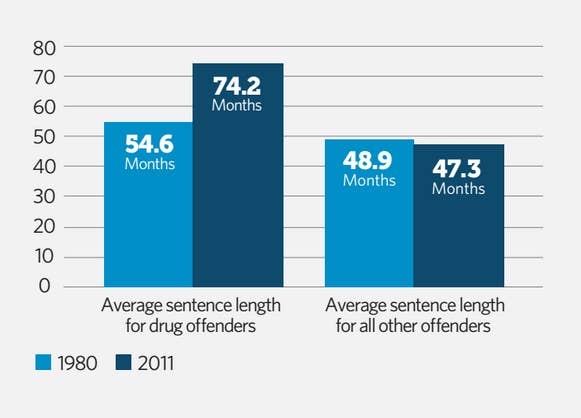 "Policy changes that we made in the 1980s have outlived their original intent and are in desperate need of revision," said Pew director Adam Gelb. "If Amazon or Apple had a business unit performing like this they would have shut it down a long time ago."
Last month, while speaking at the annual NAACP convention, President Obama urged Congress to act to curtail the country's ballooning federal prison population. Obama said that he was in favor of prison reform that decreased mandatory minimums for nonviolent drug offenders or "get rid of them entirely."
BuzzFeed News reported that negotiations between the judiciary committees in both the House and Senate have continued through the summer. Bills such as the Smarter Sentencing Act and the Safe Justice Act, which contain sentencing reform provisions for a range of drug offenders, are gaining bipartisan support and could lead to a bill coming up for vote when Congress reconvenes in September.
Former counsel to House Judiciary Committee, Eric Sterling, who helped author the drug laws passed by Congress in the 1980s, says "it's not any kind of surprise that the average sentence rose that dramatically."
After 1989, Sterling left government work to form the Criminal Justice Policy Foundation and was a founder of FAMM (Families Against Mandatory Minimums). He told BuzzFeed News that the Pew report shows that Congress made "an arithmetic mistake in picking relatively small quantities" when choosing who to go after with federal drug charges.
"Those numbers were mistakes. They weren't fatal flaws. The fatal flaw was the Justice Department not managing itself, and not saying to its prosecutors, 'Let's use them on people who deserve them,'" Sterling says.
Pew's data shows that these laws target the low-level offenders more than the drug ring leaders and king pins that they were intended to go after.
According to the report, "More than a quarter of federal drug offenders — and two thirds of federal marijuana offenders — were "couriers" or "mules," the lowest-level trafficking roles on a culpability scale." Pew says that the highest level traffickers represented only 11% of those serving time.
Sterling calls the targeting of low-level offenders by federal investigators and prosecutors "ludicrous."
"DEA Special Agents really ought to be doing the financial investigation to track down a Chapo Guzman," he says, referring to Joaquín "El Chapo" Guzmán, the Mexican drug lord who broke out of prison after being arrested for allegedly running the biggest drug cartel in Mexico.
Here's the full review:
Download PDF