Defense Attorney Uses "N-Word," "F-Word" In Murder Trial Of Young Black Man Who Was Killed In Florida
Attorney Cory Strolla, lawyer for Michael Dunn, the man charged with the murder of 17-year-old Jordan Davis, quoted Davis using the "n-word" and "f-word" toward Dunn the night he was killed in his opening statement.
The State of Florida v. Michael Dunn got under way today with an explosive statement by defense attorney Cory Strolla, who aims to prove his client was justified in using deadly force when he shot and killed 17-year-old Jordan Davis outside a Florida gas station.
Quoting Davis in his opening, Dunn said he made remarks directed at Dunn such as "I'm going to fucking kill you!" and "Fuck that n------, turn it back up" referring to the loud music emanating from the teen's car that set off the altercation.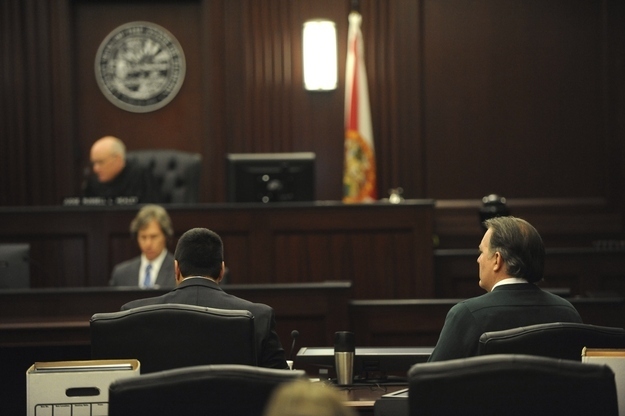 Dunn is charged with the first-degree murder of Davis and three charges of attempted murder.
The day after Thanksgiving 2012, Dunn left his son's wedding and headed for a bed and breakfast in St. Augustine, Fla. Along the way, Dunn and his girlfriend stopped at a gas station where they encountered Davis and three friends playing loud music in their car in the parking lot.
Dunn reportedly asked the teenagers to turn down their music, which triggered an argument that ended with Dunn shooting 10 rounds into the teens' car, hitting Davis. Three other people in the car with Davis were unharmed. The police determined that the kids were not armed.
After the shooting, Dunn drove to the hotel with his girlfriend and did not call the police. The next day, he returned home to find police waiting for him and he was taken into custody.
With some drawing a parallel to the George Zimmerman trial, Dunn's attorney has said he doesn't see any similarities outside of the racial element between the two cases.
As of the start of the trial Wednesday, Strolla has yet to file a motion to dismiss the charges based on Florida's stand your ground law, which received much attention in the Zimmerman trial.
"We are relying on Justifiable Use of Deadly Force as an affirmative defense," Strolla said in an email to CNN.
Both sides made opening statements and the State called its first witness as the trial began in Jacksonville on Thursday.