Updated — April 4, 10:35 a.m. ET:
President Obama welcomed the 2013 World Series champion Boston Red Sox to the White House on Tuesday. Obama made mention of the team's run as the most decorated Major League baseball team of the last decade with three world championships, crediting the team with helping the city of Boston heal post-Boston Marathon bombing last April.
Then this happened.
This was actually a PR stunt by Samsung, who worked with Ortiz to make this selfie happen. Just like the Ellen pic.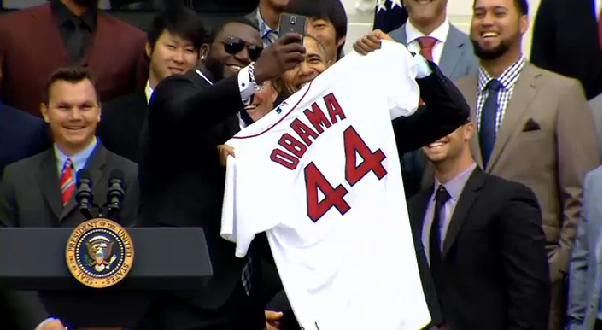 Statement from Samsung:
We were thrilled to see the special, historic moment David Ortiz captured with his Galaxy Note 3 during his White House visit. It was an honor to help him capture such an incredible and genuine moment of joy and excitement. Similar to the selfie Ellen was able to capture during the Oscars, this was an opportunity for David to share the incredible moment with his fans.

When we heard about the visit to the White House, we worked with David and the team on how to share images with fans. We didn't know if or what he would be able to capture. We have a relationship with David and the Red Sox. We partner with people who have like-minded values and fit with who we are as a brand.
The White House, upon hearing that the president was unwittingly used in what amounted to a promotional stunt, was not pleased. Press secretary Jay Carney hinted on Thursday that legal action may follow:
Without getting into counsel's discussions, I can tell you that as a rule, the White House objects to attempts to use the president's likeness for commercial purposes, and we certainly object in this case.
Ortiz told the Boston Globe that it was not part of a stunt.
"That was one of those things that just happened," Ortiz said. "I gave him the jersey, and the photographers were going to take their pictures and I thought, really at the last second, maybe I should snap a shot with my phone while I have the chance.
"It had nothing to do with no deals."