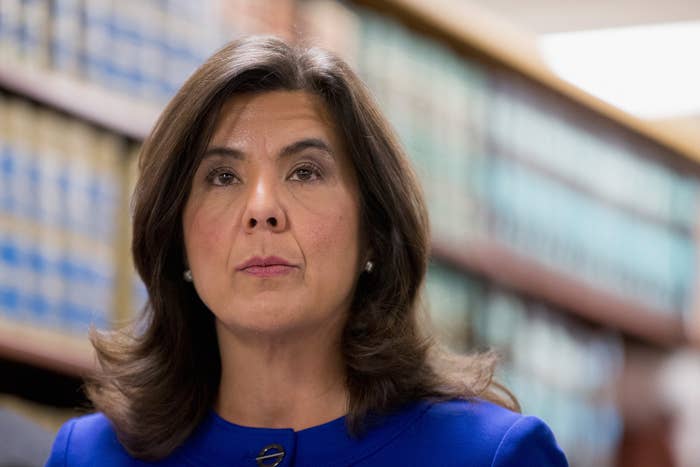 Embattled Chicago prosecutor Anita Alvarez, who came under intense public scrutiny after city officials waited 400 days to release video of a police officer fatally shooting 17-year-old Laquan McDonald, was defeated in a tough primary election Tuesday.

With more than 85% of Chicago's precincts reporting Tuesday night, challenger Kim Foxx was leading Alvarez by 18 points, and the Associated Press called the race.

In an election that centered on police accountability in Chicago, Alvarez, the two-time incumbent Cook County State's Attorney, faced challenges for the city's top prosecutor job from Foxx and Donna More, both female prosecutors.
Alvarez said Tuesday evening in a news conference that she was "proud of the work that I have done in this job," but would now work toward a "smooth transition."
"I have been criticized that I wasn't a very good politician and that's probably right," Alvarez added, "and that's probably why I stand before you tonight."

After Foxx was declared the victor, Alvarez called her opponent and conceded the race.

Throughout the campaign, both Foxx and More accused Alvarez of not acting quickly enough to charge Officer Jason Van Dyke, who was shown on video shooting McDonald 16 times in the middle of a street.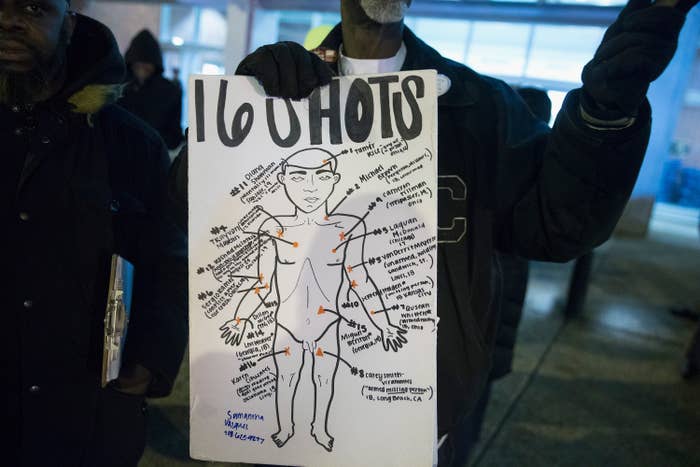 After the 2014 shooting, city officials initially declined to release the McDonald shooting video, claiming that it would jeopardize the ongoing investigation. After journalists sued the city for its release, in November 2015, a judge ordered that it be made public.

After the video was released, Alvarez's office charged Van Dyke with first degree murder. Still, the delay led some to question whether a cover up had occurred by officials. In the fallout, Chicago's top cop, Supt. Gerry McCarthy, was forced to resign — and activists have since called for Alvarez and Chicago Mayor Rahm Emanuel to do the same.
While the mayor's office has faced the brunt of the negative press for its handling of the McDonald affair, it nevertheless set the stage for a tumultuous primary campaign for Alvarez.
Leading up to Tuesday's vote, activists staged protests against Alvarez urging voters to drop her at the ballot box. Black Lives Matter organizers hung 16 banners — one for each bullet that hit McDonald — around the city that read "Blood on the ballot" and "Adios Anita 16 shots and a cover up." The #ByeAnita hashtag has been ubiquitous on Twitter over the past several months.
Assata's Daughters, another activist group that campaigned against Alvarez, tweeted Tuesday night that "Chicago Black youth kicked" her out of office. The group also said it "won't stop until we're free and Kim Foxx should know that as well."
On Monday, The Daily Beast revealed that Alvarez declined to file charges against Chicago police officers involved in the fatal shootings of at least 68 people in the last seven years. The report found little to no documentation on why the decision not to charge was reached in every instance.
Foxx, who became Alvarez's most formidable challenger, spent twelve years herself in the state's attorney's office from 2001 to 2013. The 43-year-old Chicago native, who was homeless in high school before getting her bachelor's and law degrees, left the office in 2013 to work for Cook County Board President Toni Preckwinkle, eventually becoming her chief of staff.
In the days leading up to the election, Foxx scored key endorsements from Preckwinkle and former Illinois governor Pat Quinn. She also received an endorsement from the Chicago Tribune.
Alvarez's other challenger, More, also worked in the state's attorney's office and is a former federal prosecutor. She currently works as a managing partner at the Chicago office of the law firm Fox Rothschild.
On the Republican ballot, Christopher Pfannkuche ran uncontested. Pfannkuche served as a criminal prosecutor for the state's attorney's office for 21 years.
Foxx and Pfannkuche will face off in the general election on November 8.