Closing Arguments In Tsarnaev Trial
BuzzFeed News reporter Mike Hayes is in the courtroom.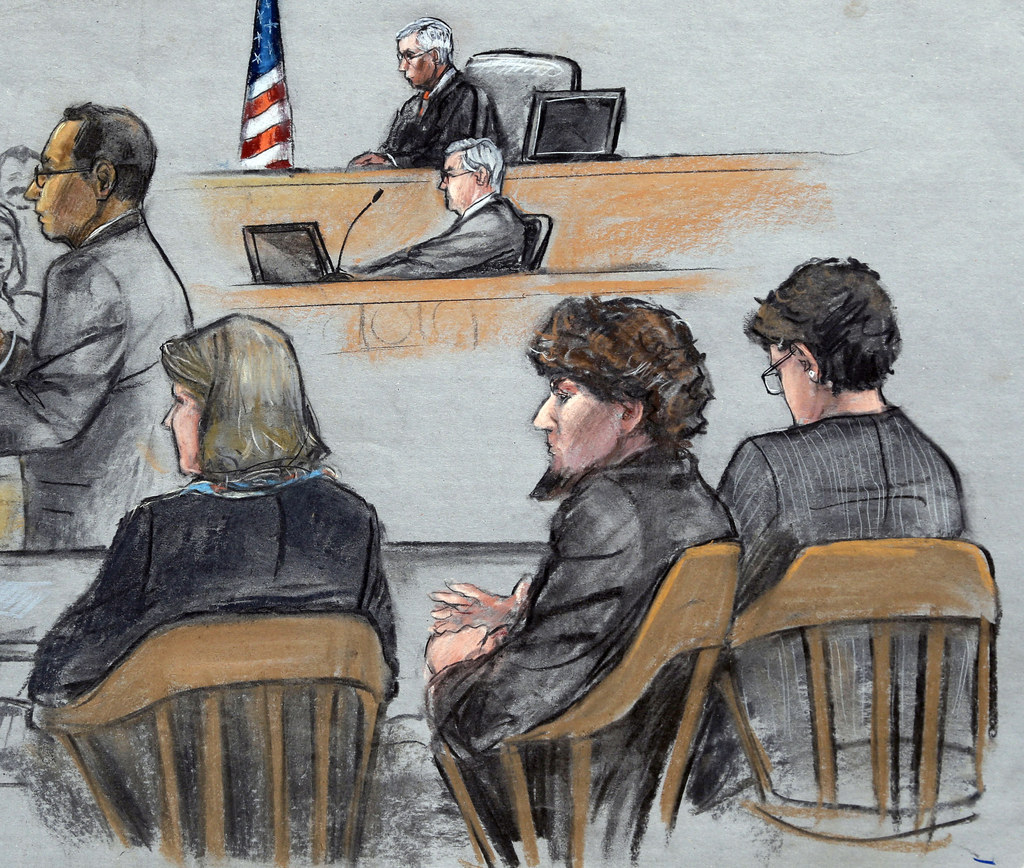 What We Know So Far
• Dzhokhar Tsarnaev has been sentenced to death. • The jury finished deliberating the fate of Boston Marathon bomber Dzhokhar Tsarnaev on May 15. • Jurors needed only to decide that one of the 17 counts was deserving of the death penalty in order for it to be imposed. • The defense and prosecution delivered closing arguments in the penalty phase of the trial on Tuesday. • Prosecution argued aggravating factors that call for a death sentence. The defense argued for mitigating factors that call for a sentence of life without parole. • Testimony during the penalty phase of the trial lasted 12 days; 19 witnesses were called by the prosecution and 44 witnesses were called for the defense. • On April 8, Tsarnaev, 21, was found guilty on all 30 counts in connection with April 2013 attacks; 17 counts carry the possibility of a death sentence.
Updates
The jury has reached a verdict of death in the Tsarnaev trial following the Boston Marathon bombing.
The first full day of jury deliberations ended Thursday with no verdict.
The jury has met for more than eight hours over the past two days. They deliberated for nearly an hour on Wednesday after closing arguments, and put in a full day on Thursday, meeting from 9 a.m. until they were excused by Judge George A. O'Toole at 4:30 p.m.
"I'm sure you'll find it pleasant to think of other things this evening than the case," O'Toole told the jury before sending them home.
He instructed jurors that they would begin deliberations at 8:30 a.m. Friday — a half-hour earlier than usual.
During the guilt phase, the same jury of seven women and five men took more than 11 hours to find Tsarnaev guilty on all 30 counts. Seventeen of the charges carry the possibility of the death penalty. The jury need only unanimously find that Tsarnaev deserves the death penalty for one of those counts for him to receive a death sentence.
About four hours into their deliberations today, the jury posed two questions to the court on how to proceed with the complex verdict form as they decide death or life for Tsarnaev.
The first question asked if they are to weigh the defendant aiding and abetting his brother when considering his intent to kill. Judge George A. O'Toole instructed the jurors to make their determination only based on the defendant's actions.
The second question was more procedural than legal. The jury asked if they unanimously agree on one of the statutory aggravating factors if they check off the line in the form.
O'Toole told them yes.
The questions seemed to reference instructions found in the first eight pages of the 24-page verdict document — an indication that after hours of deliberation the panel of seven women and five men might not be very far along in the process.
In his rebuttal, Assistant U.S Attorney William Weinreb said the defense's case for Jahar Tsarnaev came down "to a single proposition: His brother made him to do it."
Weinreb, who is also the deputy chief for the anti-terrorism and national security unit within the Association of the United States Army, said the prosecution's response "is just as simple."
"It's not true," he said.
Weinreb urged jurors not to give too much weight to the Jahar's relationship with his brother, Tamerlan, especially since their encounters and communication waned in the years leading up to the Boston Marathon bombing. During that time, Jahar generally stayed away from Tamerlan and emailed only occasionally, Weinreb said.
Weinreb also dismissed the defense's allegations that the jihadi material was found on Tamerlan's computer, and not Jahar's.
"So what? Even if it's true, so what?" Weinreb asked.
How Jahar became radicalized in the group mattered less than the fact that he did convert, Weinreb argued.
He countered the defense argument that Jahar Tsarnaev would not enjoy any luxuries if he carried out a life sentence in prison, stating that he would be "well-fed," that his friends would be able to visit him, and that he would be able to exercise.
Weinreb concluded: "Tsarnaev doesn't deserve the death penalty because he is inhuman, he is inhumane."
Witnesses testified that Jahar followed Tamerlan around "like a puppy."
Clarke described Tamerlan as charming and charismatic, but said that neither trait allowed him to hold a job, stay in school, or continue boxing. He eventually gave up on all three endeavors.
It was around this time that Tamerlan began to study conspiracy theories, and converted to a radical form of Islam.
Tamerlan married a woman named Katherine Russell, a woman Clarke described as strong-willed and independent. Her husband convinced her to convert to Islam, evidence of his sway over other individuals.
Eventually, Tamerlan left his wife and child behind to travel to Russia, supposedly to engage with other jihadis. He was unsuccessful, and upon his return to the U.S., Katherine was said to not have wanted him to come near her or their child.
Her Internet searches revealed her concern about his activities. He was on the FBI's terrorist watch list.
She reminded the jury that Tamerlan's fingerprints were found on the gun used to shoot and kill officer Collier. She said that Jahar hid in the boat after the attack and argued that the letter he wrote was full of language that was not his own.
She said the letter contained "words that he had been introduced to by his brother, words that he listened to" and memorized.
Jahar cooperated with the EMTs after he was arrested, and asked about his brother's whereabouts, Clarke said.
Clarke also responded to the infamous still image of Jahar showing the middle finger to the jail cell camera.
She spoke of Jahar's conversation with Sister Helen Prejean.
"He lowered his head, he lowered his voice and said, 'No one deserves to suffer like they did,'" Clarke told jurors.
She concluded her argument with the insistence that Jahar is an individual with the "potential for redemption," and that "there is no punishment, not even the death penalty, that would balance the scales" of what happened during the Boston Marathon two years ago.
Clarke argued that a life sentence is not "a lesser sentence than death. It is an other sentence than death."
Clarke described Tsarneav's family history, trying to humanize him.
She discussed how frequently the family, which grew to seven people in four years, moved throughout Central Asia, and how his mother had been previously described by witnesses as "intense and intimidating," and "a force in the family."
The defense argued that Jahar and Tamerlan's mother favored the older brother, who eventually picked up boxing, and treated him "like a king." She mentioned that in Chechen culture, younger siblings are especially likely to revere their older family members.
Clarke called Tsarnaev "the invisible child."
In September 2012, Tsarnaev's mother and father separated. His mother relocated to Russia, and lost all contact with the rest of the family. Clarke alleges that Tsarnaev was essentially raised by Tamerlan.
Photos of Tsarnaev in his earlier years were presented to the jury: images of him dancing in a classroom, receiving a trophy, holding an infant. The defense listed the activities Tsarnaev participated in throughout high school: Model U.N., wrestling, tutoring.
His teachers spoke highly of him; Clarke presented a copy of one instructor's letter of recommendation to the jury. His friends described him as shy yet funny.
She painted an image of Tsarnaev as an average college student (he attended the University of Massachusetts at Dartmouth), one who drank, smoked, and "sold some pot."
She also argued that discussing Tsarnaev's life would be incomplete without also examining that of another individual: his older brother.
Defense attorney Judy Clarke is a seasoned attorney who has represented and saved a number of defendants facing the death penalty. In her closing statement, she implored the jury: "I come before you to ask you to choose life."
Asking the 12 men and women seated before her to call upon their "moral sense," Clarke reminded them that they took an oath 10 weeks ago, and that "now the time has come" for them to "decide what to do with" Tsarnaev.
Early into her argument, Clarke made clear that she did not dispute that the crime was gruesome. She also argued that the case was not about the Tsarnaev brothers.
Instead, she said, it was about the "resilience and the spirit of those affected by this senseless" act. It was about a tragedy of their doing.
Mellin drew a distinction between the act of "merely killing" someone and "shredding them apart," and argued that Tsarnaev was aware that he was executing the latter form of violence.
To illustrate the extent of Tsarnaev's premeditation, the prosecutor summarized for jurors the process by which Tsarnaev learned to craft the pressure cooker explosive.
"He knew these bombs would make people suffer," he said.
Mellin reiterated that Tsarnaev watched a number of terrorist lectures in the days leading up to the bombing, and argued that he purposely chose Patriot's Day, a school holiday, to make the bombs that much more "terrifying and devastating."
Mellin made a case for the depravity of Tsarnaev's crime, recalling that shortly after the explosion, he went to Whole Foods and bought milk before tweeting, "Ain't no love in the heart of the city."
The following day, the prosecutor said, as victims awoke inside hospitals to learn that their limbs had been amputated, Tsarnaev tweeted from the gym, "I'm a stress free kind of guy."
He warned jurors that the defense would rely on character testimonies to establish a sense of ethos for Tsarnaev.
"Don't be swayed" by cute photos of the defendant as a child, he said. "All murderers start out as cute children."
Mellin ended his closing argument by saying, "The only sentence that will do justice in this case is a sentence of death."
Steven Mellin, who represents the government, began his closing arguments saying, "There is a certain clarity that comes to you when you are close to death."
The attorney, a native of Texas, has tried death penalty cases across the country, and alleged that Tsarnaev deliberately selected the Boston Marathon as his site of attack in order to "punish his enemies," particularly the children he victimized.
Mellin brought up photos of some of the victims immediately following the explosion.
He focused on Martin Richard, who was eight years old when he was killed in the attack, as well as the Campbell and Collier families.
The attorney showed a photo of Richard that was taken during the attack, said he was in "agony" and that his mother could be heard saying, "Please, Martin," as she bent over him.
He also showed images of Krystle Campbell, who had been "burned all over her body" with "smoke coming out of her mouth," as well as Sean Collier, "dying as his own blood pools."
Mellin then discussed the impact of the bombing not just on those who lost their lives, but their family members.
He recounted how the Campbell family was first led to believe that their daughter was still alive, and how the father fainted when he discovered she was not.
Mellin then presented a photo of Sean Collier at his police graduation. He told jurors that his mother has been diagnosed with PTSD, and did not get out of bed for two months after the bombing.
Of the 21 mitigating factors that could prevent Tsarnaev from receiving the death penalty, seven are founded on the argument that his older brother, Tamerlan Tsarnaev, was the mastermind behind the attack.
The judge added other factors: he was well-liked by his professors, his college friends spoke highly of him, his father suffered from mental illness, and that he was "deprived of stability by [his] mother."
After an hour and a half, Judge O'Toole concluded his instructions, paving the way for closing arguments.
The government will speak first, followed by the defense.
The verdict slip is 24 pages long, and contains specific language that Judge O'Toole defined.
For a crime to be considered heinous, he said, it must elicit shock. Cruelty indicates an intent to inflict a high degree of pain, and a depraved attack means that Tsarnaev showed no remorse for those who suffered.
Judge O'Toole reminded jurors of their responsibilities as they decide to sentence Tsarvaev with the death penalty or life without parole.
He emphasized that they must carefully consider all "mitigating factors," which must be proven by a significant amount of evidence.
He added that lawyers' closing statements should not "add or subtract" from the presented evidence, and that anything jurors may have seen or read in the media is inadmissible.
O'Toole mandated that jurors may not take into account Tsarnaev's physical behavior or demeanor throughout the course of the trial as they decide on his punishment, nor can they consider the fact that the defendant chose not to testify.
Jurors have been instructed to make a decision on each of the 17 counts, four of which were homicides, but he added that the number of counts should not factor into their decision.
O'Toole then explained the parameters for choosing the death penalty.
Jurors must find that Tsarnaev was 18 years old at the time of the attack, and prove at least one "statutory aggravating factor," such as the extent of his planning or the degree of cruelty in the way those plans were executed.
The jury needs to only find the death penalty appropriate for one of the 17 counts for it to be given.
---
This is a developing story. Check back for updates and follow BuzzFeed News on Twitter.