Chattanooga Shooter's Family Masked Internal Struggles
Friends and classmates struggle to reconcile the private turmoil that was occurring within Mohammad Abdulazeez's family prior to the Chattanooga, Tennessee, shooting and what they observed from the outside.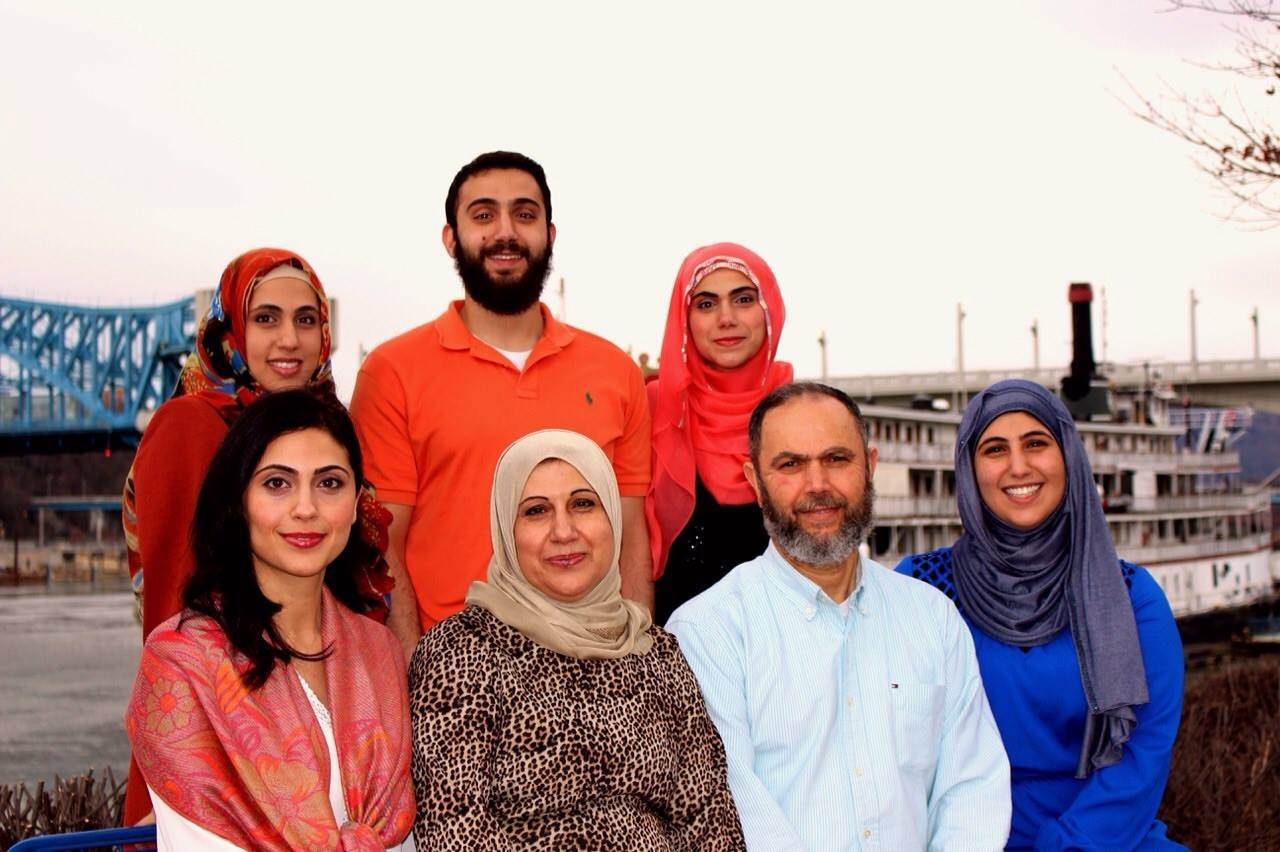 CHATTANOOGA, Tennessee — At 6 p.m. Thursday, when Shaina Ramsey first learned that her childhood friend, Mohammad Abdulazeez, was the suspected gunman in a shooting rampage in their hometown, she posted a message of disbelief on Facebook:
"When I heard the name of the gunman, I thought Mohammad is going to have such a hard time with the same name. Never in a million years thought it'd be him. Thinking of the victims and also his family."
The likes and comments from mutual friends began to pour in:
"He was such a good dude."

"I don't know how the guy I knew and was good friends with back then could do something like this. It's sad and hard to believe."

"People thought it was some guy with the same name."
Shaina replied: "Right? I even told my boss how crazy it was that they had the same name bc I saw on one site he was 41. I immediately thought of his sisters once they confirmed it."
A couple hours later, authorities would report that Abdulazeez, 24, drove a Mustang convertible to the U.S. Naval Recruiting Reserve Center, where police say he rolled through the parking lot and began to spray the facade with bullets using one of four guns he was carrying.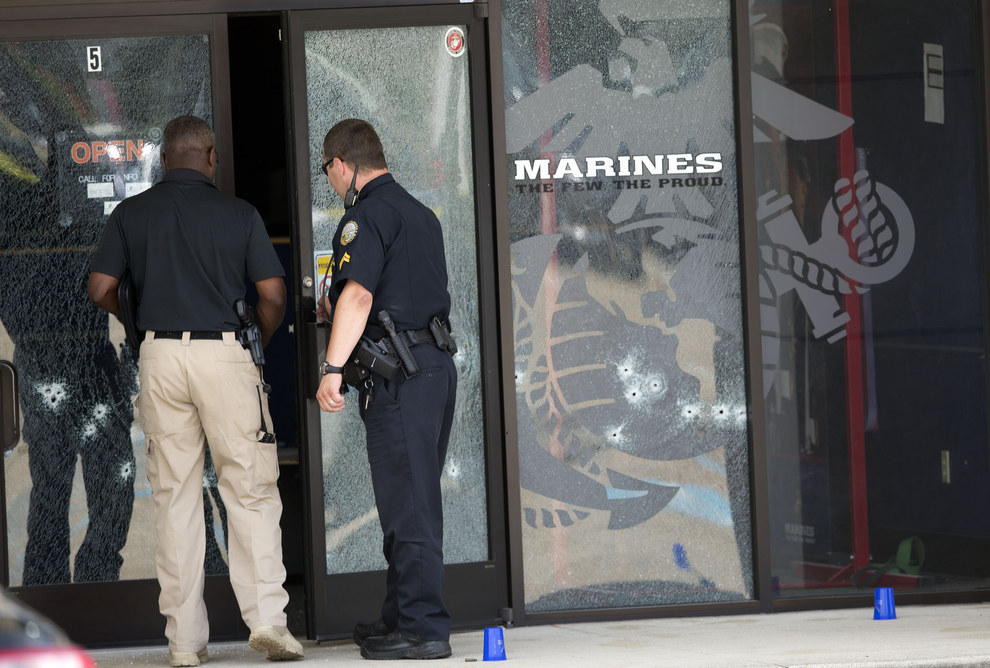 Minutes later, police say Abdulazeez rammed the gate at the U.S. Naval Reserve Center on Amnicola Highway, about seven miles from the first shooting scene, and unloaded dozens of rounds from automatic weapons.
When the shooting stopped, four Marines — identified as Thomas Sullivan, Skip Wells, David Wyatt, and Carson Holmquist — were dead. A Navy sailor, Randall Smith, died from his injuries on Saturday.
A police officer who was shot during the firefight survived after he was dragged to safety.
Over the next couple days, about half the posts on Ramsey's Facebook News Feed expressed shock and disbelief that the boy she attended middle school and high school with — a boy described as "smart, nicer and more reserved than the other jocks" and someone who "all the girls" thought was cute — could have wreaked such havoc.
The other half of her News Feed was clogged with vitriol aimed at the Abdulazeez family. And the sentiments were turning from bad to worse.
"People have been posting 'Take the family out and just kill them all,'" Ramsey said. "I didn't think that I had friends who thought like that."
On Friday, Rep. Michael McCaul (R-Texas) — chairman of the House Committee on Homeland Security — called the deadly shootings an "ISIS inspired attack." But nearly five days after the shooting, investigators have given no indication that a definitive motive has been identified.
Along with evaluating Abdulazeez's online blog espousing devotion to the Muslim faith, and possible radicalization, life at his parents' middle-class home in the suburb of Hixson has come under heavy scrutiny by investigators.
Two days after the shooting, his family echoed his friends' confusion in a statement, saying Abdulazeez was "not the son we knew and loved." The family has also said that he suffered from depression and was treated by a psychiatrist from the age of 12.
A family spokesperson also told the media that Abdulazeez's drug and alcohol abuse devolved as he got older.
BuzzFeed News spoke with multiple friends of Abdulazeez and his sister, Yasmeen. Some asked that only their first name be used, others that they be referred to only as a friend.
Not only are they still asking themselves how and why Abdulazeez could have done what he did, but if they'll ever see anyone in his family again.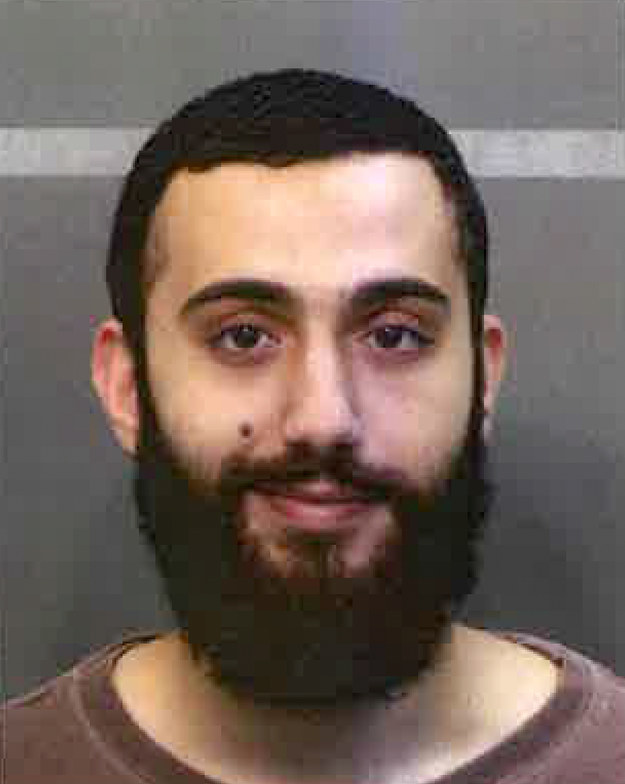 "I feel strange because he was a nice kid, and I'm not defending anything he did, but I wouldn't think he'd be the one to do something like that," Laura, a high school friend, told BuzzFeed News. "There were much scarier and interesting individuals at my school."
She added that Abdulazeez hung out with "stoner kids" and that he was "always pretty quiet except when he was around his close friends."
Most former high school and college friends of Mohammad Abdulazeez also know his little sister, Yasmeen. Just two years younger, the brother and sister were both at Red Bank High School and University of Tennessee Chattanooga (UTC) at the same time. While Mohammad was the quiet and reserved one, at school Yasmeen was more social, outgoing, and always approachable despite being the only girl in her class who wore the hijab headscarf.
Friends said what made the Abdulazeez kids (Mohammad and Yasmeen have three older sisters) stand out was not their religion, but how strict their father and mother, Youssuff and Rasmia, were about what they did and who they hung out with.
Yasmeen seemed to embrace the demands of their family's culture, speaking proudly and publicly about her religion. Around her friends, she spoke about hijab with a wit and biting sense of humor.
"I have to wear this otherwise I'd be too beautiful and nobody else would have a chance," a college friend who majored in psychology with Yasmeen recalled her saying.
In a 2010 interview with the Chattanooga Times Free Press, Yasmeen discussed some of the difficulties she faced in Chattanooga being a young Muslim woman.
She said that she had been harassed at high school by other students, and once during a middle school volleyball tournament, a referee refused to let her play because of her headscarf.
A 17-year-old freshman at University of Tennessee Chattanooga at the time of the interview, Yasmeen said she once dropped a class because a professor said he would lower her grade if she missed class for a religious holiday.
"I'm not afraid to go straight toward them and ask them, 'Do you really know what Islam is?'" Abdulazeez said. "There's this misconception that Islam is a violent religion. Muslims are actually peaceful."
In another interview with the Times Free Press, Yasmeen reflected about the stares she got at school when she first chose to wear hijab in eighth grade.
"At first, there were so many whispers. When people saw me they were just staring and looking," Yasmeen said. "I'd randomly get people coming up to me and asking, 'What? Is that you?'"
After the shooting, Ramsey said some of her Facebook friends have shared quotes on her News Feed to link Yasmeen to the attack.
"They think it was a family plot," she said.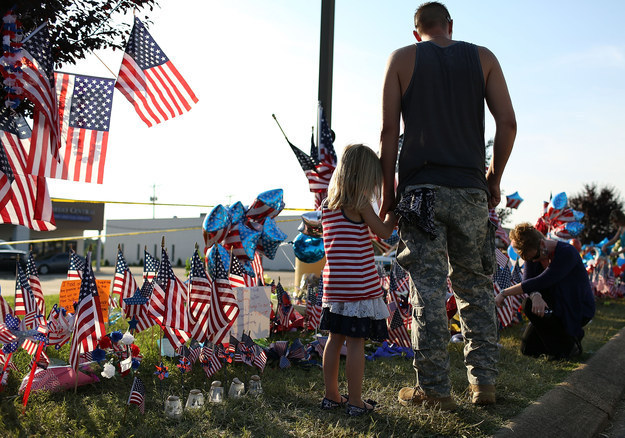 Friends remember the quiet Mohammad was unreserved about being Muslim, too.
An elementary school classmate, Ariel Omarzu, recalled how in fifth grade, Mohammad would ask her mom, a lunchroom assistant, if his cafeteria food adhered to his religious dietary restrictions.
"He was adamant about asking if the food had pork in it," Omarzu said.
Ramsey said that during high school cheerleading practice, she would see him leave his wrestling practice to go pray.
But while Mohammad put up a devout front, there were signs that he was struggling to rationalize his religion's strict tenets while growing up surrounded by a more permissive Western culture.
Ramsey remembered partying in high school with Mohammad's wrestling teammates and said that while Mohammad was never there, she believed he wanted to be.
"He was just like an American kid who wanted to do what we were doing," Ramsey said. "I know it affected him. Just growing up here. It'd be different if he grew up somewhere else around mostly Muslims."
Since the shooting, reports show that Mohammad Abdulazeez struggled with his religion's demand that he not indulge in drugs and alcohol.
On April 20, he was booked on suspicion of driving under the influence — the only arrest on his record.
According to the police report, Abdulazeez was pulled over in a 2001 Toyota Camry by Chattanooga police for failing to stay in his lane, driving more than 10 miles under the speed limit, and stopping at green lights.
Officers said Abdulazeez had bloodshot eyes, his car smelled like marijuana, his breath smelled of alcohol, and his speech was slurred. When they asked him to get out of the car, he had to steady himself.
Officers also noticed that Abdulazeez "had irritated nostrils and a white powdery substance residue under his nose and around his nostrils."
He told the police he had crushed up caffeine pills and snorted them.
After the arrest, Yasmeen told friends that her parents were disappointed, but said little else. If she had deeper worries about her brother's substance abuse, it wasn't apparent to their mutual friends. The Abdulazeez kids kept most of their family troubles from their peers.
A big part of those family troubles appeared to be marital. It was widely reported the day after the shooting that Mohammad's parents filed for divorce in 2009 — his mother, Rasmia Ibrahim Abdulazeez, accusing her husband of abusing her, sometimes in front of their five children.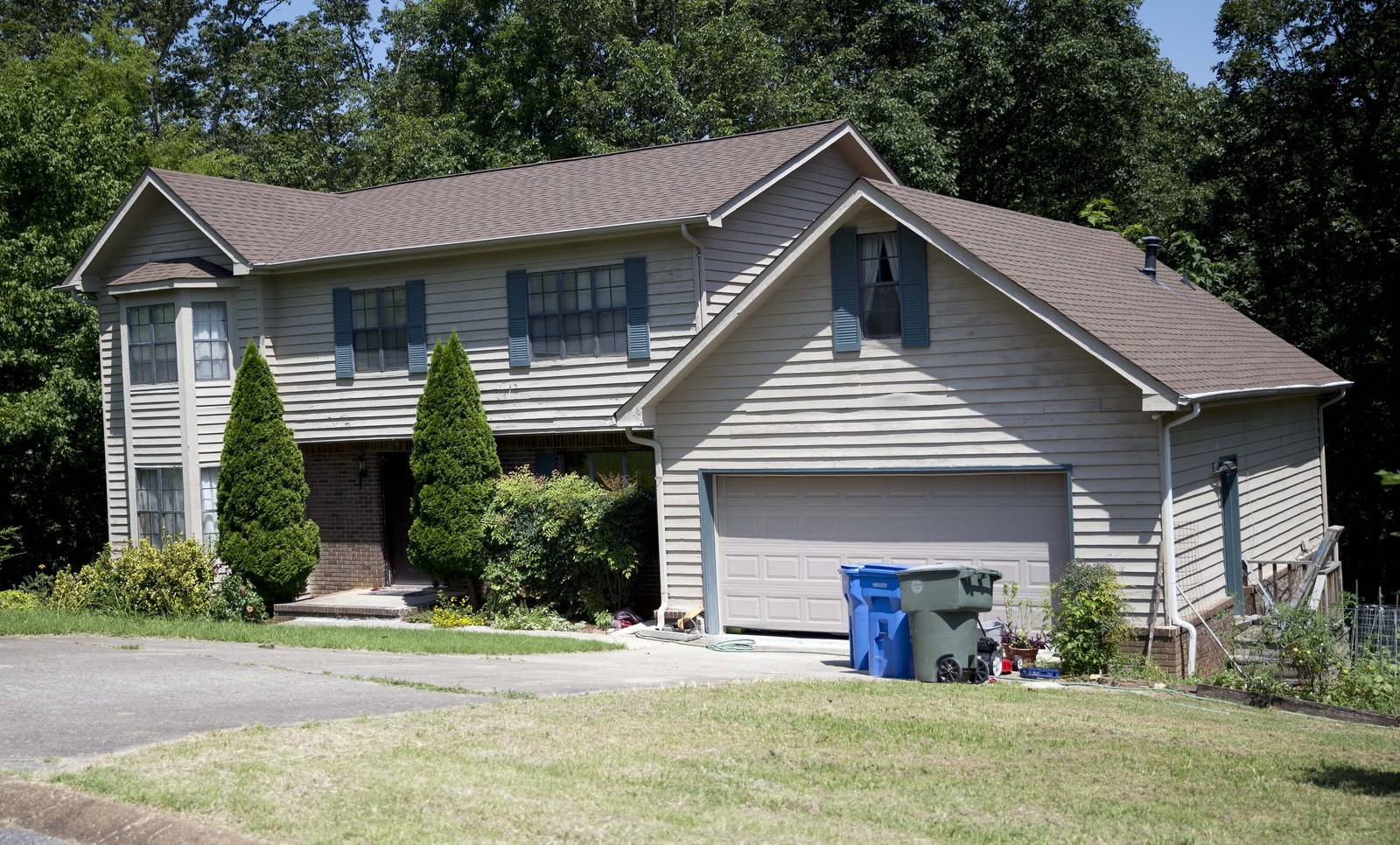 In the complaint, Rasmia claimed that Youssuf Abdulazeez once beat her so severely she fled the house for a crisis center. She also alleged that Youssuf sexually abused her while the children were home. According to the complaint, Youssuf also hit his children, sometimes without reason.
Rasmia, who does not work, also claimed that Youssuf, who works as a soil engineer specialist for the Chattanooga Department of Public Works, controlled the family money.
In the documents, Rasmia sought a restraining order, a stipend from her husband, and custody of Yasmeen, who was 16 at the time. But 22 days after the complaint was filed, the case was dropped.
Another private family struggle was Mohammad's inability to keep a steady job after graduating from college.
Mohammad, who took honors and AP classes in high school, graduated University of Tennessee Chattanooga in 2012 with a degree in electrical engineering.
In May 2013, he was fired from Perry Nuclear Plant outside Cleveland, Ohio, after just 10 days for failing a background check. A spokesperson for the plant's owner, FirstEnergy Corp., said Abdulazeez did not meet the "minimum requirements for employment."
Omarzu and other friends said the last time they saw Mohammad working was at a kiosk at Chattanooga's Northgate Mall a few months ago.
Mohammad's family said that he had recently taken a job working the night shift at a Tennessee manufacturing plant, but was having trouble sleeping during the day and taking painkillers for back pain.
In 2014, as Mohammad's drug abuse got more out of hand, his parents sent him to Jordan for seven months to get clean and live away from people they felt were bad influences. Yasmeen never told friends about the trip until after her brother's return.
Ramsey said the Abdulazeez family seemed happy and close, pointing to evidence she said was all over Yasmeen's Instagram and Facebook accounts.
"She would post every time they were together, and she would post all the time!" Ramsey said. "Some families get together for, like, Christmas or Thanksgiving, but they seemed like they were together for every holiday, every birthday, every anniversary."
After the shooting, Yasmeen deleted her Facebook and Instagram accounts. One of her Instagram photos, which showed her with Mohammad and their other siblings a few months earlier, was circulated by the media with the caption: "Happy national sibling day to these amazing (and annoying at times) brother and sisters. #nationalsiblingsday #abdulazeezfamily #love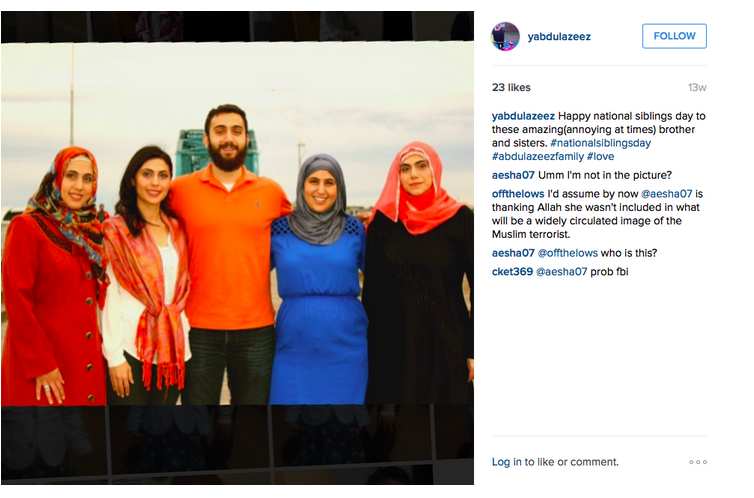 Ramsey said she texted Yasmeen and sent her a Facebook message, but never heard back.
She suspects that her computer and devices were seized by investigators combing through their house after the shooting. Authorities have confirmed that multiple electronic devices from the home have been sent to the FBI lab at Quantico, Virginia, for analysis.
On Monday, the family's house in Hixson, Tennessee, remained cordoned off with caution tape. Multiple phone calls to a number listed for the residence and a cell phone purportedly belonging to Youssuf Abdulazeez went unanswered.
"I feel really scared for Yasmeen. Even if she comes back, with that last name, what is she going to do?" Ramsey said. "I don't know if she ever will come back. I don't know how you could."