Chattanooga Comes Together To Mourn Marines Killed In Mass Shooting
"The word I've heard the most since yesterday is 'heartbroken,'" Tennessee Gov. Bill Haslam told mourners at a vigil Friday.
CHATTANOOGA, Tennessee — Just one day after one of their own went on a shooting rampage, killing four Marines in this close-knit Tennessee city, the community of Chattanooga came together Friday in remembrance and sadness.
A memorial service at Olivet Baptist Church — which opened with an all too familiar refrain "We are Chattanooga strong" — was packed with those wanting to remember the victims and seek solace among neighbors.

Mayor Andy Berke told the congregation that he wished "everyone of you could have heard the tales" of the police officers who responded to the scene and "put their bodies between innocent lives" before "silencing the attacker."

The mayor listed famous places where U.S. servicemen had died in battle — like Tripoli, Beirut, and Fallujah — and said, "We add one more: Chattanooga."

In addition to Marines Thomas Sullivan, Skip Wells, David Wyatt, and Carson Holmquist being shot dead in the attack, the gunman, Mohammad Youssuf Abdulazeez, 24, was also killed.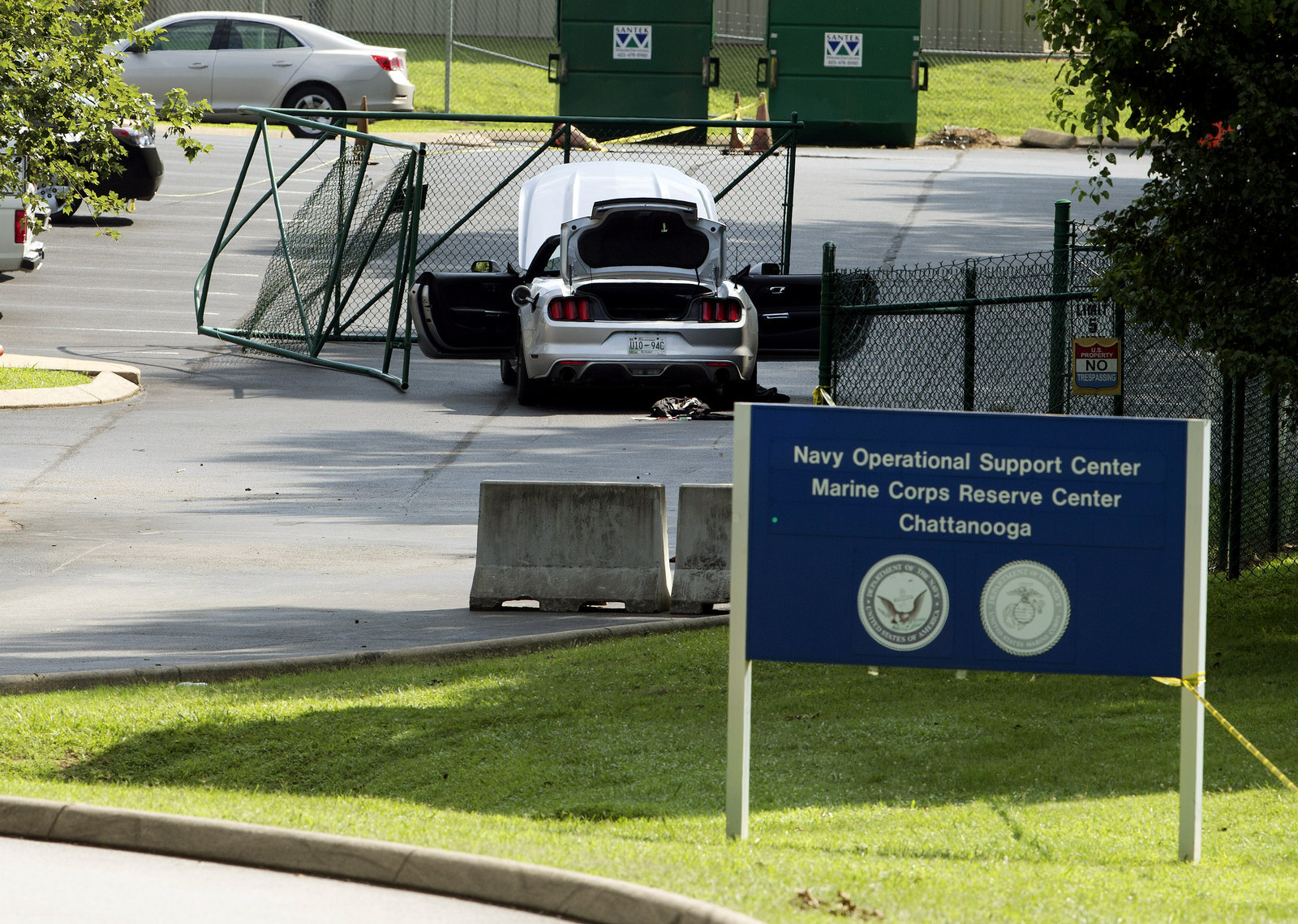 Addressing what he called "a city with a broken heart," Tennessee Gov. Bill Haslam advised the people of Chattanooga to "seek peace."
Senators Lamar Alexander and Bob Corker both became teary and choked up at the podium.
"The word I've heard the most since yesterday is 'heartbroken,'" Alexander said.
Congressman Chuck Fleischman also fought back tears as he told the church that he didn't know exactly what he'd say when taking the floor of the House of Representatives next week, but, he noted, "I'm going to say something great about the about the city of Chattanooga."
Each official received multiple standing ovations during their remarks, but the Chattanoogans reserved their strongest applause for the final two men to take the podium.
Chattanooga Police Chief Fred Fletcher, who arrived right after giving a nationally televised news conference on the state of the investigation, said he could not be prouder of the city than he was the day of the shooting.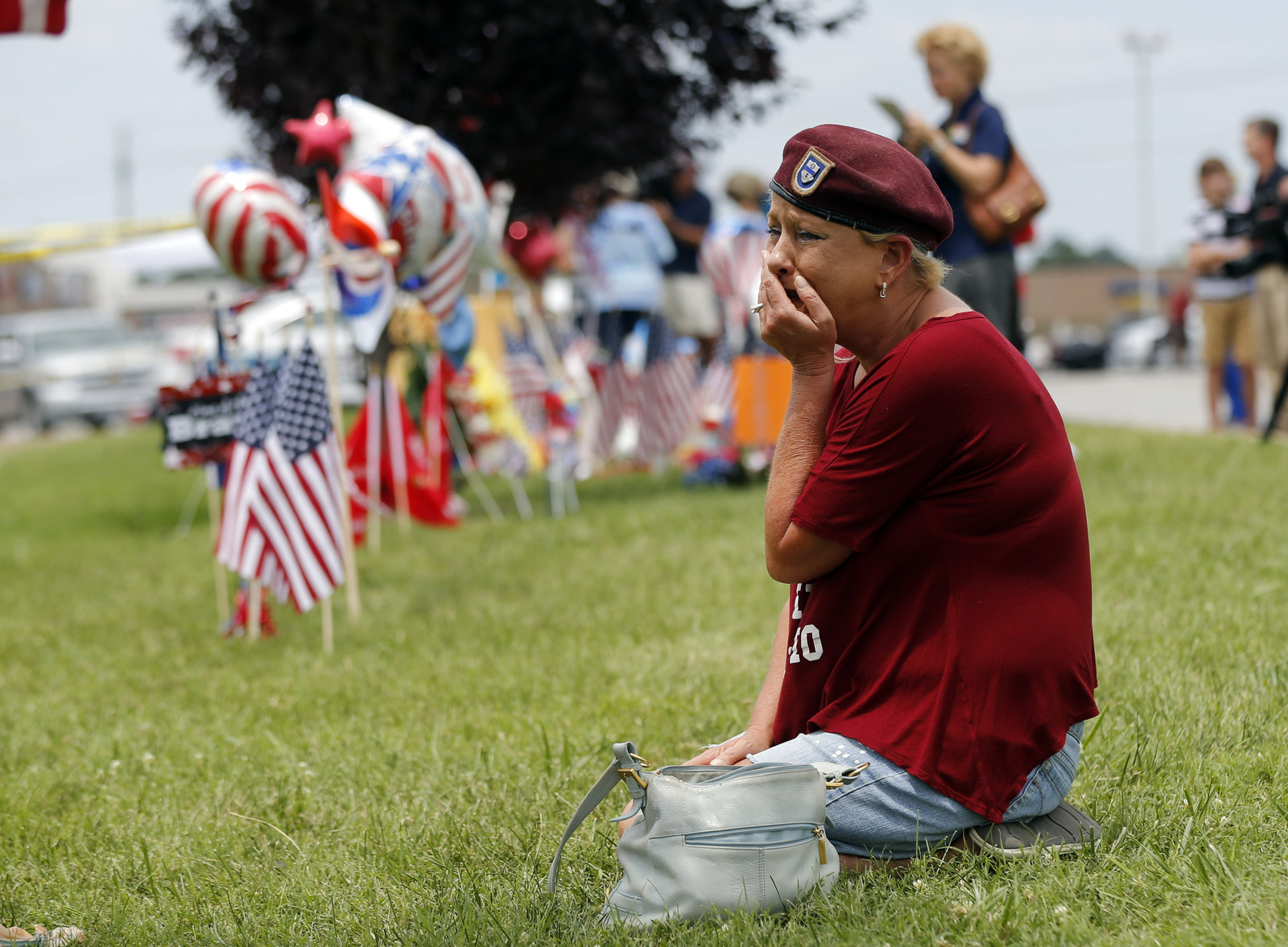 "I remain to you always in faith," he said before collapsing into a succession of tearful embraces.
The last speaker, Dr. Ali of the Islamic Center of Greater Chattanooga, addressed how the mass shooting had driven the community together, not apart.
Earlier in the day, the Islamic Center canceled its celebration to mark the end of Ramadan. But several hundred members attended the vigil at Olivet Baptist Church.
"For Chattanoogan Muslims there is no celebration today," Ali said. "Chattanoogan Muslims have come for solidarity to mourn our fallen heroes."
Calling Abdulazeez, who regularly attended prayer meetings at the Islamic Center, a murderer, Ali said the 24-year-old "did his best to spread hate and division — we will not let that endure."
As the vigil closed, the entire congregation rose up and joined hands as the choir bellowed "This Little Light Of Mine."