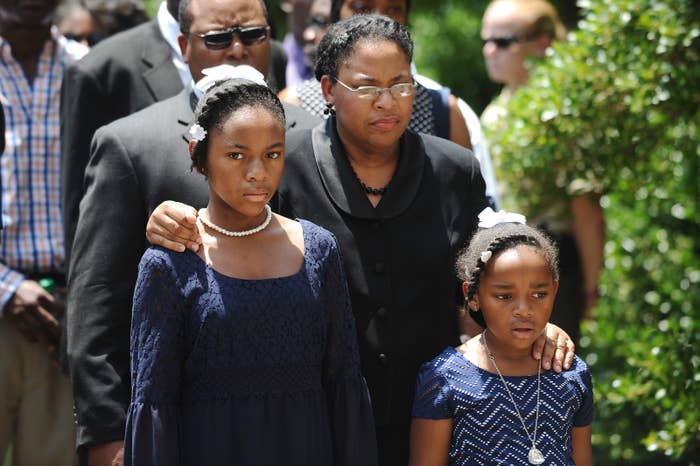 CHARLESTON — The widow of a pastor and state senator shot and killed during the Charleston church massacre, described in harrowing detail Wednesday how she and her young daughter survived the shooting while hiding inside the Mother Emanuel church.

Jennifer Pinckney said that she and 6-year-old Malana went to the church on June 17, 2015, with Sen. Clementa Pinckney, where he served as pastor. Jennifer Pinckney and Malana were sitting in the pastor's study when shots rang out.
"After a period of time I heard pop, pop, pop," Pinckney testified Wednesday in the penalty phase of convicted gunman Dylann Roof's trial. At first, Pinckney said she thought a generator had exploded.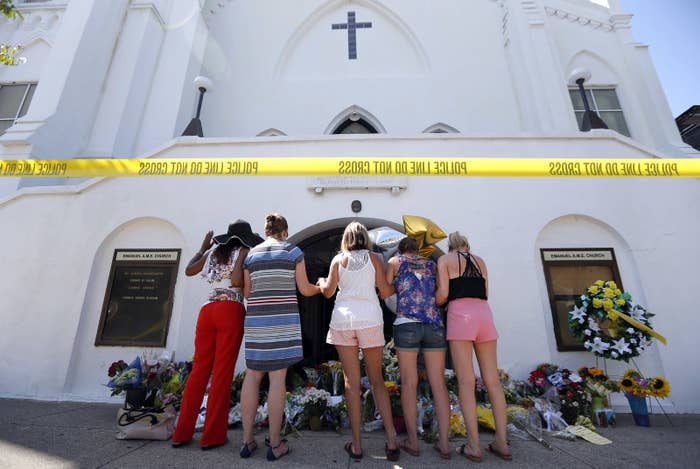 "I jumped up and ran to the side door. I put my hand on the door knob, opened it a crack," Pinckney said. "Then something came over me…it hit me then that it was gunshots. I thought, 'What are you doing?'"

Pinckney eased the door shut, locked it, and told her daughter to be quiet. Then she grabbed her daughter's arm and ran into the secretary's office and locked the door. "Gunshots were still going," Pinckney said.
She shoved her daughter under a desk and knelt down in front of her.
"I got real firm with her and told her to shut up. I held her hand," Pinckney said.
Pinckney told her daughter that if she heard the gunshots at a distance "I'm going to make a run for it. I got to go help."
"That's when the bullets came through the office," she said. Pinckney then leaped under the desk with her daughter.
"She was like 'Is Daddy going to die?'," Pinckney said. "I said 'Malana, be quiet. Don't say anything.'"
"I reached on the top of the desk. Trying to find the phone," Pinckney said. But as soon as she picked it up, it made a loud beeping sound. "He heard that," she thought.
Roof sat motionless at the defense table as Pinckney detailed the harrowing experience inside the church, never once looking at the witness as she told the chilling story of what happened to her during the massacre.
While hiding under the desk, Pinckney said she put her hand over her daughter's mouth. "She was holding onto me. Then she put her hand on my mouth," she said.
They sat there shaking. Then Pinckney heard the gunman speak.
"I heard Mr. Roof say, 'I'm not crazy, I had to do this,'" Pinckney said.
She could hear him walking closer to them and attempting to open the door to the room where they were hiding but it was locked. Still, Pinckney thought, "this is it." But he turned back.
She eased herself over the desk and told her daughter if he comes back, "don't come from under this desk" where she might be shielded from view.
Pinckney crawled back through the door leading into the pastor's study and found her phone, then hurried back into the office and under the desk where she dialed 911.
After Pinckney finished testifying the prosecution played the 911 call that she placed from inside the church. On the tape, first responders could be heard making contact with Pinckney and her daughter, telling them "c'mon baby" and "c'mon sweetheart, I'm going to carry you."
After the shooting, Pinckney said she "knew that [Clementa] was gone" because he was the kind of person who would have "got to me or got word across."
Later that night, a coroner confirmed to Pinckney that her husband was killed in the shooting. She then delivered the devastating news to her daughters.
"I told them that something had happened…I said Daddy got hurt," Pinckney said. "I explained that daddy was killed and that he will always be with them, with us. I just said that he'll always be with us. We'll always talk about daddy."
"That's the hardest thing that I think I've ever had to do," Pinckney said. "To tell a six-year-old and an eleven-year-old that their daddy was killed."
At the conclusion of her testimony, prosecutor Jay Richardson asked Pinckney, "Tell us why you think that you were spared?"
"It wasn't my time or my daughter's time," Pinckney said. "I don't see God taking both parents away from two small kids."
After the prosecution finished, the judge asked Roof, who is acting as his own attorney, if he would like to cross-examine Pinckney.
"No questions," he replied.