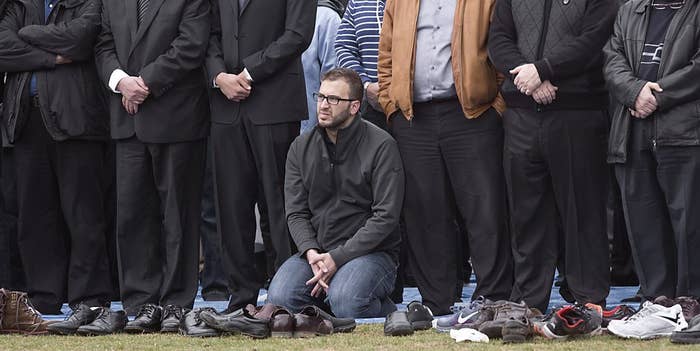 CHAPEL HILL, North Carolina — For the second night in a row, 24-year-old Farris Barakat stood up in front of a crowd of thousands and talked about his brother, Deah, who just days earlier was gunned down along with his wife and her younger sister.
"We just returned from burying the three bodies," Farris told the onlookers as they huddled together in a plaza at North Carolina State University in downtown Raleigh known as "The Brickyard."
Those bodies — Deah Barakat, his wife, Yusor Abu-Salha, and her younger sister, Razan Mohammad Abu-Salha — were fatally shot Tuesday in Chapel Hill, North Carolina. The neighbor accused of killing them remained in custody Thursday after being charged with three counts of murder.
"We buried Yusor and Razan together and we buried my brother. I've been telling people we just came from their wedding," Farris said. "My brother took his wife, Yusor, and they took their bridesmaid, their best friend, to the next world."
With temperatures dropping into the low thirties amid stiff winds, it was nearly impossible for mourners to light vigil candles, so most dispersed quietly after Farris closed the services with a prayer.
Farris, however, couldn't have escaped "The Brickyard" even if he wanted to, as more people approached him offering hugs, making it hard to discern who was family, who were friends, and who were mere acquaintances.
Practically the last person left shivering in the courtyard, Farris spoke to BuzzFeed News about seeing his brother's dead body for the first time and how his faith is helping him cope with the tragedy.
"We saw [Deah's] body today," Farris said.
In addition to being shot, Farris said, some of his brother's teeth were knocked out during the incident.
It was a particularly noteworthy injury, "him being a dentist and caring so much about his teeth," Farris said.
"I honestly started feeling a little bit bitter," he added, "but then I started to feel like, absolutely on the day of judgment, when we are resurrected to witness the full justice and to be accounted for our deeds, that my brother is going to have the best and most beautiful smile ever."
Deah was a second-year dental student at the University of North Carolina. Farris was one of his first patients.
"I had an appointment with him yesterday at 2 — the day after [the shooting] happened," Farris said. "I was his little test patient."
Despite a day of mourning that was compounded by gazing upon the gruesome wounds suffered by his brother — all three victims were allegedly shot execution-style in the head by neighbor Craig Hicks, who later turned himself in to police — Farris offered what some might consider to be a surprising take on the last couple days.
"There's nothing bad about this," he said. "Besides the fact that we're going to miss him. I wanted to be the uncle to his kids. I wanted to make sure to check his tires on his new car when he becomes a dentist.
"Besides that, everything has been great."
Farris cited his Muslim faith for giving him and his family the ability to cope with the tragedy.
"My strength comes from my faith," he said. "My faith that Deah and wife and Razan are in a great place right now."
Farris is also focused on telling the stories of his brother, Yusor, and Razan. Along with speaking at multiple memorials, he and his sister Suzanne — who also spoke Thursday at NC State and appeared last night on CNN — have done several interviews each. As of Thursday night, a Facebook page Farris created in the victims' honor had logged more than 137,000 likes.
Despite his devout faith and the support he feels, Farris knows that when the crowds of supporters dissipate and the constant shower of hugs starts to cease, the toughest mourning lies ahead.
"I'm soon going to realize what it means to have lost a brother," he said. "I haven't quite yet realized that fully."
He pointed to a social media message from one of Deah's favorite NBA players, Steph Curry, who earlier in the day offered to do something in his honor. Farris' initial reaction was to text the news to his brother.
"He's a big Steph Curry fan... I wanted to text him and be like, 'Deah, yo, check this out.'"