At The Boston Marathon Finish Line, A Bombing Survivor And Her Heroes Formed A Friendship Out Of Chaos
A Boston Marathon bombing survivor and the three people who saved her share their story one year after the attack.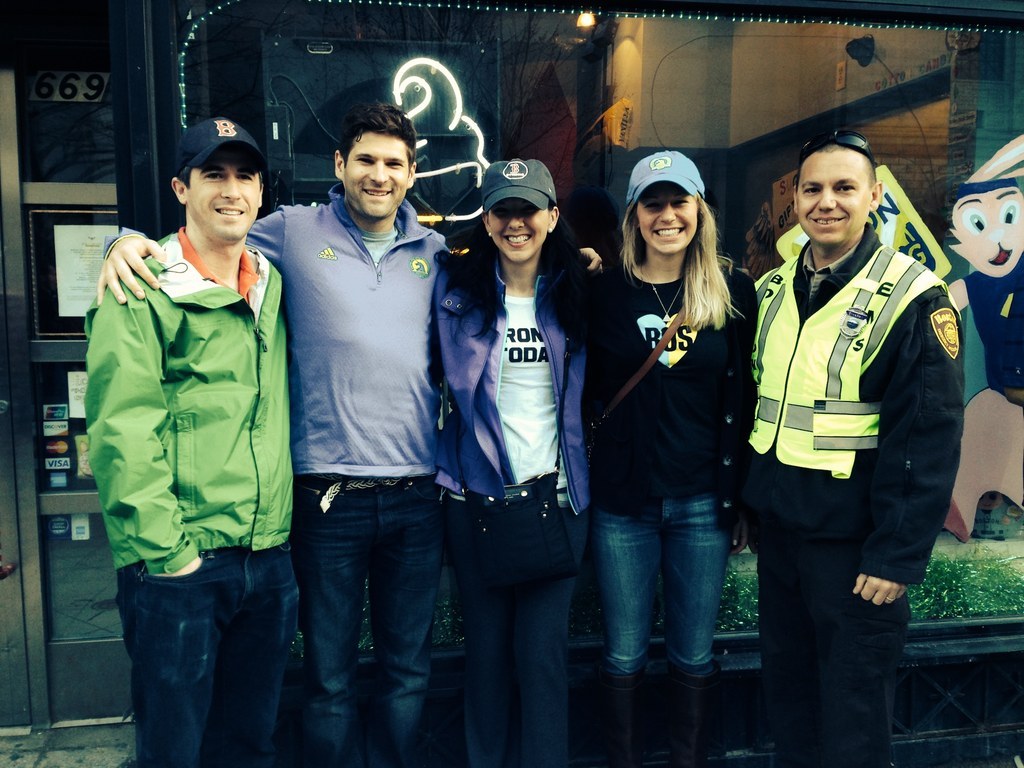 Michelle L'Heureux remembers lying on the floor in the back of Marathon Sports on Boylston Street. She was bleeding profusely from the upper leg and from a deep cut on her arm that went from her elbow to her shoulder. Three people she didn't know were trying to get L'Heureux to elevate her leg, stop her bleeding with T-shirts, and keep her calm.
L'Heureux put a hand to her cheek and saw more blood on her palm.
"Is my face OK?!" she blurted out loudly and frantically.
"You look fucking beautiful!" replied Joe McMenamy, a 28-year-old Marathon Sports employee and one of the three strangers who came to L'Heureux's rescue after the bombs exploded. Even in a state of shock, she laughed when McMenamy told her she was fucking beautiful.
Marathon Sports is typically jammed the whole week leading up to the Boston Marathon. Then the day of the race, business slows down and the managers invite friends and employees to enjoy the marathon from the store. They set up a corral so that their group can have prime space on the sidewalk with a vantage point just a few feet from the finish line. There are usually some beers in the basement.
McMenamy was downstairs getting a beer when the first bomb went off. As he raced back up the stairs, he encountered somebody running down, yelling, "There's a bomb!"
"I couldn't see outside — I just saw people rushing into the store," McMenamy recalls.
McMenamy spotted his friend Andrew Daley, an Adidas sales rep and longtime friend of Marathon Sports, and Daley's girlfriend, Lauren Blanda, carrying a visibly injured Michelle L'Heureux to the back of the store. "Help me! Help me!" L'Heureux was saying over and over.
L'Heureux was at the marathon that day to cheer on her boyfriend as he crossed the finish line. After he went by, she decided to stay and wait for another friend running the race to pass. She was standing directly in front of Jeff Bauman, a bombing survivor who would lose both his legs, when the first bomb went off.
She couldn't hear anything as she pulled herself up off the pavement — but she saw the glass flying, the people on the ground, and thought, I can't be standing in this and not be hurt. As L'Heureux stumbled into Marathon Sports, the second bomb exploded. She couldn't feel anything.
"Come inside! Come inside!" Shane O'Hara, the Marathon Sports manager, was screaming, pulling injured and stunned people off Boylston Street into the store. O'Hara grabbed L'Heureux and handed her to Daley and Blanda. "Please don't leave me! Please don't leave me!" said L'Heureux as they carried her the back of the store.
Daley, Blanda, and McMenamy elevated her leg and tried to stop the bleeding with T-shirts. When that didn't work, McMenamy took off his belt and used it as a tourniquet, squeezing it with all his might around her leg. But they still needed another tourniquet for L'Heureux's arm.
"This kid comes by with a bottle of vodka and asks if we need any for sanitizer," said McMenamy. "I grabbed him and pulled off his belt and tied it around her arm."
"You're going to be OK, we're not going to leave you," Daley said to L'Heureux.
Blanda called L'Heureux's boyfriend to let him know she was safe. Then she called L'Heureux's dad, a Boston Firefighter, and held the phone to her ear while her father told her she was going to be OK. Daley and Blanda stayed with her until the paramedics arrived. Daley, Blanda, and L'Heureux were the last three people in Marathon Sports that day.
Over the next week, L'Heureux had 30 hours of surgery at Boston's Brigham and Women's Faulkner Hospital in Jamaica Plains. Every time she asked a doctor if she was going to lose her leg, they told her she was going to be OK. That's not an answer! thought L'Heureux. She remembers waking up after the last surgery, looking down and seeing her foot, and thinking, Thank god.
"We connected on Facebook and were able to go see her in the hospital," said Daley. "When we got there, she told us she thought she remembered walking for blocks that day to get to the store" — even though she was just standing out front when the bombs went off.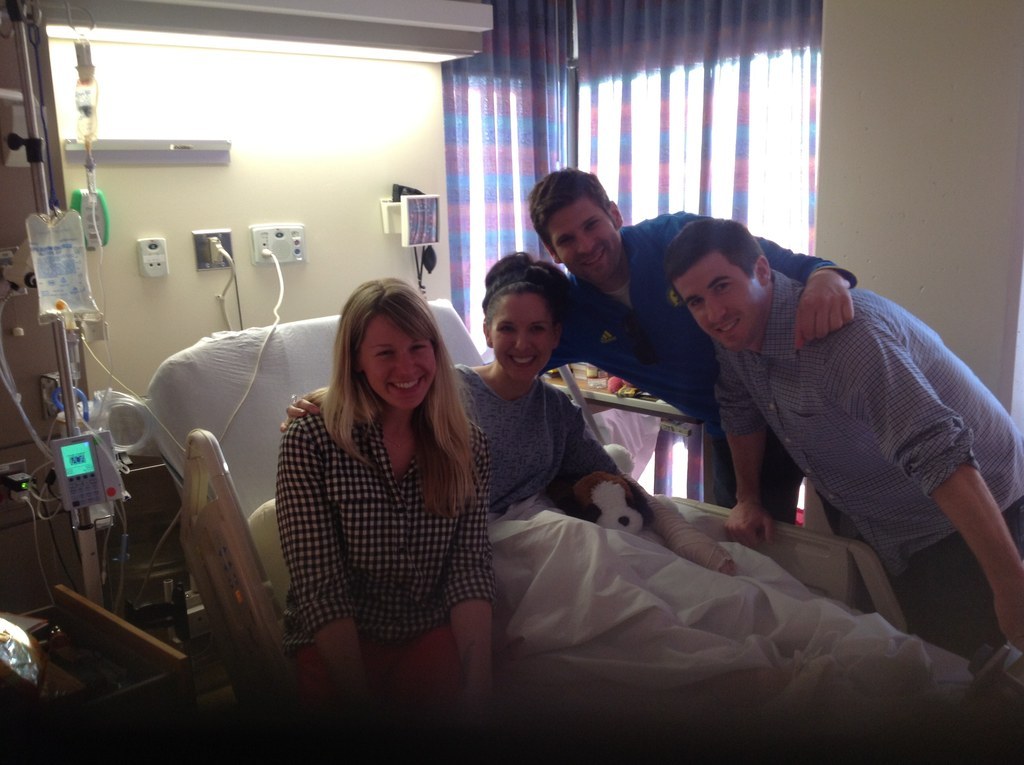 Hospital visits led to dinners and led toL'Heureux going out to Cape Cod to meet Daley's and McMenamy's families in their hometown of Falmouth, Mass. This past Saturday, Daley, Blanda, and McMenamy accompanied L'Heureux to a special survivors photo shoot for the cover of Sports Illustrated. Her three heroes couldn't be in the photo with her, so they took a picture, along with one of the paramedics who saved her, as group on Boylston Street.
"We met for some shitty reasons, for sure," said Daley. "But we're going to be friends for life."
"I know someone else would have helped me," said L'Heureux . "But I'm glad it was them."
After she got out of the hospital last April, L'Heureux couldn't walk for two weeks. On Saturday, she'll run in the Boston Athletic Association's sixth annual 5K race, held two days before the 118th Boston Marathon. Far from a devoted runner, she's recruited some avid road racers do the run with — Lauren Blanda, Andrew Daley, and Joe McMenamy.
"I actually hate running," L'Heureux said, laughing. "This [5K] is like my big middle finger to the terrorists."
Michelle L'Heureux on the cover of Sports Illustrated's special "Boston Strong" edition one year after the marathon bombing.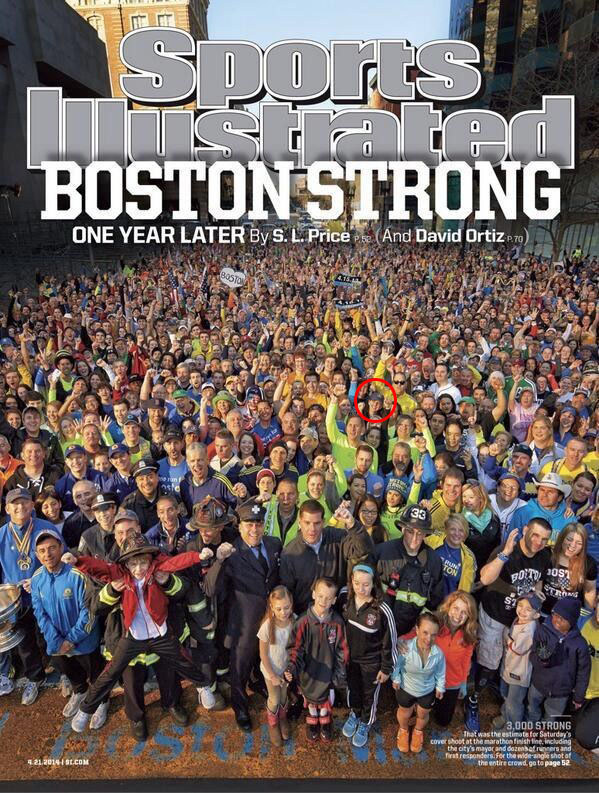 Correction: An earlier version of this post misspelled the last name of Michelle L'Heureux. (4/21)