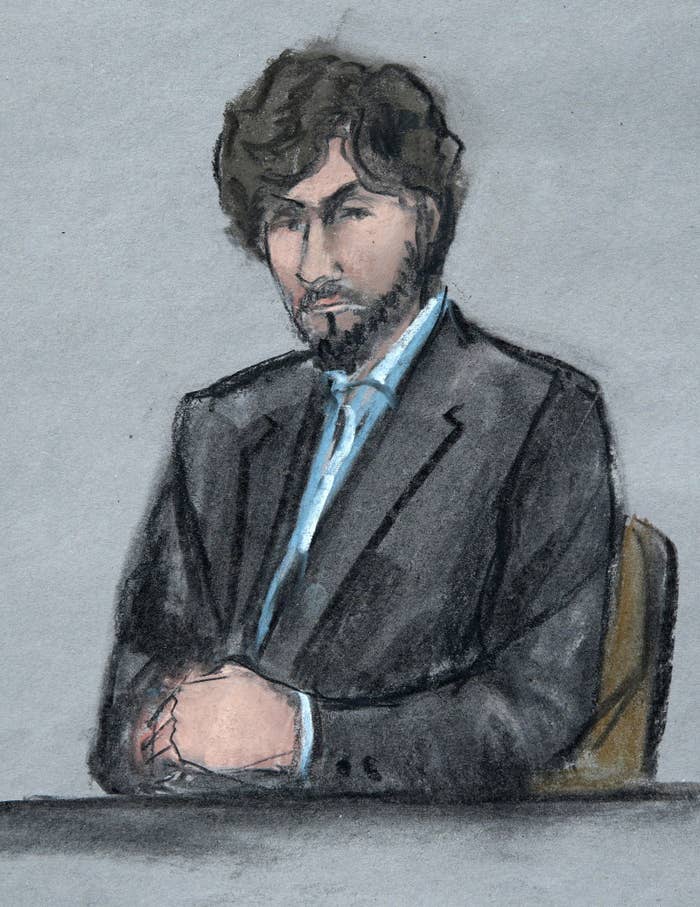 Convicted Boston Marathon bomber Dzhokhar Tsarnaev addressed his victims for the first time in court Wednesday before he was formally sentenced to death, telling them, "I would like to now apologize to the victims and to the survivors."
"Immediately after the bombing, of which I am guilty of, there is little doubt about that. I learned their faces, their names," Tsarnaev said, according to reporters in the court.
"I am sorry for the lives that I have taken, the suffering that I have caused you, the damage that I've done," he added. "I ask Allah to have mercy upon me, my brother, and my family."
Tsarnaev was in court Wednesday for his formal sentencing hearing after a jury imposed the death penalty on May 15 for his role in killing four people and injuring more than 260 in the most infamous terrorist attack since 9/11.
Speaking outside the courtroom after a judge sentenced Tsarnaev to death by execution, as well as 19 life sentences without the possibility of parole, bombing survivors had mixed reactions.
Scott Weisberg and Lynn Julian told reporters that they were unimpressed with Tsarnaev's statements and believed lacked genuine remorse.
"What he took from me, I'll never be able to regain," Weisberg said, citing the hearing loss, post-traumatic stress disorder, and brain injury he suffered in the bombing.

Julian said "a simple apology would have been nice," but that's not what survivors got.
"There was nothing simple about what he said, or sincere," she said.

But Henry Borgard, who was walking home from work when the bombs went off, took a different view, telling reporters he was "actually really happy" that Tsarnaev addressed the courtroom, and took him at his word that he was sorry.
"I have forgiven him," Borgard said. "I have come to a place of peace and I genuinely hope that he does as well."
Tsarnaev wasn't the only one to address the court Wednesday. Before the judge imposed the sentence, victims and family were given the opportunity to confront the 21-year-old and deliver their own statements.
Twenty-four chose to do so.
"He can't possibly have a soul to do such a horrible thing," said Karen McWaters, best friend to Krystle Campbell, who was killed during the bombing.
McWaters was with Campbell when the bombs exploded on Boylston Street and lost her left leg in the blast.
McWaters said the Tsarnaev brother "took away a kind and loving person who would have never hurt anyone. [Krystle] was not the enemy. They didn't even know her."
Krystle Campbell's mother, Patricia, told Tsarnaev that he should have helped his brother Tamerlan — who died after a shoot-out with Watertown, Massachusetts, police — get help for his anger and hatred toward America, but instead chose to go along with him.
"I know life is hard, but the choices that you made were despicable and what you did to my daughter was disgusting," Campbell said.
Tsarnaev "failed as a soldier of jihad," said Krystle's father, Bill Campbell Jr.
Jen Collier, sister of MIT Officer Sean Collier, who was shot and killed by the Tsarnaev brothers during an ambush, spoke and criticized the media for invading her privacy after her brother was killed.
"The media have invaded our lives, stalked us, made us hide from the world," Collier said.
Collier added the impact of her brother's death has made it hard for her to date and she has a hard time feeling happy.
"The defendant not only has taken Sean away from me; he has taken me away from me," Collier said.
She also addressed Tsarnaev's apparent lack of remorse.
"He has not once shown that he cares about a single person other than himself. He is a leach. He spit on the American dream," Collier said.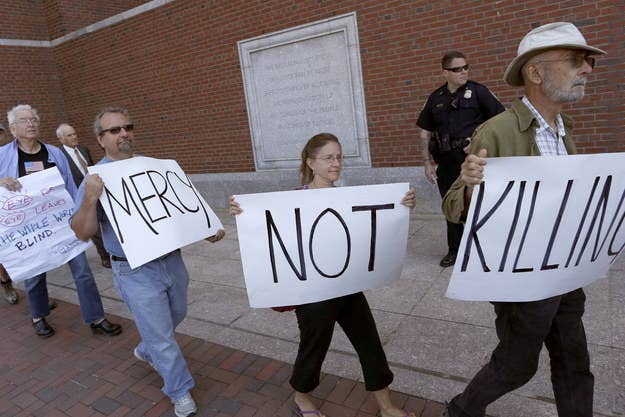 Bill Richard, father of 8-year-old Martin Richard, the youngest person killed in the attack, also said that Tsarnaev had the opportunity to stop the attack, but instead chose hate, destruction, and death.
"This is all on him," he said.
The government focused on the fact that Tsarnaev placed his bomb behind Martin Richard and his 6-year-old sister, Jane, and then waited a full four minutes before detonating.
"We had preferred he have a lifetime to reconcile himself to what he did that day," Bill Richard said, "but he will have less than that."
He and his wife, Denise, had spoken out against a death sentence for Tsarnaev in an op-ed published by the Boston Globe during the trial.
Massachusetts Bay Transit Authority transit officer Dic Donohue, who was shot during the manhunt, called the actions by the Tsarnaev brothers "treason against America."
Donahue nearly bled out on the Watertown street where police and the Tsarnaevs faced off.
"I should have died early that morning," Donuhue said. "I was literally within seconds of leaving this world."
Ed Fucarile, father of Marc Fucarile, who lost a leg in the bombing, told Tsarnaev: "First time I saw you in this courtroom you were smirking. You don't seem to be smirking today."
He went on to tell the judge Tsarnaev's sentence "should be as severe as possible."
Heather Abbott, who lost part of her left leg, noted in her statement that her prosthetic limb costs $75,000 and will have to have it replaced every few years.
However, she added, "I would like Dzhokhar Tsarnaev to know that he did not break me."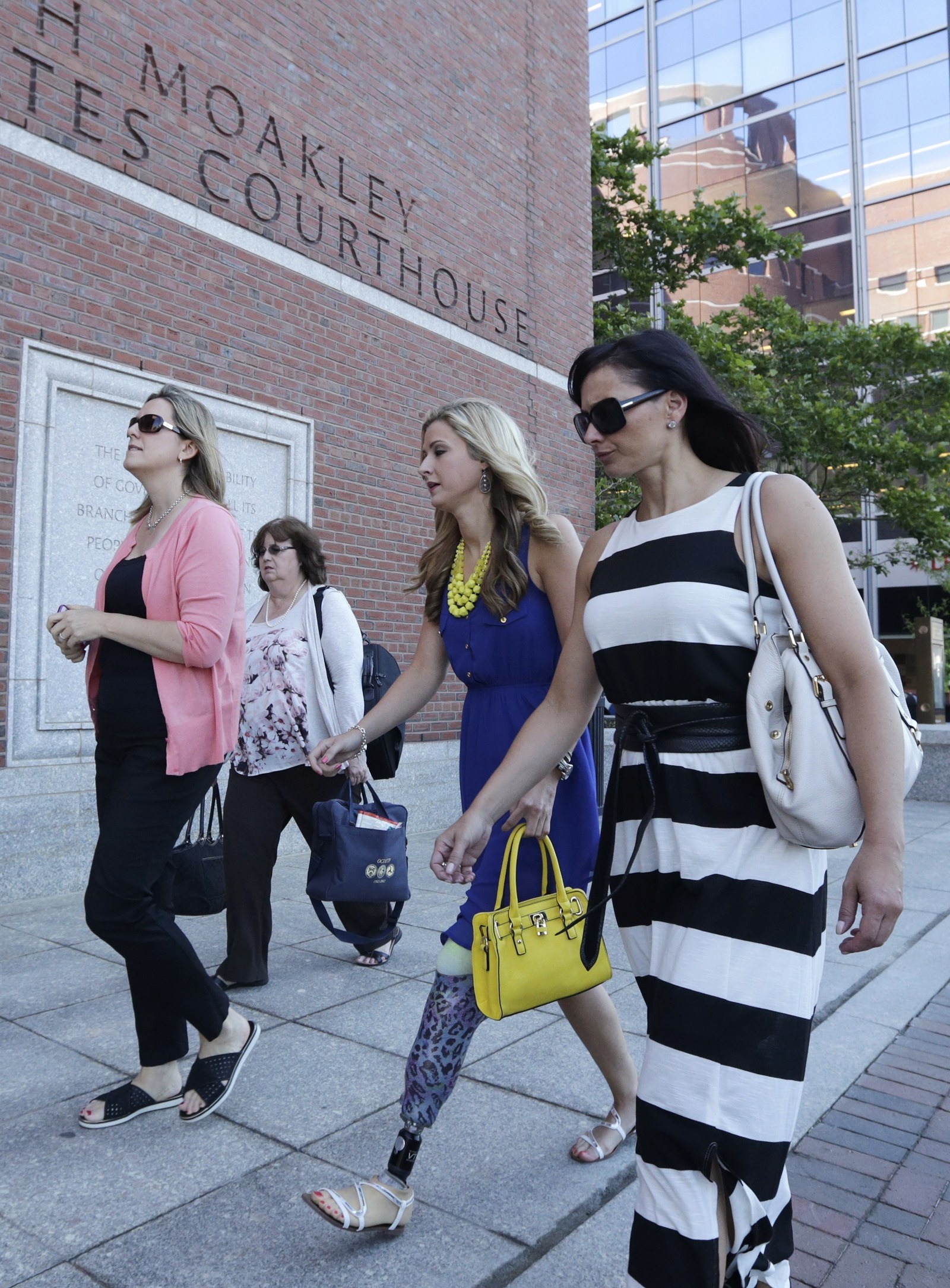 The last of the 24 victim statements came from Rebekah Gregory, who lost a leg in the bombing.
Gregory also called out Tsarnaev for his behavior in court, referencing how he appeared to crack jokes with his attorneys throughout the trial.
"Is this how your mom raised you?" Gregory asked.
After the victim impact statements concluded, U.S. Attorney Bill Weinreb addressed the court on behalf of the prosecution team.
"The harm to the victims cannot be undone," he said. "They can never be made whole."
Julian also addressed that permanent loss during the news conference, telling reporters that the bombing took away any sense safety.
"Now we take nothing for granted," she said. "Every time we go out, we're in fight or flight [mode]."
Before Tsarnaev spoke, his attorney Judy Clarke reminded the court that Tsarnaev submitted an apology and offered to plead guilty, but the government insisted on going to trial.
But when it came down to formally sentence Tsarnaev, Judge George O'Toole spared the bomber no mercy, imposing the harshest penalty after also addressing him from the bench.
"Whenever your name is mentioned," O'Toole said, "what will be remembered is the evil you did."