Boston Bombing Trial's Opening Arguments Delayed
The slow pace of jury selection will push back the timeline in Dzhokhar Tsarnaev's mass murder trial. His lawyers filed a third motion to move the trial out of Boston to ensure "indifferent jurors."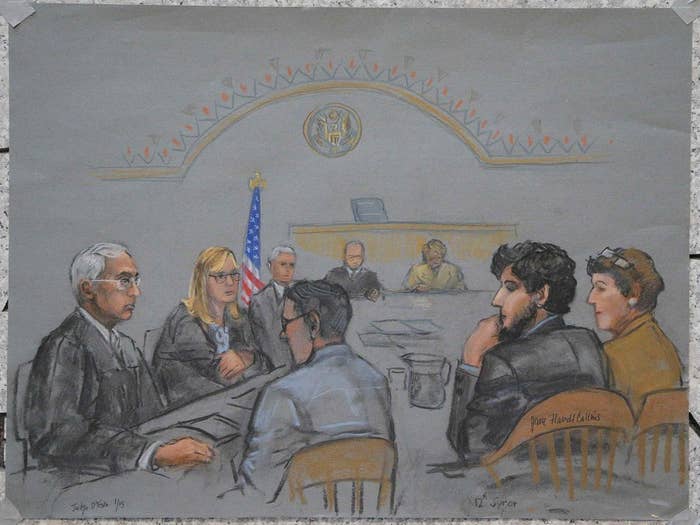 Opening arguments in the murder trial of Boston Marathon bombing suspect Dzhokhar Tsarnaev will likely be delayed because jury selection is taking longer than anticipated, federal court officials said on Thursday.
The process "in the interest of thoroughness is taking longer than
originally anticipated," said Ginny Hurley, the outreach coordinator for the U.S. District Court for the District of Massachusetts. "As a result, the previously estimated date for the start of the presentation of the case, Jan. 26, is not realistic."
It's unclear when the trial will progress beyond jury selection, Hurley said.
Tsarnaev's defense team also filed a third motion to move his trial out of Boston.
Download PDF
In a memo submitted to support their motion, Tsarnaev's attorneys said a change of venue was required to ensure that their client received a "fair trial by a panel of impartial, 'indifferent' jurors' guaranteed by the United States Constitution."
Download PDF
Quoting a recent Supreme Court decision on the merits of a venue change request, the memo stated that a venue change was required if "extraordinary local prejudice will prevent a fair trial."
Questionnaires by 1,373 prospective jurors showed that 68% of them believed Tsarnaev is guilty before "hearing a single witness or examining a shred of evidence," his attorneys said.
His defense team said that the questionnaires confirmed the potential jurors' presumed prejudice in the district of Massachusetts.
They said that that the "unrelenting near-daily" publicity before the trial, through hundreds of articles in the Boston Globe and Boston Herald, had "cemented a narrative of guilt in the public consciousness" that was reflected in the potential jurors in the district.
The memo also quoted from a BuzzFeed News story about a potential juror breaking down during questioning: "With the entire pool of potential jurors living a maximum two hours from Boylston Street, the judge and attorneys selecting the jury may have to settle with candidates who think they can put their connections aside, but aren't 100% sure," the defense lawyers said.
Judge George O'Toole said Thursday that quoting from the confidential questionnaires in the motion was "improper." He ordered the memo, which he says contains direct passages from questionnaires of jurors who haven't been questioned yet, be sealed immediately. However, the judge notes that by releasing the information publicly already "the damage may have already been done." The judge did not say when he plans to rule on Tsarnaev's Third Motion for Change of Venue.