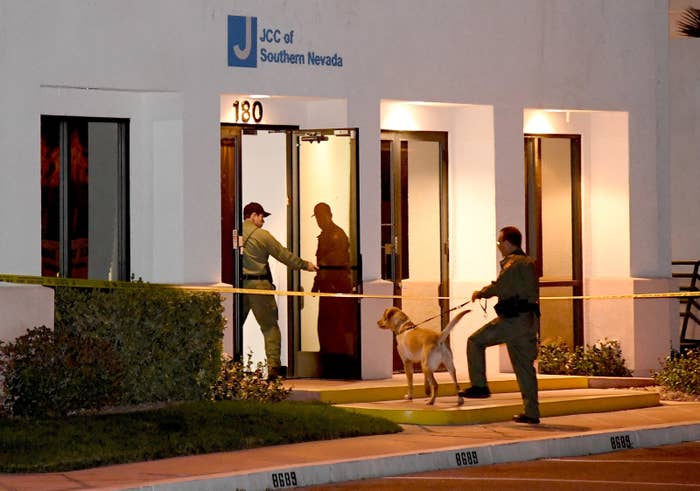 Federal investigators believe the latest wave of bomb threats against Jewish centers and schools around the country was a coordinated attack perpetrated using "spoofing" technology, according to a liaison to the Jewish community who spoke with FBI investigators.

Paul Goldenberg, the national director for Secure Community Network, a homeland security initiative focused on the Jewish community, told BuzzFeed News that those responsible "are leveraging technologies that have made the investigation more challenging."
Goldenberg said investigators determined that some people calling in threats were using "spoofing," a tactic where a call appears to come from a friendly or known source when it is in fact coming from somebody else.
CBS News first reported Monday that law enforcement officials believe the attacks were a coordinated effort. However, a law enforcement official told the New York Times on Tuesday that a single person may be responsible for the threats.

He further added that the perpetrator used "voice masking technology."
In one threat that targeted the David Posnack Jewish Day School in Davie, Florida, CBS Miami reported that police said someone who sounded like woman with an altered voice called the front office and said a bomb would go off in "ten minutes to three hours."
Goldenberg said the SCN has been "working 24/7" with the FBI since the threats started and he has been in regular contact with the FBI about the investigation.

On Monday, bomb threats were called into 30 Jewish community centers and schools in at least 18 states, adding to a growing list of anti-Semitic incidents across the US this year. So far, nobody has been injured.

Authorities confirmed reports of threats on Monday in Alaska, North Carolina, Florida, Pennsylvania, New York, New Jersey, Delaware, Michigan, Alabama, Maryland, Indiana, Virginia, Connecticut, Rhode Island, California, Arizona, Washington, and Nevada. No injuries were reported, and the threats came in the form of a series of phone calls Monday morning, then again Monday evening.
The San Francisco office of the Anti-Defamation League also received a bomb threat Monday afternoon. It was evacuated, and police shut down a section of busy Market Street to investigate.
There have been five waves of called-in bomb threats so far this year, according to the Jewish Community Center Association, totaling 100 incidents at 81 locations in 33 states and two Canadian provinces.
Goldenberg and other researchers tracking these incidents say the numbers seen this year so far are unprecedented.
"The short answer is we haven't seen anything like this in the past," Mark Potok, senior fellow at Southern Poverty Law Center, told BuzzFeed News. "This is my 18th year here and I haven't seen anything remotely like this."
"You can't even compare it," Goldenberg said. "I have been in business for two decades, and we have never seen a number at this level in a short period of time."
The FBI and the Justice Department Civil Rights Division said they are investigating the threats as possible civil rights violations.
"The FBI will collect all available facts and evidence, and will ensure this matter is investigated in a fair, thorough, and impartial manner," an FBI spokesperson said. "As this is matter is ongoing, we are not able to comment further at this time."
Asked about the recent wave of anti-Semitic attacks and threats across the nation, President Donald Trump on Tuesday told a group of state attorneys general that "sometimes it's the reverse," according to Pennsylvania Attorney General Josh Shapiro, who attended the meeting.
"He just said, 'Sometimes it's the reverse, to make people — or to make others — look bad,' and he used the word 'reverse' I would say two to three times in his comments," Shapiro said. "He did correctly say at the top that it was reprehensible."
Asked for further information about the purpose of the president's comments, Shapiro only said, "I really don't know what he means, or why he said that," adding that Trump said he would be speaking about the issue in his remarks to a joint session of Congress on Tuesday night.
Saying that he hoped to see clarification from the president in those remarks, Shapiro added, "It didn't make a whole lot of sense to me."
Later, in his national speech, Trump said, "Recent threats targeting Jewish Community Centers and vandalism of Jewish cemeteries, as well as last week's shooting in Kansas City, remind us that while we may be a nation divided on policies, we are a country that stands united in condemning hate and evil in all its forms." (The shooting took place outside Kansas City.)
White House spokespeople did not immediately respond to requests for comment.
Albert Samaha contributed to this report.