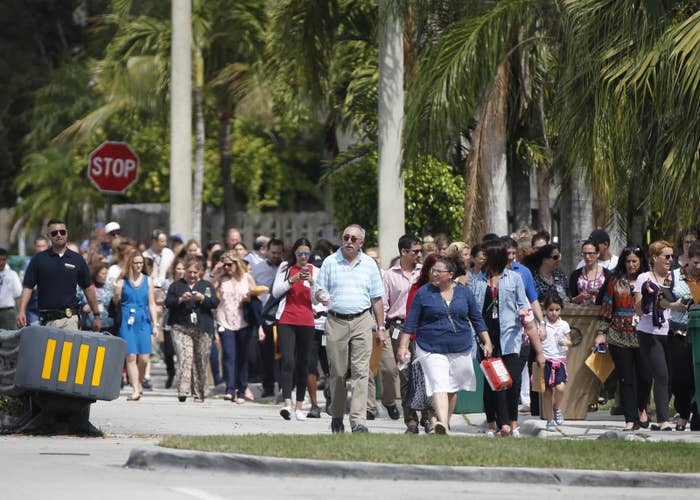 Bomb threats were called into 30 Jewish community centers and schools in at least 18 states on Monday, bringing the total number of anti-Semitic threats across the US and Canada this year to 100.
Local media and police confirmed reports of threats on Monday in Alaska, North Carolina, Florida, Pennsylvania, New York, New Jersey, Delaware, Michigan, Alabama, Maryland, Indiana, Virginia, Connecticut, Rhode Island, California, Arizona, Washington, and Nevada. No injuries were reported, and the threats came in the form of a series of phone calls Monday morning, then again Monday evening.
The San Francisco office of the Anti-Defamation League also received a bomb threat Monday afternoon. It was evacuated, and police shut down a section of busy Market Street to investigate.
In a statement, ADL CEO Jonathan A. Greenblatt said even one threat was too many.
"The level of threats and incidents is astounding, and must not stand," he said. "We will do everything in our power to combat this wave of anti-Semitism."
The latest rash of threats against Jewish centers is the fifth since the beginning of 2017, bringing the number of threats in the US and Canada to more than 100 reported this year.
The threats on Monday come one day after a Jewish cemetery in Philadelphia was desecrated. On Sunday, around 100 headstones were knocked over at the Mount Carmel Cemetery in northeast Philadelphia, police said.

As anti-Semitic rhetoric rises around the country, the Trump administration has been slow to attempt to quell the vitriol.

The White House took considerable flack in the first days after President Donald Trump took office when it failed to mentioned Jews in a statement on Holocaust Remembrance Day.
Then, at a marathon press conference, Trump told a Jewish reporter to "sit down" after the reporter asked if the administration felt any responsibility for the apparent increase in overt anti-Semitic acts since the 2016 election. Trump added in his response that he is "the least anti-Semitic person."
Last week, Trump denounced anti-Semitism after 11 Jewish community centers across the country received bomb threats and vandals defaced more than 100 headstones at a Jewish cemetery in St. Louis.
"I will tell you that anti-Semitism is horrible and it's going to stop. It has to stop," Trump told MSNBC's Craig Melvin.
That same day, Trump continued addressing the issue after taking a tour of the National Museum of African American History and Culture in Washington, DC.
"The anti-Semitic threats targeting our Jewish community and community centers are horrible and are painful and a very sad reminder of the work that still must be done to root out hate and prejudice and evil," he told reporters.
Steven Goldstein, executive director of the Anne Frank Center, responded with a statement, calling Trump's "sudden acknowledgment is a Band-Aid on the cancer of anti-Semitism that has infected his own administration."
At Monday's press briefing, White House press secretary Sean Spicer said Trump "continues to be deeply disappointed and concerned" about "the reports of further vandalism at Jewish cemeteries."
"The cowardly destruction in Philadelphia this weekend comes on top of similar accounts from Missouri and threats made to Jewish community centers around the country," Spicer said. "The president continues to condemn these and other forms of anti-semitic and hateful acts."
David Posner, director of strategic performance at JCC Association of North America, sent BuzzFeed News the following statement:
Anti-Semitism of this nature should not and must not be allowed to endure in our communities. The Justice Department, Homeland Security, the FBI, and the White House, alongside Congress and local officials, must speak out – and speak out forcefully – against this scourge of anti-Semitism impacting communities across the country.


Actions speak louder than words. Members of our community must see swift and concerted action from federal officials to identify and capture the perpetrator or perpetrators who are trying to instill anxiety and fear in our communities.

We remain grateful to local law enforcement who continue to serve our communities and ensure that our JCCs and schools remain safe and open for business as the vital community institutions they are.
The FBI and Department of Justice, meanwhile, have launched investigations into the rash of bomb threats.