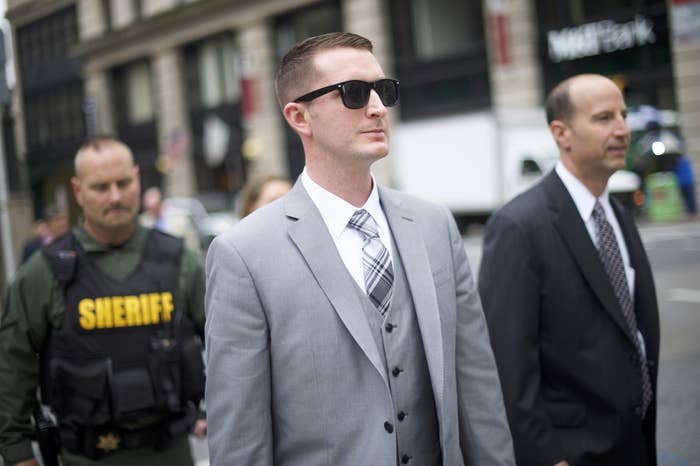 Closing arguments were delivered Thursday in the case of one of the officers charged in the arrest of Freddie Gray, the 25-year-old Baltimore man who died last year after suffering a severe spinal cord injury in police custody.

Baltimore cop Edward Nero, 30, was one of bicycle officers who pursued Gray through the Gilmor Homes public housing project in West Baltimore on April 12, 2015. Nero is accused of recklessly endangering Gray by failing to secure him in the back of a police van with a seat belt. He has pleaded not guilty to misdemeanor charges of second-degree assault, reckless endangerment and two counts of official misconduct.
One of the key issues of state's case against Nero is whether placing Gray in a prone position on the floor of the van was reckless.
"Putting someone in a prone position when they are cooperative is excessive force," State's Attorney Janice Bledsoe said during her closing argument.
Defense attorney Mark Zayon argued during his closing that failure to seat belt Gray was an "act of omission," adding that the state didn't show Nero had duty to do it.
Another key to the prosecution's case focuses on whether Nero had a duty to make sure that Gray was secure in the van before he and the fellow arresting officers turned over custody.
During his rebuttal argument, Chief Deputy State's Attorney Michael Schatzow told the judge that you don't have to be a 20-year veteran of the department to know that someone in custody should be secured with a seat belt. He added that if Nero knew that the van driver wasn't going to secure Gray had an obligation to do so.
"Somebody's gotta use logic, Judge, and we're counting on you," Schatzow said.
Officer Caesar Goodson, the driver of the van that transported Gray, faces a second-degree murder charge, the most serious accusation of all the six police officers charged in the case. Goodson's trial is scheduled to start in June.
Zayon argued that Freddie Gray was injured because he stood up in the van, and that Nero couldn't have anticipated that he would do so.
One of the key witnesses in the case, Officer Garrett Miller, who also faces charges in Gray's arrest, was ordered to testify at Nero's trial under immunity. Called by the prosecution, Miller testified that he caught Gray, placed him in handcuffs, and moved him while they waited for the van. When the van arrived, Nero and Lt. Brian Rice, placed Gray in the van.
Zayon added that "intervening acts" like Gray standing up the van driver's driving played a role in Gray being hurt. He pointed out that all witnesses have testified it was the wagon driver's responsibility to seat belt prisoners.
Nero never took the stand in his own defense, nor did Officer William Porter, whose trial in Gray's arrest and death ended in a mistrial. Nero's trial was scheduled to occur earlier in the year, but was delayed after prosecutors said they wanted to compel Porter to testify in the case. The State's appeals court affirmed in March that Porter could be called, but he never was.
The Judge is expected to deliver a verdict on Monday.