Aurora Theater Shooting Report Reveals Issues With Emergency Response
The report released this week by Aurora, Colorado, city officials includes findings that ambulance units were blocked by traffic and couldn't get to the victims.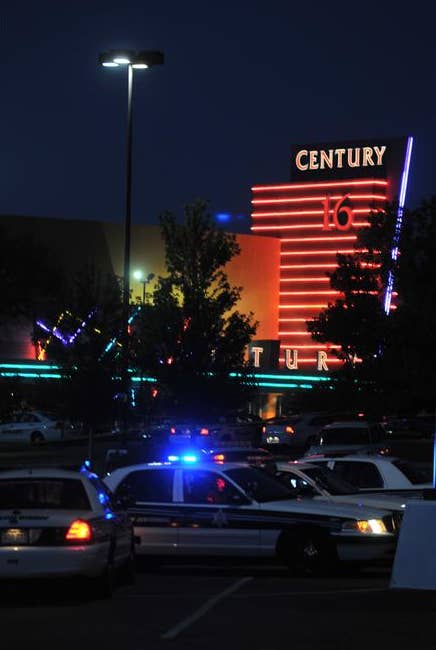 The City of Aurora, Colorado released a 188-page report Wednesday on the mass shooting at the Century 16 Theater on July 2012.
On July 2012, shooter James Holmes opened fire at a premiere screening of The Dark Knight at the Aurora theater, shooting 70, killing 12. Others were injured fleeing the theater — a total of 82 people were treated for injuries.
Holmes was apprehended by law enforcement at the scene.
The report by TriData, a research firm that produced similar documents after shootings at Columbine High School, Virginia Tech University, and Northern Illinois University, focuses on the emergency response, victims' families assistance, but not on the crime committed.
TriData interviewed 180 people involved in the tragic event and includes 84 recommendations in its report.
The report notes the magnitude of the emergency response — which is the largest mass casualty in the history of the town. According to the report, once the shooting started, about 100 911 calls were fielded by Aurora dispatch in 22 minutes.
Under the areas of improvement section, the report finds specific communications issues between different public safety departments — noting that ambulances were unable to get to the scene because of traffic issues. This led to some victims being transported to the five areas hospitals in police cars, civilian vehicles, and on foot. The report says as a result of these problems, personnel relations suffered between the city's fire and police departments following the shooting.
Overall, the report concludes that — despite some of the identified areas of improvement — no one who was killed in the shooting could have survived if anything went differently.
About 100 911 calls were placed in 22 minutes after the shooting.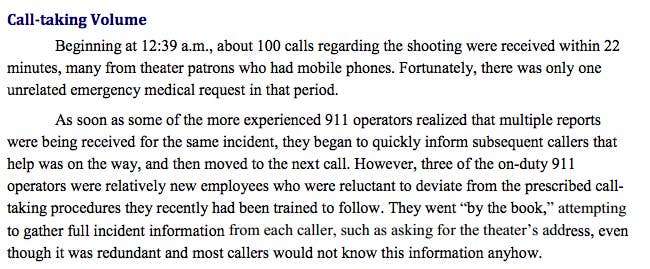 Ambulance access was a problem outside the theater.

Police and fire departments have blamed each other for the traffic issue at the emergency scene.

Overall, the report finds that no one who died who have survived if the response was different.

Read the full after report on the Aurora theater shooting.
Download PDF