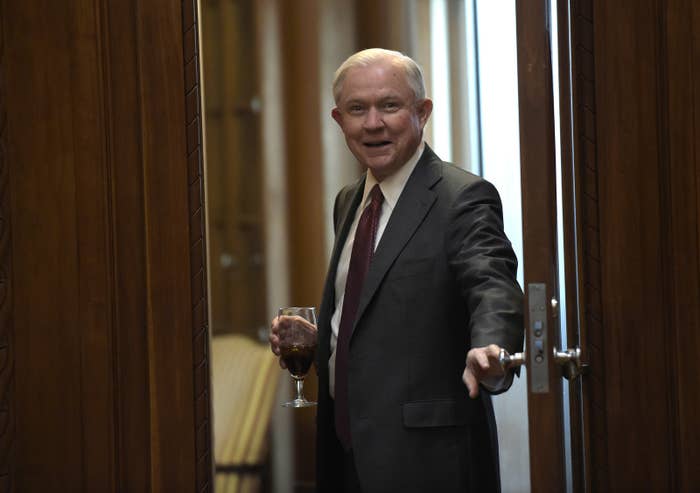 Attorney General Jeff Sessions on Thursday reversed an Obama-era directive aimed at ending the use of private, for-profit prisons by federal government.
In a memo, Sessions said he is rescinding the earlier directive issued by former Deputy Attorney General Sally Yates titled "Reducing our Use of Private Prisons."
In that memo issued Aug. 18, Yates said the Department of Justice planned to reduce and ultimately end its practice of sending inmates to private prisons.
"Private prisons served an important role during a difficult period, but time has shown that they compare poorly to our own Bureau facilities," Yates wrote. "They simply do not provide the same level of correctional services, programs, and resources; they do not save substantially on costs; and as noted in a recent report by the Department's Office of Inspector General, they do not maintain the same level of safety and security."
Sessions, however, wrote that the Yates' directive "changed long-standing policy and practice, and impaired the Bureau's ability to meet the future needs of the federal correctional system. Therefore, I direct the Bureau to return to its previous approach."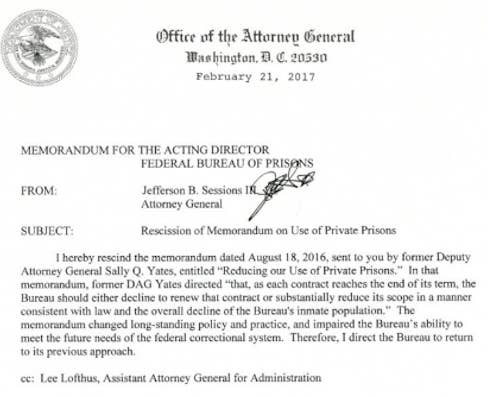 The memo from Yates was issued one week after a report found that private prisons holding federal inmates "incurred more safety and security incidents per capita" than in prisons managed by the government.

The reverse course by Sessions and the Trump administration is a boon to the private prison industry. As news that he was rescinding Yates' memo broke Thursday afternoon, stocks for GEO Group and CoreCivic (formerly Corrections Corporation of America), the two largest private prison companies in the US, were headed upward in after-hours trading.
The two companies have also seen their stocks boom since Trump's election. Just one day after his election, BuzzFeed News reported that shares of GEO Group were up over 17.5% to $28, while shares of CoreCive were up 34% to $19. Since then, both have nearly doubled in value. In contrast, the companies' shares had fallen at least 35% on the day the Department of Justice (DOJ) announced its policy change in August.
David C. Fathi, director of the American Civil Liberties Union's National Prison Project, issued a statement calling the Sessions' decision "a recipe for abuse and neglect," while noting that President Trump's super-PAC received hundreds of thousands of dollars from private prison companies.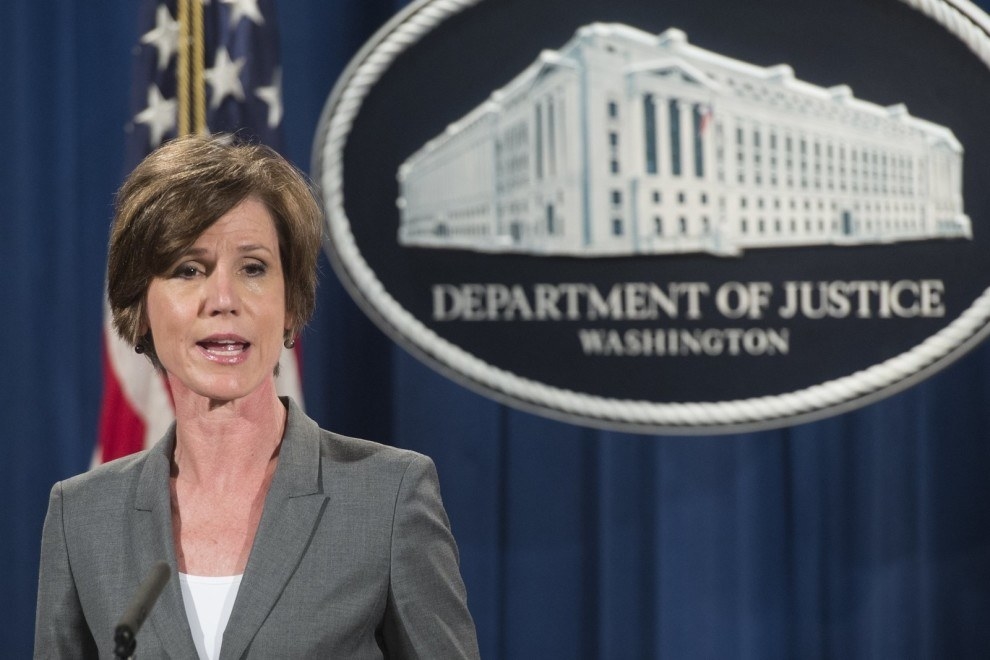 BOP currently retains 12 private prison contracts that hold around 21,000 inmates. In her August memo, Yates directed that "as each contract reaches the end of its term, the Bureau should either decline to renew that contract or substantially reduce its scope."
Yates added that under her plan, the federal private prison inmate population would drop to around 14,200 by May 2017. Carl Takei, a staff attorney at the ACLU, called the move by Yates and the DOJ "an important and groundbreaking decision."
However, as Trump ramps up enforcement efforts geared toward detaining and deporting more immigrants, private prison companies stand to benefit. CCA got a $1 billion contract in 2014 to build a facility to house Central American migrants in South Texas, while GEO Group bought a company in 2011 that had a contract with Immigration Customs and Enforcement (ICE) to monitor and supervise people who are released from detention, frequently with ankle bracelets.
After Sessions rescinded the memo on Thursday, Joanne Li, senior immigration policy advocacy counsel at ACLU, tweeted: "Profiteering should never play a role when the government is locking up human beings. AG decision places private prison industry over people."