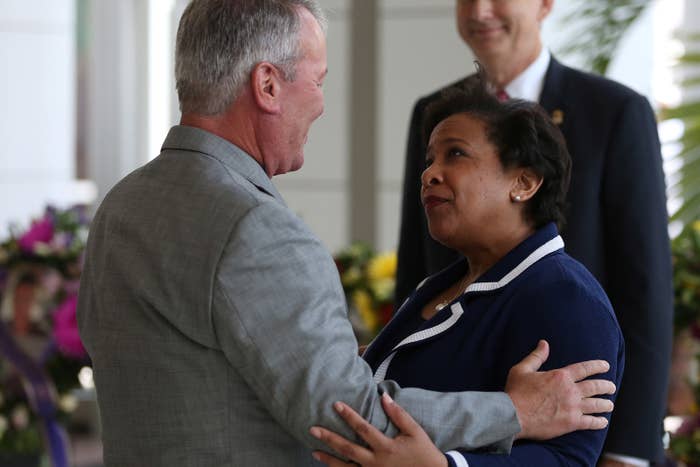 Attorney General Loretta Lynch on Tuesday for an on-the-ground update on the Pulse nightclub shooting in which 49 people were killed.
Lynch, who was also due to meet with survivors, also warned that investigators may never fully know what truly motived gunman Omar Mateen to carry out the deadliest mass shooting in U.S. history.
"I can't tell you that we will ever narrow it down to one motivation," she said.
Thousands around the world have gathered in solidarity with the LGBT community in the wake of the shooting, which in addition to the dead, injured 53 others at the popular gay nightclub.
Little new information on the federal investigation was released Tuesday as investigators continue to interview witnesses, process the crime the scene, and analyze Mateen's behavior prior to the event.
"People often act out of more than one motivations — this was clearly an act of terror and an act of hate," Lynch said.
Lynch's visit came one day after the FBI released transcripts of the 911 calls made by Mateen from inside the nightclub. Initially, officials planned to release a redacted version of the exchange between Mateen and dispatchers, but decided to release the full transcript under pressure from lawmakers.
The transcripts confirmed that Mateen had pledged support to Abu Bakr al-Baghdadi, the leader of ISIS, during the attack, however, authorities have said there is no evidence he was directed by any foreign terrorist group. Instead, the FBI believes Mateen was self-radicalized.
Below is the uncensored transcript:
Orlando Dispatcher (OD): Emergency 911, this is being recorded.

Omar Mateen (OM): In the name of God the Merciful, the beneficial [in Arabic]

OD: What?

OM: Praise be to God, and prayers as well as peace be upon the prophet of God [in Arabic]. I let you know, I'm in Orlando and I did the shootings.

OD: What's your name?

OM: My name is I pledge of allegiance to [ISIS chief] Abu Bakr al-Baghdadi of Islamic State.

OD: Ok, What's your name?

OM: I pledge allegiance to Abu Bakr al-Baghdadi may God protect him [in Arabic], on behalf of the Islamic State.

OD: Alright, where are you at?

OM: In Orlando.

OD: Where in Orlando?

[End of call.]
"Unfortunately, the unreleased transcript that named the terrorist organizations and leaders have caused an unnecessary distraction from the hard work that the FBI and our law enforcement partners have already been doing to investigate this heinous crime," a DOJ spokesperson said.
Lynch also praised law enforcement for their response to the attack, adding that the Department of Justice would be contributing $1 million to help cover the cost of the investigation.
"There is no doubt that this was a shattering attack — on our nation, on our people," she said, adding that Americans have seen "a message of determination to remove hatred and intolerance from our midst, to live our lives freely and without fear, and to stay true to the principles of liberty, justice, and equality that define America at our best."