Attorney General Lynch Alarmed By Sharp Rise In Hate Crimes
Attorney General Loretta Lynch posted a video to address the recent increase in reported hate crimes around America.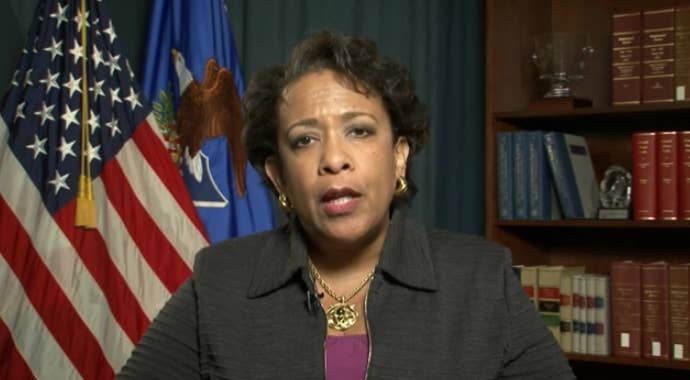 In a video statement posted Friday, Attorney General Loretta Lynch called the rise in hate crimes in America an "alarming trend."

This week, the FBI released a report showing that hate crimes against Muslim-Americans had risen 67% in 2015.
According to the report, there were 257 recorded anti-Muslim incidents in 2015, compared with 154 in 2014. Also, 2015 saw the second-largest number of anti-Muslim incidents tracked by the FBI since the bureau began releasing hate crime statistics in 1992.
In her address, Lynch notes that 2015 also saw an increase in reported hate crimes against Jewish people, African-Americans, and LGBT individuals. Overall, the number of reported hate crimes increased by six percent.
"These numbers should be deeply sobering for all Americans," Lynch said.
On the recent spate of alleged hate crimes that have been reported over the past few weeks, Lynch said that the FBI and the DOJ are reviewing many of the incidents to determine if any federal violations occurred.
"We will continue to champion the values of diversity and inclusion that have always been the bedrock of our nation's progress, and that point the way to a brighter future," Lynch said.
It was reported Friday that Donald Trump intends to nominate Alabama Senator Jeff Sessions to serve as the next Attorney General and Lynch's successor.

In 1986, when he was a US attorney, Sessions ran for a federal judge position but was ultimately rejected after employees and other colleagues alleged that he had made racist statements about civil rights groups.
Thomas Figures, who at the time worked in Sessions' office, testified at one of the 1986 Senate Judiciary Committee hearings that Sessions had called organizations like the National Association for the Advancement of Colored People (NAACP) and the American Civil Liberties Union (ACLU) "un-American."
Figures, who is black, also said that Sessions had called him "boy" on multiple occasions, and made jokes about the Ku Klux Klan.
He said that he did not come forward about Sessions' statements earlier because he feared retaliation.
"I felt that if I had said anything or reacted in a manner in which I thought appropriate, I thought I would be fired," he said at the hearing, according to CNN.
Sessions denied the allegations, but the Senate Judiciary Committee ultimately voted against his appointment, 10-8.