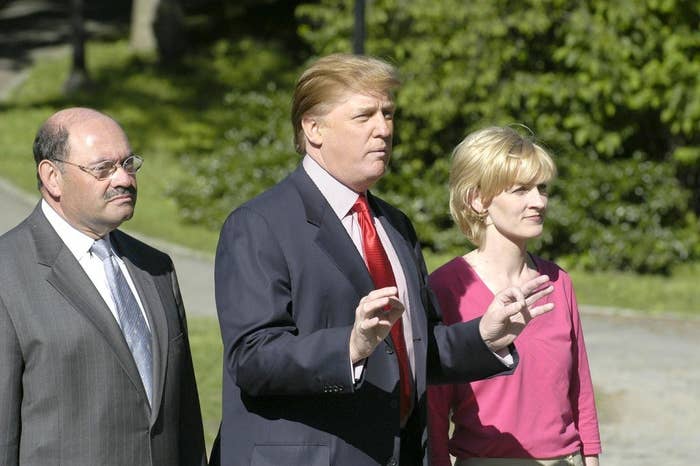 The Trump Organization's longtime chief financial officer has been granted immunity by federal prosecutors in the criminal investigation into Michael Cohen, according to multiple news outlets.

The Wall Street Journal first reported Friday that Allen Weisselberg, who has worked for the company for over 40 years, was given immunity by prosecutors for providing information on payments made in the lead-up to the 2016 election to buy the silence of women who allegedly had affairs with Donald Trump.
Last month, the Journal reported that Weisselberg was called to testify in front of a grand jury in the Cohen case.
The reports of Weisselberg's cooperation with federal prosecutors come just days after Cohen, Trump's former personal attorney, pleaded guilty to charges in connection with the payments, and another Trump ally, American Media CEO David Pecker, was also reportedly granted immunity. Pecker was behind the National Enquirer's purchasing of a story from former Playboy model Karen McDougal, detailing her alleged affair with Trump, in an effort to silence her ahead of the 2016 election.
It also comes as the president lashes out against "flippers," or those who cooperate with federal investigators. "This whole thing about flipping, they call it, I know all about flipping," he told Fox News in a sit-down interview aired Thursday.
"For 30, 40 years I've been watching flippers," Trump said. "Everything's wonderful and then they get 10 years in jail, and they flip on whoever the next-highest one is, or as high as you can go."
A spokesperson for the Southern District of New York told BuzzFeed News they couldn't confirm or comment. Weisselberg did not answer calls to two phone numbers listed for him.
Besides serving as CFO for the Trump Organization, Weisselberg, who began working for the president's father, Fred Trump, has held several different key positions within Trump's world, including serving as vice president of Trump's Atlantic City casino, as a board member of the Miss Universe pageant, and as treasurer of the Donald J. Trump Foundation.

In a 2016 Wall Street Journal profile of Weisselberg — headlined "Donald Trump's Loyal Numbers Man" — a former Trump Organization employee joked about the Trump–Weisselberg relationship: "If Donald had a cold, he [Allen] would sneeze."
The profile, which described him as someone who stays under the radar, also quoted the president's daughter praising his loyalty. "He plays an integral part in the Trump Organization's growth and continued financial success," wrote Ivanka Trump in an emailed statement. "He is deeply passionate, fiercely loyal and has stood alongside my father and our family for over [three] decades."

This is a developing story. Check back for updates and follow BuzzFeed News on Twitter.