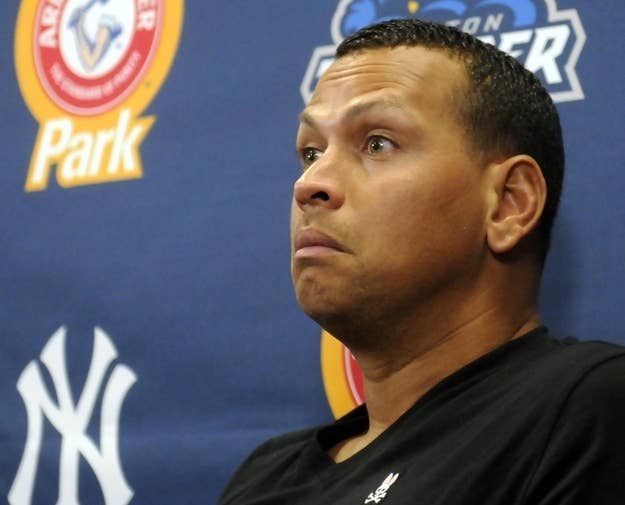 Major League Baseball on Monday suspended Alex Rodriguez and 12 other players it says are linked to the investigation of Biogenesis, a Miami clinic accused of distributing banned performance-enhancing drugs to athletes. The New York Yankees' third baseman Rodriguez received the longest suspension: 211 games without pay.
"I am disappointed with the penalty and intend to appeal and fight this through the process," Rodriguez said in a statement Monday. "I am eager to get back on the field and be with my teammates in Chicago tonight. I want to thank my family, friends and fans who have stood by my side through all this."
According to multiple reports, other suspended players, including Rangers outfielder Nelson Cruz and Tigers shortstop Jhonny Peralta, accepted the league's decision, but Rodriguez was the lone holdout.
The other suspended players receive the standard 50-game ban for first-time offenders and will not appeal. The 38-year-old Rodriguez received a harsher penalty because he is also charged with interfering with the MLB investigation of the clinic. In a press release Monday, MLB said that Rodriguez "intended to obstruct and frustrate the Office of the Commissioner's investigation."
In a statement regarding the discipline issued to all the players in relation to MLB's Biogenesis investigation, Commissioner Bud Selig said: "As a social institution with enormous social responsibilities, Baseball must do everything it can to maintain integrity, fairness and a level playing field. We are committed to working together with players to reiterate that performance-enhancing drugs will not be tolerated in our game."
Following the MLB's announcement of A-Rod's suspension, the Yankees put out a statement denying any involvement with the league's investigation:
"The New York Yankees in no way instituted and/or assisted MLB in the direction of this investigation; or used the investigation as an attempt to avoid its responsibilities under a player contract; or did its medical staff fail to provide the appropriate standard of care to Alex Rodriguez."
Conversely, Michael Weiner, head of the Major League Baseball Player's Association, vowed to defend Rodriguez, insinuating that the league overstepped with their punishment:
"For the player appealing, Alex Rodriguez, we agree with his decision to fight his suspension. We believe that the Commissioner has not acted appropriately under the Basic Agreement. Mr. Rodriguez knows that the Union, consistent with its history, will defend his rights vigorously."
MLB will allow Rodriguez to play while he appeals his sentence, which takes effect Thursday. He is expected to make his season debut Monday night in Chicago versus the White Sox.
UPDATE: A-Rod is playing tonight.