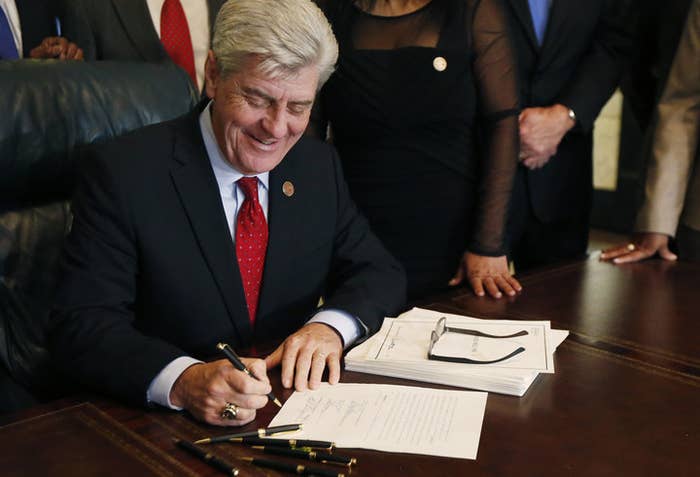 The ACLU on Monday filed a lawsuit challenging Mississippi's anti-LGBT law, passed this spring, that allows public officials and businesses to deny products and services to gay and transgender individuals.
House Bill 1523 protects individuals, religious organizations, and certain businesses who take actions due to their religious objections to same-sex marriage — or any sex outside straight marriage. It also protects those who object to transgender people. It's considered one of the most sweeping anti-LGBT laws in the nation.
The plaintiffs in the lawsuit are Nykolas Alford and Stephen Thomas, who are engaged to be married. Under the law, they could be denied a marriage license based on the religious objections of an official charged with issuing the license. The plaintiffs call the law "a slap in the face."
According to the law, "any person employed or acting on behalf of the state government who has authority to authorize or license...may seek recusal from authorizing or licensing lawful marriages based upon or in a manner consistent with a sincerely held religious belief or moral conviction."
Any official in the County Clerk's office who feels that they do not want to issue a license must provide written notice to the State Registrar of Vital Records, who documents their refusal to perform the service. Judy Moulder, in her official capacity as Mississippi State Registrar of Vital Records, is the person named in the suit.
The federal complaint, filed in the Southern District of Mississippi, claims that HB 1523 violates the Fourteenth Amendment of the Constitution "by subjecting the lawful marriages of same-sex couples to different terms and conditions than those accorded to different-sex couples.
"By creating a separate and unequal set of laws applying only to the marriages of same-sex couples, HB 1523 imposes a disadvantage, a separate status, and so a stigma upon all married same-sex couples in Mississippi."
The plaintiffs also claim that the law subjects them to different treatment despite the Supreme Court's ruling in Obergefell v. Hodges, which held that the Due Process and Equal Protection Clauses of the Fourteenth Amendment "do not permit a State to bar same-sex couples from marriage on the same terms as accorded to couples of the opposite sex."
The couple is asking for the court to halt the law's implementation, which will become effective on July 1.
"This is the most hateful bill I have seen in my career in the legislature," Rep. Stephen Holland said about the bill while the state legislature was considering it. "You ought to be ashamed of yourself. You are doing nothing but discrimination."

The Republican-dominated Mississippi House of Representatives voted 70–47 to approve the bill before sending the bill to the governor.
The governor said he enacted the law "to protect the sincerely held religious beliefs and moral convictions of individuals, organizations, and private associations."
In the lawsuit, the plaintiffs are asking the court to find the law unconstitutional and determine that the State "must allow same-sex couples access to civil marriage on the same terms and conditions as different-sex couples."