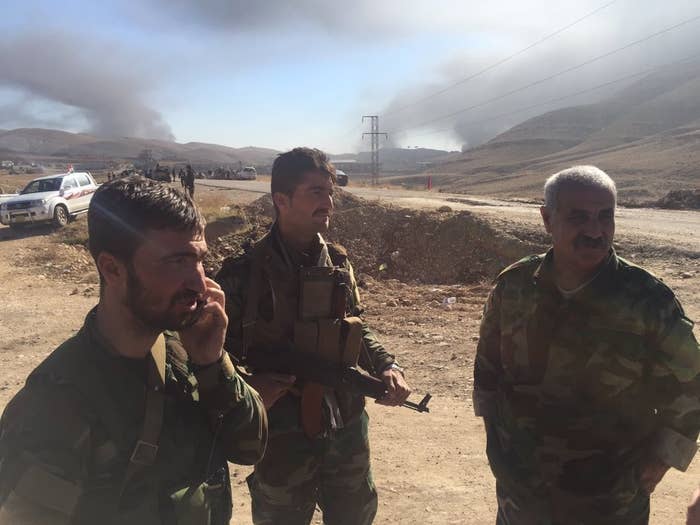 SINJAR, Iraq — As Kurdish peshmerga forces fought to drive ISIS from the strategic town of Sinjar on Thursday, one young soldier couldn't help but remember the day it fell into chaos.
The jihadis stormed the town in Aug. 2014 bent on genocide, massacring the Yazidi religious minority based in the area as they pushed deeper inside. Maher Saado, 22, a Yazidi fighter with the peshmerga, watched helplessly then as people tried to flee the ISIS onslaught. He had that "sad day" on his mind, he said, as the peshmerga launched a large-scale offensive aimed at wresting Sinjar back from ISIS's hands.
"I remember the images of all the women and children screaming and running around," he said at a base not far from the frontline. "Those images came to me while we are taking Sinjar."
He smiled a bit, then said, "I feel very comfortable today."

The Yazidis suffered an attempted genocide at the hands of ISIS before Kurdish militant groups stopped their advance with the help of U.S. airstrikes. More than 300 were killed and thousands more have been taken as slaves. For the Yazidi soldiers among the peshmerga, Thursday's offensive was the long-awaited chance to fight back to reclaim their homes. And they seemed to relish the day. "As a Yazidi, I love to fight ISIS," said Ali Taalo, 45. "We deserve this victory."

Or as the mayor of Sinjar, Khalil Mahma, put it, speaking to reporters at a peshmerga post on a hill overlooking it: "Getting back the city is like getting back the honor of the Kurds and Yazidis."

Murat Halaf, 30, stood at a sandbagged wall looking over Sinjar as blasts shook the town below. He pointed toward a neighborhood in the distance, behind thick plumes of smoke. "That's my home, you know," he said. "Today I'm just smiling."