The Story Of One Iraqi Fighter Who Came Back From Syria To Battle ISIS At Home
"We are guerrillas and we're ready to die."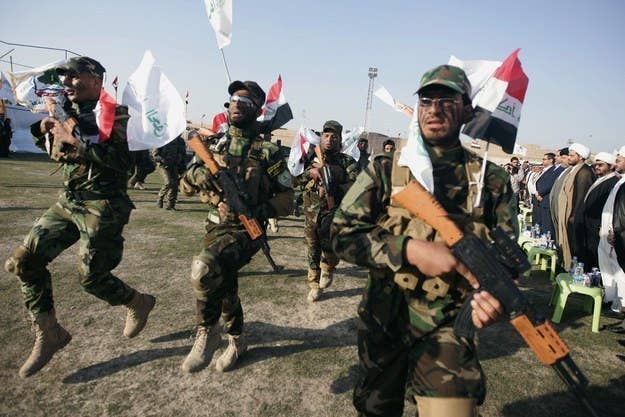 KARBALA, Iraq — It was photos from Damascus showing the desecration of an ancient tomb that drew Abu Hussein into Syria's civil war.
Extremist Sunni rebels were on a sectarian rampage, ransacking Shiite shrines like one to the Prophet's son-in-law Hujr ibn Adi, whose body they exhumed last spring before giddily posting photos online.
Abu Hussein, a 32-year-old Iraqi from the holy Shiite city of Karbala, 65 miles south of Baghdad, joined other Iraqi Shiites rushing to defend their faith next door. Soon he was stalking through the Damascus countryside, engaged in house-to-house combat in support of the regime of Bashar al-Assad. But now his religious war has led him back home.
Abu Hussein's journey, from Karbala to Damascus and back, shows the scope of the sectarian war threatening to engulf the region, with fighters from both sides of the conflict now treating Iraq and Syria as a single battlefield. The return of religious warriors like him is also a sign that Iraq is facing the prospect of the disintegration that has struck Syria, likewise turning to Shiite militias to aid a fading military. "We are guerrillas, and we're ready to die," Abu Hussein said, sitting inside his family business in Karbala, one day before he planned to leave for the Iraqi front. "So we're shifting from place to place. When our army gets embarrassed or sieged, they call on us."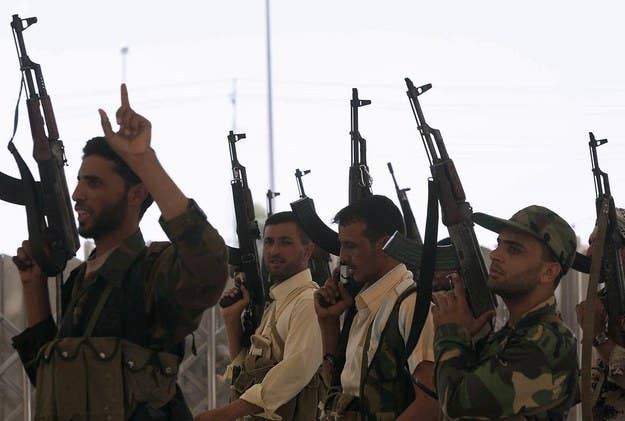 When he decided last summer to join the Syrian war, Abu Hussein called someone from Karbala who was already fighting. The man belonged to Asa'ib Ahl al-Haq, the League of the Righteous, a fearsome Shiite militia said to be controlled by Iran that is one of the most potent forces in Iraq. The first thing the man told him was that he would almost certainly die in Syria: "It's not a picnic," Abu Hussein remembered the man saying. Abu Hussein persisted, and coordinators from Asa'ib Ahl al-Haq called his father for approval. "The chances of your son surviving are one in a thousand. So if he goes, you'll have no right to blame us for his death," Abu Hussein recalled them telling the old man.
"It's an honor for me to have my son take part in this," Abu Hussein's father replied. "If my age permitted, I would go myself."
Abu Hussein gave the coordinators his passport. Five days later, visa in hand, he was off to a training camp with some 300 recruits from across Iraq. All were from Asa'ib Ahl al-Haq, he said, but he declined to say who it was that trained them or where the camp was based — only that it was very professional. For the next three months, Abu Hussein learned advanced combat techniques as part of a regimen so tough it drove many volunteers to quit.
Then he flew to Damascus, where he dove right into the war, working within a force of 600 Asa'ib Ahl al-Haq fighters, he said. His unit operated in the Damascus countryside, taking heavy casualties. Working as a sniper and in close combat, Abu Hussein put his kill count at 50, but said the enemy was savvy and deadly — rigging houses with explosives, tunneling beneath the ground. "Imagine you are sitting in a room like this, and they pop from the walls like rats," he said.
Abu Hussein referred to all the rebels he fought as ISIS, but a broad range of rebel groups exists in the Damascus countryside, some of which have warred with ISIS. The regime and its allies have been keen to use ISIS to color all the opposition to Assad's regime, a way to draw support by rousing sectarian sympathies. Several Iraqi Shiite groups are fighting in Syria, where estimates of foreign Shiite fighters range from 8,000 to 15,000 — enough to have rescued the regime from the brink of defeat. Many have foremost in their minds the defense of the Sayyida Zainab mosque in Damascus, one of the most sacred sites in Shiite Islam. Abu Hussein's battalion was called the Guardians of Zainab.
Last month, Abu Hussein rotated out for leave. He flew from Damascus to Tehran, and then headed to the border with Iraq. There he found air-conditioned buses bound for different governorates, each one reserved for fighters. "Even the food was first class," he said.
His rest in Karbala was cut short after three days — "which really is not enough." An Asa'ib Ahl al-Haq commander called and ordered him to the northwestern Anbar province; ISIS was mounting offensives there and elsewhere in Iraq's Sunni heartlands. For the next three weeks, Abu Hussein and his comrades helped the army fight ISIS in hotspots like Ramadi, Diyala and finally Mosul, Iraq's second city, where they were forced to retreat with the crumbling military. The ISIS advance has only continued since, and Abu Hussein was eager to return to the fighting. "ISIS is like a cancer," he said. "If you don't stop them at the start, they will spread to the rest of the body."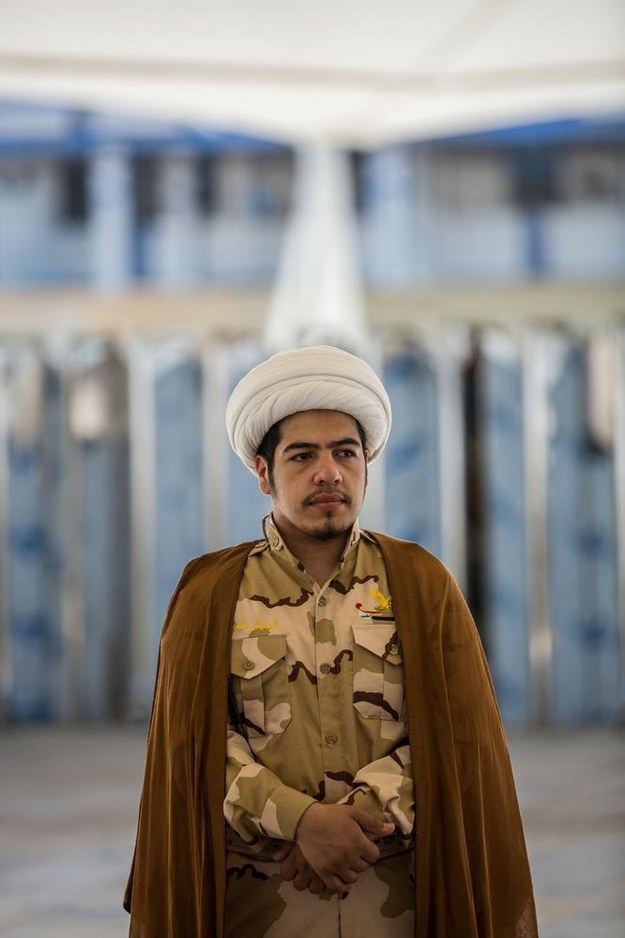 Karbala was the scene of a defining moment in the split between Sunni and Shiite Islam. In the seventh century, a defiant Hussein ibn Ali, whom Shiites believe to be the Prophet's rightful heir, was massacred with a small band of followers by a Sunni army in Karbala. The elegant shrine to his tomb draws Shiite pilgrims to the city from around the world. Ayatollah Sayed Mortada al-Qazwini, 85, a senior cleric in Karbala who leads prayers at the shrine, described the threat from ISIS as part of a long line of religious conflict. "Throughout our history we have seen worse cases in which we as the minority were under attack from the majority, and God did not abandon us," he said.
Shiites form the majority in Iraq and dominate the government. But they are the minority in the Muslim world, and Qazwini said he believed that Sunni powers such as Saudi Arabia and Qatar were backing the insurgency in Iraq, which has seen a number of local militant groups take up arms alongside ISIS. "My nightly message to my congregation is to pray to God to protect us," Qazwini said.
Residents feel the threat moving closer. Security checkpoints ring Karbala, and as the Iraqi army loses more ground, some locals have turned to buying guns. A special forces soldier complained that the army's recent loss of one western outpost, which opened another possible ISIS approach to the city, had been quickened by yet another wave of soldiers desertions. "Traitors," he said. Within the shrine's guarded gates, security forces patrolled on high alert. Inside, as some worshippers kissed the tomb of Hussein, others said that their visit had a newfound urgency. "Damn anyone who tries to attack our shrines," said Hassan Lafta, 74, while a young mother said, "Our prayer is to save our city and save Iraq."
In this climate of fear, many saw men like Abu Hussein as protectors — and a last line of defense. It was an open secret that fighters were returning from Syria to join forces with other local Shiite militia who had come to the army's aid. "We have also heard this," said Qazwini, the cleric in Karbala. He stressed the importance of the Shiite shrines — when Sunni militants attacked one in Samarra in 2006, during the U.S. occupation, it triggered a descent into sectarian bloodshed. "We feel an imminent threat against the shrines," Qazwini said. "If our youth are willing to go and protect the shrines in another country, they will do it even more so here."
In his recent efforts alongside the Iraqi army, Abu Hussein said, the two sides cooperated but didn't work as one. He gave the example of one posting in Anbar, estimating that some 500 Asa'ib Ahl al-Haq fighters had been stationed at a base with 1,500 troops from the Iraqi military. The militia had their own uniforms and weapons, he said, though they sometimes borrowed ammunition. They focused on specialized missions, he added, and tried not to get in the army's way. Most importantly, they didn't flee — "Never," Abu Hussein said. "We have two aims: to achieve victory, or to become martyrs."
He was braced for a long war ahead, wherever it might lead him. "If the situation here stabilizes, then I will go back to Syria," he said. "If not, I will stay to protect my holy shrines."