U.S. Writes Off Syrian Election As "Utterly Ridiculous"
The U.S. was quick to denounce Monday's news that Syria will hold presidential elections in June. "We think it's absurd."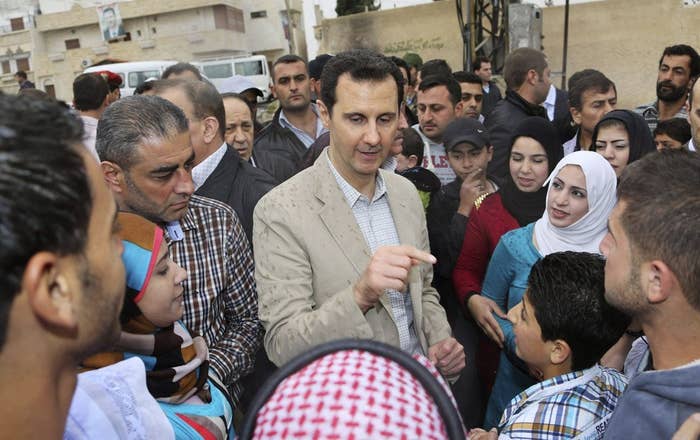 ISTANBUL — A U.S. State Department spokesman has dismissed Syria's plans for a presidential election in the midst of a grinding civil war as "absurd" and said the results of the vote were "irrelevant."
"We think it's absurd," State Department spokesman Edgar Vasquez told BuzzFeed. "The fact that you would even think you can hold free and fair elections in the middle of a civil war is absurd."
The vote is scheduled for June 3. And though he hasn't formally announced his candidacy, President Bashar al-Assad is all but certain to win another seven-year term. Aside from the obvious logistical problems — rebels control much of the country, and in addition to the 150,000 Syrians killed in the conflict, more than 2.5 million have become refugees — Vasquez said there was no chance the polls would be free or fair. "They have no credibility. It's a parody of democracy," he said.
In previous votes, Assad has been the only candidate on the ballot. In a twist, other candidates will now be permitted to enter the race. But the government has already rolled out restrictions that seem designed to rule out most, if not all, serious potential candidates. Fear of reprisals would likely keep many off the ballots in the first place. "To say that there is real competition is utterly absurd. There's no expectation of that," Vasquez said.
"We saw what happened when you have real dissent [in Syria]," he added. "This whole war started when you had peaceful protesters pour out into the streets with real disagreements with the regime and real opposition. We all saw how the regime responded."
So why hold the elections at all?
"It's hard to get in this regime's head when it comes to these types of things," Vasquez said. "For us, I think [we wonder], is it a propaganda ploy? Because the outcome, unfortunately, is certain. And we will have a situation where Assad and his cronies will be able to say that they have won the election with the will of the people, which is utterly ridiculous."
He added: "It doesn't change the fact that ultimately Assad and the regime are illegitimate. Assad has to go, and whatever happens in these elections is irrelevant to that fact. No sham of an election will change that."