U.S. Goes To War With Jabhat Al-Nusra
"Don't attack us, and don't make us attack you." BuzzFeed News' Mike Giglio reports from Turkey in an exclusive interview with an official in the Syrian rebel group, Jabhat Al-Nusra.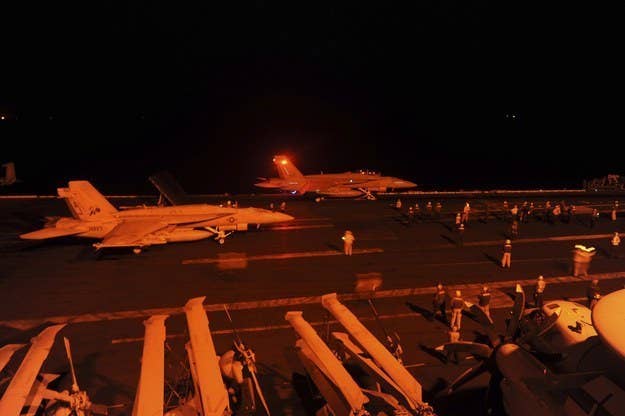 ANTAKYA, Turkey — At least eight U.S. airstrikes targeted the infamous Syrian rebel group called Jabhat al-Nusra in the last 24 hours. But a week ago, serving tea at his apartment in southern Turkey, an official with the extremist group complained that it gets a bad rap in the U.S. — and that the Obama administration should even see it as an ally.
Nusra is one of the most powerful insurgent forces in Syria's civil war, with a long record of fighting the regime. It's also a branch of al-Qaeda. This has seen it blacklisted as a terrorist group by the U.S. and U.N., something that has always angered some of its members, such as the official, who spoke on condition of anonymity. They say their lone goal is to overthrow Syrian President Bashar al-Assad — a man whose ouster the Obama administration has called for too. "Why this treatment?" the official asked.
With global attention — and U.S. airstrikes — focused on another extremist group in the region, the Islamic State of Iraq and Syria, or ISIS, some Nusra members were pushing to mark a clear distinction between the two organizations. Nusra even released a U.S. man it was holding captive — journalist Peter Theo Curtis — as well as 45 U.N. peacekeepers. "They're just criminals," the official said of ISIS, making a point of condemning the group for beheading U.S. journalists James Foley and Steven Sotloff. "They're against the U.S. generally."
He suggested that Nusra and the U.S., which backs moderate rebel groups inside Syria, were on the same side: "We are fighting with the rebels. We are fighting with their alliance against the other alliance. So why attack us?"
He added: "We didn't do anything against the U.S. We just want to fight Assad."
The Obama administration clearly didn't agree. In its first airstrikes in Syria — which began Monday night after six weeks of U.S. strikes against ISIS in Iraq — the U.S. bombarded Nusra and ISIS alike.
In a statement on Tuesday, the Pentagon sought to paint a more nuanced picture, saying it had attacked a Nusra cell called "Khorasan," which it accused of plotting imminent attacks against the U.S.
The strikes came on the heels of a week that saw the first public mention of the little-known Khorasan cell by a U.S. official — when James Clapper, the U.S. director of national intelligence, warned about Khorasan at a conference — and press leaks in which anonymous U.S. officials likewise sounded the alarm. In an open letter last week, Susan Collins, a Republican member of the Senate Select Committee on Intelligence, warned the Obama administration to remember that Nusra is considered to have "considerable capability and the continuing desire to conduct attacks against Americans at home and abroad."
Some experts supported the distinction between Nusra and Khorasan on Tuesday. But others were quick to push back on the idea. Aaron Zelin, who tracks extremist groups at the Washington Institute, said in an email interview that there was "no difference at all" between Nusra and Khorasan. He said that Khorasan members were well-known members of al-Qaeda who had been sent to Syria by the organization's global chief, Ayman al-Zawahiri.
Zelin added: "And as we know, Jabhat al-Nusra is al-Qaeda's official branch in Syria, so I'm unsure why the 'leaked' information [from U.S. officials in the press] is describing them as a separate entity. Further, it's not really new information."
As to whether Nusra members might be plotting an attack on the U.S., Zelin said, "It's al-Qaeda, so I don't see why they wouldn't want to try."
One senior Senate aide who follows Syria said that the sudden focus on Khorasan seemed to be about public relations in addition to any threat it posed: "I think the [U.S. government] is blowing them [Khorasan] way out of proportion. They need a good story right now and saying they subverted a terrorist plot against America is good press."
The strikes against Nusra highlight the muddled nature of the Syrian conflict as the U.S. wades deeper into it. In addition to the airstrikes, the Senate approved last week the Obama administration's plans for a $500 million program to arm and train moderate rebels to fight ISIS. Yet many rebel groups have fought alongside Nusra against both ISIS and the regime.
One U.S. official told BuzzFeed News that it was possible other hardline Islamist rebel groups — such as Ahrar al-Sham, a powerful Nusra ally — had been hit in the strikes as well: "We're characterizing our targets as Khorasan and [ISIS] but it's possible others were there. It is a toxic soup of terrorists."
The strikes against Nusra could raise tension between the group and U.S.-backed battalions, which remain far weaker by comparison. They have also angered many Syrians, rebels and civilians alike, who support Nusra because of its effectiveness against the regime.
Nusra and ISIS are now embroiled in a bitter war. But they were allied as one group until early this year, when they split in a power struggle. In February, Zawahiri issued a statement disowning ISIS and naming Nusra as his sole standard-bearer in Syria.
Part of the dispute lay in ISIS's penchants for brutalizing and oppressing Syrians and waging war on other rebel groups — something that Nusra leaders, whatever other concerns they might have with these actions, viewed as bad strategy. When al-Qaeda employed similar tactics against locals in Iraq, during the U.S. occupation, it ultimately turned them against the group, helping the U.S. and its allies weaken al-Qaeda significantly. "Why repeat the same mistake?" the Nusra official asked from his apartment in the ancient Turkish city of Antakya, not far from the Syrian border.
In the interview before the strikes, the official — not a senior leader, but a well-connected man in his thirties who asked to be described simply as a coordinator — said he was angry that ISIS had drawn Western countries into the war in a way that might aid the regime. It was bad enough that countries like Iran and Russia already backed Assad, he said. "Maybe we have problems with the U.S., but we don't need to address that now," he said. "We don't need to involve the whole world."
If Nusra harbored plans to attack the U.S., some of its rank-and-file members seemed unaware. One, a 22-year-old activist with the group's media office, who gave the nickname Abu Omar, said in a recent interview that while he was against U.S. policy, he believed that Nusra was focused only on fighting Assad. Asked whether it might attack the U.S. in the future, he appeared not to know. After mulling the idea, he said, "The group's policy isn't thinking to attack the U.S."
Yet the continued recruitment of foreign fighters to the Nusra ranks, including Westerners, has alarmed many observers. And while Turkey and some rebel groups are working to crack down on the foreign fighters flowing across the country's border to fight ISIS, they appear to be more lenient if the foreigner has arranged to join Nusra, according to smugglers, rebels, and activists along the border. Syrians say this is because Nusra can still help them overthrow the regime.
Some moderate rebels, on the other hand, remain wary of Nusra's end game. They suspect that the group's approach toward local rebels and civilians — far more accommodating than ISIS's — would change if it gained enough power. "There may be a dirty game," the commander of a battalion of moderate rebels that receives covert U.S. military support said in a recent interview in Antakya.
Adnan Hadad, a Syrian journalist and activist based between Aleppo and the Turkish city of Gaziantep, used a tongue-in-cheek term to describe the softened image that Nusra sought present of itself: "cool terrorists."
But another Nusra member, a fighter who also helped to oversee its oil production in the Syrian province of Deir Ezzor before ISIS overtook it this summer, said he supported Nusra because he saw it as the best way to fight both ISIS and the regime. "They are individuals who want to liberate the country from a tyrant," he said. "The reason I joined Jabhat al-Nusra is because it knew from the beginning that it had to rely on itself. With all due respect to the American public, we knew that our lives meant nothing to them."
He said he didn't blame Americans for fearing the group — "the citizens of the U.S. have every right to say that Jabhat al-Nusra and ISIS are two faces of the same coin." But he made the same kind of distinction between Nusra and the global organization of al-Qaeda that many Syrians cite when explaining their support for Nusra. "There is no insurgent in Jabhat al-Nusra who has ever met Zawahiri," he said. "It's kind of an institutional structure that we're part of al-Qaeda. But on the ground, all the decisions are made among the fighters of Nusra themselves."
At his home in Antakya the week before the strikes, the Nusra official warned that U.S. aggression against the group would change the mindset of its local fighters, saying that attacking Nusra would be "the biggest mistake."
"We never talk about the U.S. at all," he said. "Don't attack us, and don't make us attack you."
Reached by phone after the U.S. airstrikes on Tuesday, he struck a more ominous tone: "After this attack, the U.S. has no one to blame but themselves."