Ukrainian Commanders Keep Crimea Out Of A Shooting War
A shooting war that neither the Russians nor Ukrainians seem to want.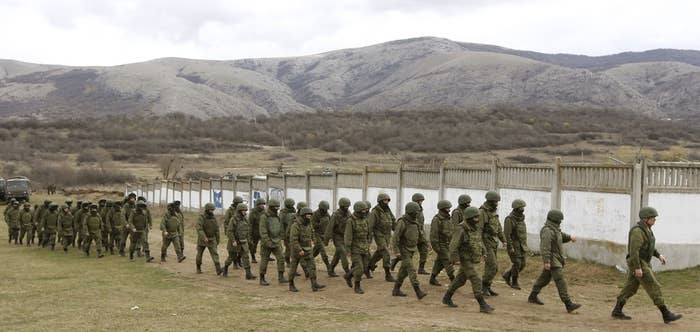 SIMFEROPOL, Ukraine — At bases besieged by Russian troops across Crimea, Ukrainian commanders perform a delicate balancing act: trying to stand their ground against a murky invasion, while keeping from sparking a shooting war that neither side seems to want.
Ukraine's new government is uncertain and weak, formed just last week in the wake of months of unrest. It was still finding its bearings — as well as the loyalties of some of its military leaders — when Russia, angry over the ouster of its ally Viktor Yanukovych, deployed troops in Crimea.
A pro-Russia government has since been installed there, and five days of tension have devolved into an uneasy peace. U.S. Secretary of State John Kerry was in Paris on Wednesday, trying, in part, to arrange a direct meeting between the foreign ministers of Russia and Ukraine. He was unsuccessful, but said he thought Russia wanted to see a diplomatic solution. Ukraine's new prime minister, Arseniy Yatsenyuk, meanwhile said Crimea would likely win expanded autonomy. Long days of political posturing likely lie ahead.
For now, Ukrainian troops remain holed up around Crimea. Russian troops surrounding the bases try to convince the out-gunned Ukrainians inside to defect.
It's unclear what orders have come down from the new government in Kiev. But in a situation like this, said Thomas Nichols, professor of national security affairs at the U.S. Naval War College, there may be little other option but "to sit tight and don't start a fight."
"The responsibility on [the local commanders] is huge," Nichols said. "This is the kind of situation where one stray bullet from either side can cause problems and get out of hand."
To no small degree, that leaves the fate of the conflict in the hands of men like Col. Yuli Mamchur, who led his men on a non-violent march back into their own besieged Belbek airfield in Crimea on Tuesday. The move seemed to be at his own initiative, and it prompted a day-long standoff in which some 200 of his unarmed men waited nervously ensconced by Russian soldiers bearing automatic weapons and sniper rifles.
It was a rare show of defiance by the Ukrainians, and after tense negotiations, it ended with Mamchur's men marching back to their barracks peacefully, hoping they had made their point. But had this battle of nerves led instead to violence, the situation in Crimea, which seems to be tentatively easing into détente, would likely look very different today.
As the standoff dragged along, Mamchur's men were unsure what to expect, awaiting word from their commander. In deciding to make his stand on the base — in which his soldiers only requested to resume their duties at the airfield, but did not tell the heavily armed Russians to leave — he said he saw no other choice. "We don't need any victims," Mamchur said.
Asked whether he'd been receiving concrete orders, he demurred. When pressed, he cocked his head and finally said, "so far the instruction was to act according to the situation on the ground."
A day earlier, at another base, an officer had a similar message: He and his men were still waiting on word for how to respond. He said they'd been told by the hostile forces outside to take down the Ukrainian flag and put up a Russian one. That would be impossible, he said. "We will fulfill orders only from the Ukrainian government."
Nichols, of the Naval War College, noted that the Ukrainian forces had held together well so far amid a "terrible situation," and that this likely had taken the Russians off-guard.
But Mamchur's wife, Larissa, who also took part in the standoff at Belbek, was less diplomatic about the new government's handling of the crisis. "When we realized that we were left without any command, he had to take on the responsibility himself, and to enforce his duty according to his own understanding of the constitution," she said. "We are military people, and we don't have any other way."