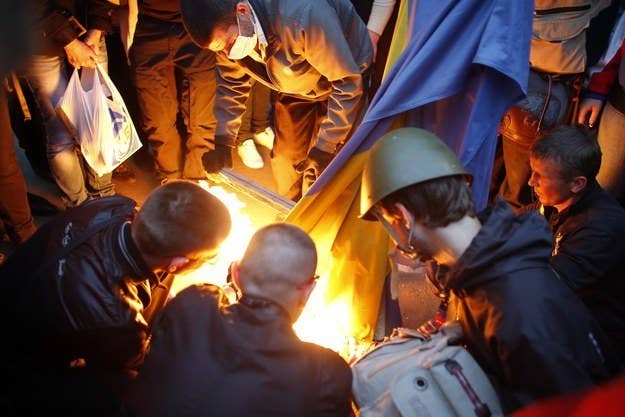 DONETSK, Ukraine — Olena Tkachenko told her 9-year-old daughter they were going on vacation; as she zipped up their overstuffed bags on Monday evening, jamming a chocolate bar into the girl's backpack, she tried hard to believe it.
Until this week, Tkachenko ran a hotline for pro-Ukraine activists in Donetsk, the city of 1 million that has become a frontline of an increasingly violent separatist push in eastern Ukraine. She decided she couldn't do it anymore when relentless threats from the separatists began to shake her. "We will kill you all," read one of the texts on her phone.
The threats were one more sign of darkening times: Those activists, journalists and politicians who opposed the separatists in and around Donetsk were increasingly faced with beatings, abductions and even attempted assassinations in what felt like a concerted push to drive them out. Some used the word "hunted" to describe their ordeal, and each day brought word that more had fled. On her way to the train station, Tkachenko was still coming to grips with her fate.
Friends had tried to convince her that she wasn't a "refugee," she said. Instead, much like the lie she'd told her daughter, they painted her open-ended trip as a well-deserved break. But she was deeply unsettled as the train to Kiev pulled into the station. "I don't want this trip to be forever," she said.
For many in the sprawling Donetsk region — where pro-Russia militants occupy government buildings and have turned some outlying towns into conflict zones — life has continued with relative normalcy. For those directly involved on either side of the struggle, however, war is already churning beneath the surface.
One day last week, Egor Firsov, a young parliamentarian from Donetsk who supports a united Ukraine, walked into the lobby of a five-star hotel holding a duffel bag. Well-to-do locals regularly do the same on their way to visit the gym. But as he sat down on one of the lobby's leather chairs, Firsov unzipped his bag to reveal a modified Kalashnikov. "The danger isn't going to knock on my door and tell me it's coming in 15 minutes," he said, while a woman at the next table chatted breezily on her smartphone. "The point of the weapon is to keep it with me at all times."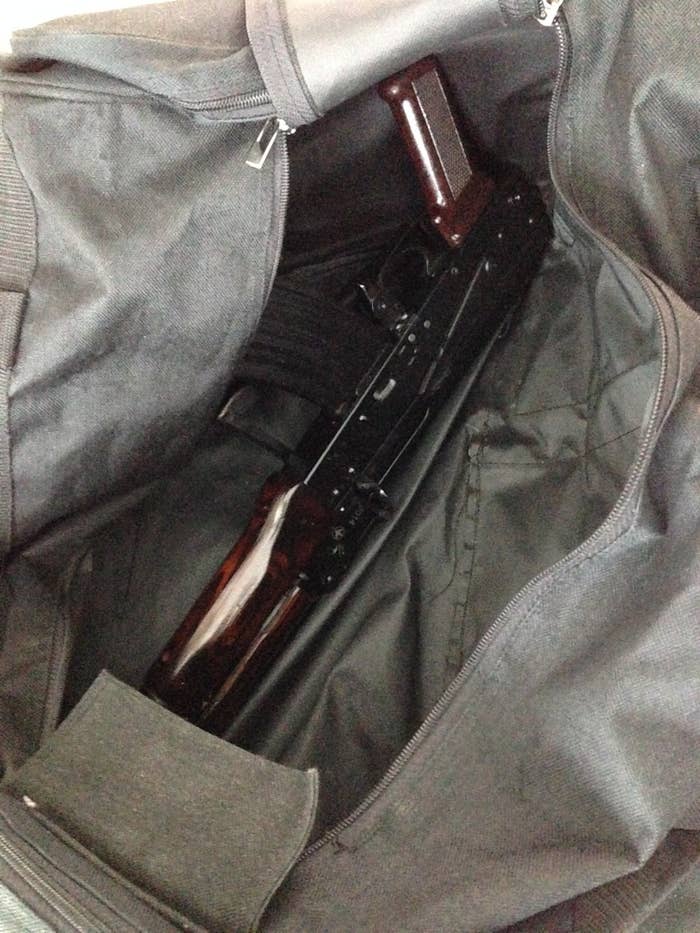 Firsov had started carrying the duffel bag just two days earlier, after neighbors alerted him to the appearance of masked men at his apartment one night while he was away. He said he had kept it by his side ever since — and that many of his colleagues were either leaving the city or likewise arming themselves. The separatists, he said, targeted anyone who might resist them: "They do not want to permit any opposition to their regime."
Interviews with pro-Ukraine residents of the city and region likewise suggested that a growing number considered themselves under threat — and that an exodus from the region might be in the making.
One local deputy from battle-scarred Kramatorsk said separatists were scouring the area for pro-Ukraine politicians, many of whom had already fled. He himself had left recently when a friend from the pro-Russia side called to warn him: "They are searching for you."
A newspaper editor said he escaped when he learned of a sizeable bounty for his arrest. Another activist who had fled said: "I'm on a list of enemies." Yet another went into hiding after a gunman opened fire on his car. Even the fearsome ultras from the local soccer club, often on the frontlines of pro-Ukraine protests, had started to flee. "They are being hunted by armed separatists!" a local sports journalist tweeted on Tuesday.
Anything with shades of a demonstration against the separatists has also come under attack. A Donetsk priest who hosts nightly interfaith prayer gatherings for peace and unity said they were increasingly targeted, with some attendees beaten and threatened with knives. "[The attackers] are zombies of Russian propaganda," he said.
Sergey Garmash, the head of a large coalition of Donetsk activists, said in a phone interview on Monday that many were in the process of "deciding for themselves whether to leave." He had elected to stay despite threats on his life, he said, though he was trying hard to be careful. "I'm still here, and I'm not planning to leave yet," he said.
But that same night, the summer home where he had been hiding out — along with Firsov, the young politician — was sprayed with bullets. The duo returned fire to fend off the attackers, and by Tuesday morning both had fled Donetsk.
Others have been kidnapped, an increasingly common tool for the separatists — a Human Rights Watch report released on Tuesday documented multiple cases of abductions and of "severe beatings" of captives. Dozens of people, it added, were believed to be held by the separatists. "Armed men affiliated with anti-Kiev forces have been snatching up activists, journalists and local officials," one of the report's authors, Anna Neistat, wrote.
These abductions have reached even the security officials working to combat the separatists, a development that has deeply shaken pro-Ukraine residents of Donetsk. On Thursday, Nikolai Yacubovich, a security adviser to the national authorities, sat in the same hotel lobby vowing that "the government didn't give up." He was abducted by separatists the next day.
Soon after, Yacubovich appeared in a harrowing video with masked men who declared that they had yet to decide his fate. He appeared badly beaten, with a bandaged head and swollen face. Then he made what could only have been a coerced appeal to the camera for authorities to stop the very anti-separatist campaign he had been helping to carry out. "My desire is that the Kiev authorities stop the military pressure on citizens of their own country," he said.
Life News
Nikolai Yacubovich, a security adviser to the national authorities, was taken by separatists and badly beaten, before being paraded on TV
Yacubovich was finally freed on Monday, according to Roman Svitan, a security adviser to Donetsk's governor. He declined to give details, but said that several other captives had also been freed, after being held along with Yacubovich on the fifth floor of a local government building that has become a headquarters for the separatists. Such abductions had become commonplace, Svitan said. "They want to get the maximum amount of information out of them, threaten them, and maybe exchange them," he said.
He added that any Donetsk residents "who are openly showing themselves" as resistant to the separatists risked being targeted as well. Shortly afterward, he put a dazed Yacubovich into the back seat of his car — where a loaded shotgun rested on the floor — and drove him to safety outside the region.
Targeted violence has victimized the pro-Russia side as well, though it appears to be less widespread. One senior pro-Russia activist in Donetsk, Eduard Acupov, recounted being abducted by masked men in mid-April and savagely beaten — and his medical report, along with a jagged scar on his skull, attest to the severe head injuries that kept him hospitalized for two weeks.
Until recently, Acupov considered some of his rivals on the pro-Ukraine side to be close friends, and he said he was saddened by the violence that has gripped the region, and by the threats and violence from his own side that were forcing people to flee. But he didn't see another way. "I don't know what to say. War is a very dirty business," he said. "We've passed the point of no return."