Turkish Lawmaker Gets Ready To Break Parliament's Headscarf Barrier
Sevde Beyazit Kacar says she hopes to represent the estimated 70 percent of Turkish women who wear headscarves in public.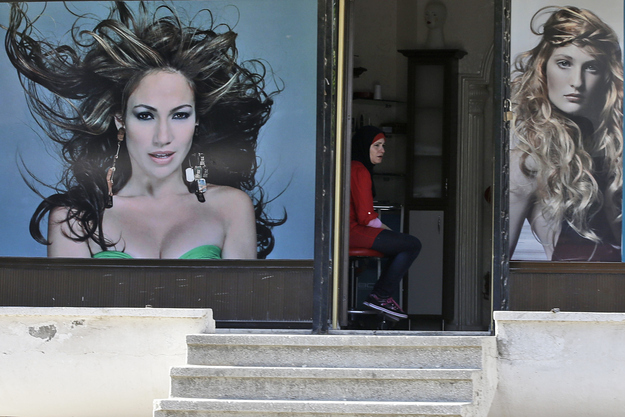 ISTANBUL — In 1999, a Turkish lawmaker named Merve Kavakci wore a headscarf into parliament and set off a national firestorm.
She was jeered from the building and lost her seat. She was then subject to what one local columnist recently remembered as a "psychological lynching," with even the prime minister demanding that she "be put in her place" for defying the majority Muslim country's strictly secular laws, which prohibited wearing a headscarf in state offices. A dual Turkish-American citizen at the time, Kavakci was eventually stripped of her Turkish nationality and forced to leave for the United States, where she now works as an author and professor.
On Thursday, Sevde Beyazit Kacar will repeat that infamous scene — becoming, along with two fellow members of parliament, the first politician since Kavakci to wear her headscarf into the building. But she doesn't seem all that concerned about the potential blowback. "There isn't much controversy about it, at least not at the moment," she said.
Earlier this month, as part of a package of democratic reforms, Turkey's prime minister, Recep Tayyip Erdogan, removed the ban on headscarves in state offices, calling it "a step toward normalization." (It remains in place for members of the judiciary, police and military.) The ban is rooted in Turkey's strong secular traditions, and in the past, moves to loosen it by Erdogan's Islamic-leaning Justice and Development Party (AKP) have stirred controversy. But while the main opposition party put up some resistance — one statement called the move "a serious blow to the secular republic" — the changes went through without much of a fuss. Turkish media filled with scenes of civil servants wearing their headscarves to work. Kacar, meanwhile, like her fellow female politicians, began fielding calls from journalists, who wondered whether she'd be the one to break the taboo in parliament.
Before that, Kacar said, the idea of wearing a headscarf — in either her public or private life — had never seriously crossed her mind. "I never really considered wearing it until I got the calls," she said. "That made me question myself."
As Kacar, a founding member of the AKP and the co-president of its women's wing, recalled, she suddenly began spending so much time thinking about the headscarf issue that she "even dreamed about it." Then a friend asked her to come along to the Hajj, a religious pilgrimage to Mecca. The trip left her feeling newly devout, she said, and she decided to wear the headscarf regularly, including in parliament, just as the journalists had asked. She called it a simple decision — "the things I think aren't changing, and even the things I wear aren't changing; I'm only putting a scarf on my head" — and also a relatively easy one, thanks to the recent reforms. "Before that, nobody would have been brave enough to do it," she said.
Kacar now says she is helping to represent the 70 percent of Turkish women who wear headscarves in public, a number supported by several polls in recent years. "I'm not doing it for political reasons," she added, but she also pointed out that women make up 54 percent of the country's voters.
If anyone has political backlash to fear, Kacar said, it's the AKP's secular opponents, who risk isolating a vast swath of the electorate if they cause too much of a stir. "If the opposition starts a problem with this, then the public will vote them out," she says.
Ceren Kenar, a Turkish commentator and journalist, said that instead of flinching at the headscarf issue, the AKP has seemed eager to get out in front of it. While neither Kacar nor the two AKP colleagues who plan to join her in breaking the headscarf barrier had campaigned wearing one, Kenar expects the party to field candidates who do in the next elections. Other parties may follow suit, Kenar added, which may have inspired the AKP to make its stand on the issue now. "The AKP wants to make sure they are the first," she said. "By doing it now, they are the party that's opening the path."
This is good politics, Kenar added, as what was once a divisive issue has lost its edge. "The AKP wants to show that it's reformist and other parties aren't, and the headscarf issue is a great way to do that," she said. "Five years ago this was a controversial issue, but right now it's not."
Some members of the main opposition party, the Republican People's Party (CHP), have vowed to use parliamentary bylaws to stop Kacar and her two colleagues from entering Parliament. But the party's leadership has been more careful on the issue, wary of sounding the wrong political notes. As a columnist in the left-leaning Radikal newspaper warned on Tuesday, "those who will start a drama in the Parliament tomorrow will be the ones who are a minority in the public but a majority in CHP."
Kerem Oktem, a research fellow at the University of Oxford who writes on modern Turkey, said that social liberals in Turkey face a dilemma on the headscarf debate. Even many who support the right to wear it, he says, are uncomfortable with the context in which the ban's removal has been rolled out. Erdogan, he noted, has lately been aggressive in his rhetoric on the role of women in society, condemning abortion and premarital sex while publicly calling on all women to have at least three children each. "The question is, does this new liberty extend only to women with headscarves, or to all women?" Oktem said. "People are concerned that from now on, the narrative of what it means to be a good Turkish woman will entail the idea of wearing a headscarf."