Turkey's Election Delivers A Blow To Erdogan's Grand Ambitions
Erdogan made Sunday's parliamentary election all about him — and it backfired on the powerful leader in a big way.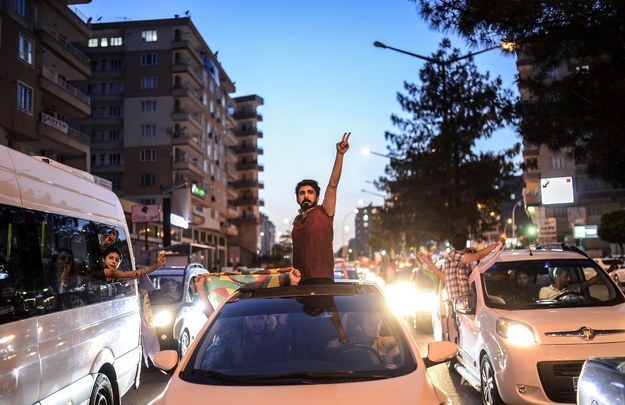 ISTANBUL — One thing that stood out as Turkey was swept with the news of its historic vote Sunday night was the fact that Recep Tayyip Erdogan was nowhere to be found.
Turkey's omnipresent president issued no statement and gave no speech. Instead it was his party's overshadowed prime minister who addressed a sullen crowd in Ankara, and the nation's TV cameras, as the ballot count laid out a bracing defeat that saw their party lose its parliamentary majority for the first time in over a decade.
Erdogan had made himself the face of the elections. In the run-up to the polls, he was a one-man enterprise of endless speeches and countless headlines. Officially, the vote was to decide parliament — but Erdogan turned it into a referendum on himself. So the setback voters handed Turkey's ruling party on Sunday was first and foremost a blow to Erdogan, a man who has increasingly dominated the country through the force of his political clout and personality.
Turkey's constitution never intended such an outsized role for the president like the one Erdogan has taken on. The post is meant to be apolitical and largely ceremonial. But that changed after Erdogan was elected to the job last August, having reached his term limit as party leader after 11 years as prime minister. In fact, he seemed to run the country more unilaterally than ever — and he hoped to use Sunday's vote to cement his power. He laid out the stakes clearly for voters: If his party won a big enough majority, it could rewrite the constitution to transfer power from parliament to the presidency, changing the DNA of this regional powerhouse and key NATO ally.
Technically barred from campaign rallies, Erdogan seized on seemingly every opportunity — from the opening of a mineral water factory to the 562nd anniversary of the Ottomans conquering Istanbul — to make his case for the presidential system. The appearances were so frequent that a Turkish journalist, hosting a small barbecue for friends last month, joked that Erdogan would gladly accept an invitation to deliver some opening remarks.
Erdogan's personalization of politics has been a long time in the works. As a transformative prime minister who resurrected the economy and shackled a coup-making military, he became the country's most important figure since Mustafa Kemal Ataturk, the founder of modern Turkey. But his towering stature has taken on a darker tone in recent years as checks on his power — in the press, the judiciary — gradually erode. It's not uncommon now to see someone arrested for insulting Erdogan, or to hear him threaten that a troublesome newspaper editor will "pay a high price." His rhetoric demonizes his political opponents, and he paints many who resist him as part of conspiracies.
It's this domineering disposition — which is part and parcel to the way that Erdogan plays politics — that can have Turks fretting about an authoritarian creep in their country even though, as the elections show, they still live in a democracy. Sitting in an Istanbul barbershop one afternoon last week, a pharmaceutical sales rep said that Erdogan was "a constant presence inside my mind, when I'm walking down the street, when I'm in my house, even when I'm having sex."
That sales rep volunteered as an election monitor on Sunday — and the vote saw a surge in participation. Turks across all parties set a record for volunteer monitors, while turnout, always high in the country, hit 86%.
Voters opposed to Erdogan seemed unusually driven on Sunday. Early in the afternoon, a group of men gathered at a basketball court in central Istanbul for their regular game had all risen early to make sure their votes were cast. Cenk Aslan, a 34-year-old software engineer, had woken up at 6 a.m. to make the 90-minute drive to the town where he was registered. "This is so critical," he said.
Erdogan has continued to run the country since assuming the presidency — making it a "de facto" presidential system, as analysts often describe it. Erdogan retains his influence over the Justice and Development Party (AKP), the strongest in the country by far. He also holds considerable sway over the country's institutions, as critics are hauled to court and problematic judges, prosecutors, and police officials are shuffled and dismissed.
But Sunday's results will be difficult for Erdogan and his backers in the halls of power to ignore. While the AKP retained the most seats, in addition to losing its parliamentary majority for the first time since coming to power in 2002, its share of the overall vote dropped nearly 10% from the last polls in 2011. For the first time it may have to govern in coalition while dealing with an opposition that is suddenly feeling emboldened.
The big win of the day came for the pro-Kurdish People's Democratic Party, or HDP, a nascent political party that broadened its appeal with a liberal-minded platform designed to appeal to voters who were opposed to Erdogan. The HDP passed the 10% threshold for inclusion in parliament. Had it failed to do so, the AKP would have received its share of the seats by default, giving it the parliamentary majority Erdogan sought. With this in mind, many Turks switched their votes to the HDP just to get it past the threshold. The HDP's leader, Selahattin Demirtas, sounded well aware of the importance of his victory on this front. "As of this moment, the debate on the presidency, the debate about dictatorship, has come to an end in Turkey," he said in televised remarks. "Turkey has returned from the edge of a cliff."
Erdogan has been challenged before — by the Gezi Park protests that erupted two years ago, and by a massive corruption scandal after that. Each time his response was to make his politics more personal, and to fight back. He may do so again, and with the AKP still the country's most popular political party, he might not feel compelled to back down. But throughout the recent tumult, Erdogan has always offered a challenge to his opponents: Beat me at the ballot box. And though he often undermines the rule of law in Turkey, the ballot box may still command his respect.
More importantly, Turkish voters sent a loud and clear message on Sunday that the ballot box, and not a powerful man's ambitions, is what should determine the country's fate.