Turkey Moves To Crack Down On Internet Freedom
Turkey's parliament approved a new law on Wednesday that critics say will drastically reduce web freedom in the country — and let the government further clamp down on the press. "Turkey is moving very quickly in the wrong direction on internet freedom," says a watchdog.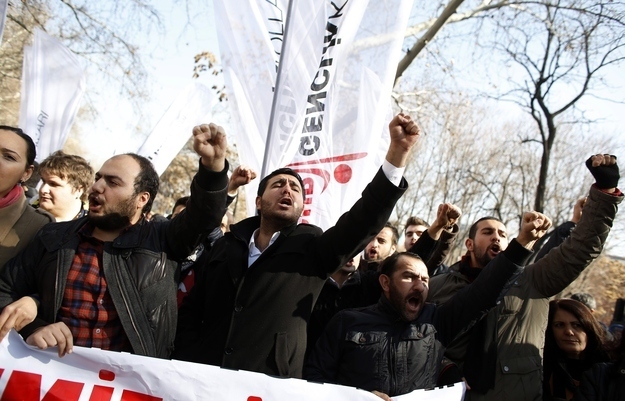 ISTANBUL, Turkey — Turkey's parliament passed legislation late Wednesday night that critics say will drastically reduce internet freedom in the country — and also give the government powerful new tools to crack down on the press.
Turkey already receives poor reviews on web freedom, with the government able to block sites with relative ease. Even popular platforms such as YouTube and Vimeo have been blocked, though both eventually went back online. But watchdog groups warn that the new law — adopted by a parliament dominated by Prime Minister Recep Tayyip Erdogan's Justice & Development Party (AKP) — will ratchet web censorship to another level.
Turkey's president, also an AKP member, must approve the law in order for it to take effect.
Two aspects of the new law stand out as particularly problematic, said Geoffrey King, the head of internet advocacy at the Committee to Protect Journalists, who authored a report earlier this week warning that Turkey is sliding toward "internet authoritarianism."
First, the government can now block individual URLs — and do so in a matter of hours, without judicial review. This means that a specific article on a news site, or a user on Facebook or Twitter, can be blocked without affecting the rest of the site — effectively allowing the government to micro-target its censorship while limiting the backlash. "The reverberations of that kind of censorship are much more subtle when it comes to the lives of everyday people. They don't feel it like they would when all of YouTube is blocked," King said. "And that makes it much more insidious."
The new legislation was initiated after anti-government protests this summer that the government blamed both the local and international press — as well as social media — for fueling. At the height of the protests, Erdogan even called Twitter a "menace." And it was introduced shortly after a corruption scandal that is now shaking the government erupted in December — which again saw Erdogan and his allies level withering accusations at the press.
If the new regulations are enacted, the government could act swiftly to crack down on the kind of news reports, Facebook posts, and Twitter feeds that helped to spread word of both events.
In addition, King said, the new legislation increases requirements for data retention — which would mandate that web data for individual users be tracked for a period of one to two years. This could help the government crack down on specific journalists or Twitter and Facebook users, he warned — providing it with a deep trove of personal information, from tweets and web histories to emails and direct messages, to target if someone falls into its crosshairs.
Turkey has argued that many countries, including some in Europe, have similar data retention policies. But these policies are especially problematic when placed in the wrong hands, King said — which is where Turkey's dismal record on press freedom comes into play. With the new law in place, local journalists in Turkey likely will be looking over their shoulder even more than before. "The government doesn't need to access the information for the chilling effect to be there," King said. "Turkey is moving very quickly in the wrong direction on internet freedom."
Turkey is already the world's top jailer of journalists. Most of the detentions relate to the country's conflict with Kurdish insurgents, with Kurdish journalists charged under loosely interpreted anti-terror laws. But much of the mainstream media has also been cowed into self-censorship, with journalists fired for unfavorable coverage of the government and some media companies fearing financial retribution if they don't fall into line.
Turkey has also shown a growing desire for web censorship. A recent Google report flagged by King noted that Turkey led the world in requests to the company for content removal in the first six months of 2013. It made three times as many requests as its nearest competitor, the report said, and 10 times more than it had the previous reporting period.
News of Turkey's new internet law coincided with its appearance as one of 10 countries on the CPJ's annual "Risk List," which was published today. The list is intended "to highlight countries where press freedom is on the decline," according to the CPJ — and it puts Turkey in the unhappy company of countries such as Egypt, Syria, Russia, and Vietnam.
The CPJ lists Turkey in the category of "nominal democracies where the space for free expression and independent newsgathering is rapidly shrinking."