Journalist Kicked Out Of Turkey, Allegedly For His Tweets
Mahir Zeynalov, a prominent journalist in Turkey, was forced to leave the country on Friday — thanks to tweets critical of the government, his newspaper claimed. Concerns over press freedom in Turkey were already running on high. "It is definitely a message to foreign journalists," Zeynalov told BuzzFeed.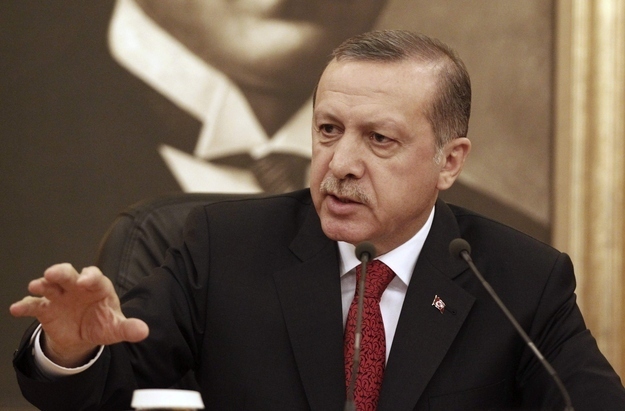 Turkey forced out a prominent journalist who has been critical of the government on Friday morning — and his main offense, his newspaper said, was a series of tweets.
Mahir Zeynalov is a columnist and editor with Today's Zaman, one of the country's leading newspapers in English and the sister paper of its highest-circulation Turkish daily, Zaman. The 27-year-old Azerbaijan native has held a Turkish press card for four years, the newspaper said, and lived in Istanbul with his wife, a Turkish national.
His columns are widely read — as are his English- and Turkish-language Twitter feeds, which have more than 140,000 followers combined. Foreign Policy placed Zeynalov on its annual list of the world's top "Twitterati" last year.
It was his tweets that allegedly drew the government's wrath.
In December, Zeynalov said that Turkey's prime minister, Recep Tayyip Erdogan, had filed a criminal complaint against him over two tweets that accused Erdogan of obstructing justice. The complaint said the tweets were "a blunt assault on Erdogan's honor and reputation and his personal rights," Today's Zaman reported at the time.
Now, Zeynalov found himself targeted for deportation for "posting tweets against high-level state officials," his newspaper said today. It said he turned himself over to authorities to avoid forcible deportation after his press visa was not renewed.
Zeynalov told BuzzFeed on Friday that his forced departure was the culmination of an intense campaign against him that "picked up momentum" when he posted the two December tweets. "My deportation comes weeks after a massive smear campaign against me both on mainstream and social media, many of them vowing that I will be deported," he said by email from Azerbaijan. "It is definitely a message to foreign journalists and constitutes the start of a troubling trend for foreign journalists accredited in Turkey."
"I had a happy family and a friendly environment and the deportation definitely upset many of my future plans," he added.
Zeynalov said he would "definitely continue covering Turkey, no matter where I am." He hadn't yet decided where to base himself next, he said.
Zeynalov said that Turkish officials told him his residence permit had expired on Dec. 31, though he claimed that he had extended it until March 10 — "a fact they prefer to ignore," he said.
The Turkish government has yet to comment on the deportation — though an Erdogan aide told Reuters that the prime minister's office had not given any instructions regarding Zeynalov. A spokesman for the Turkish foreign ministry did not respond to a request for comment.
The deportation comes amid fast-rising concerns over press and web freedom in Turkey — which spiked on Wednesday when parliament passed legislation granting the government powerful new web censorship tools. One aspect of the law would permit the government to block an individual user on Twitter (as well as news articles or web sites) within hours, with no judicial review. Erdogan has called Twitter a "menace" in the past.
On Thursday, the Committee to Protect Journalists made Turkey one of 10 countries on its annual "Risk List," which spotlights places where press freedom is deteriorating. Turkey is notorious as the world's top jailer of journalists — mostly in relation to its fight against Kurdish insurgents, with Kurdish journalists charged under widely criticized anti-terror laws. In the aftermath of mass protests against the government this summer — and now a spiraling corruption scandal that has rocked the government — mainstream journalists are increasingly coming under threat.
While none have been jailed, in the last year, as the watchdog group Freedom House warned in a report this week, "dozens of journalists have been fired as a result of government pressure, and government officials' threats against journalists have become common."
The Zaman newspapers have been central to the ongoing corruption scandal. They are affiliated with the global Islamic movement headed by Fetullah Gulen, a Turkish preacher based in the U.S. who wields considerable influence in Turkey. Once close allies, Gulen and Erdogan are now locked in a bitter feud. It erupted into a stream of sensational news headlines in December, when Turkish prosecutors thought to be aligned with Gulen unveiled sweeping anti-corruption investigations that reached deep into Erdogan's circle, even implicating the prime minister's family.
The Zaman newspapers have been aggressive in their coverage of the investigations and come out strong in defense of Gulen and his movement, whom Erdogan and his allies accuse of orchestrating the scandal in an effort to push him from power.
Zeynalov — who had frequently defended Erdogan before the feud with Gulen boiled over — had since developed into an ardent critic. Today's Zaman said that the two tweets that were the subject of Erdogan's suit against Zeynalov accused the government of blocking the arrests of suspects in the investigations, including a Saudi businessman who is on a U.S. government list of global terrorists. "Turkish prosecutors order police to arrest al-Qaeda affiliates, Erdogan's appointed police chiefs refuse to comply," read one of the tweets in question, the newspaper said.
Turkish journalists were jarred by the news of Zeynalov's deportation. "You can't just deport someone because you don't like their tweets," said Ceren Kenar, a columnist with a pro-government daily.
She said that Erdogan appeared to be intent on consolidating power in an effort to prevail in his struggle against Gulen. "Right now it's like we're living in a state of emergency. Anything can happen," she said.
Said another journalist working at a pro-government news outlet, who asked not to be named: "I am really having an existential crisis regarding Turkish journalism."
Kerem Oktem, a scholar at Oxford University who writes on modern Turkey, said the media crackdowns smacked of desperation from Erdogan and his allies. "I think the final analysis here is that it's all coming apart. And the government's reaction to that is to try and establish an authoritarian grip on pretty much everything," he said.
Oktem painted the media crackdowns as part of a wider trend of heavy-handed measures that included the government's purge of hundreds of police officers and efforts to change the legal system to prevent independent investigations of government officials.
Deporting a well-known journalist like Zeynalov — a member of Turkey's media elite who has strong ties to the country — could have a chilling effect on the local press, Oktem added. "I think the government is sending out a very strong signal," he said.