MAKHMOUR, Iraq — A dirt-smeared pickup truck screeched to a halt outside a medical clinic in this Iraqi town near the ISIS frontier. A lifeless hand stuck out from beneath a blanket on the back of the truck. Bracing himself with a cane, an old man in a white tunic stepped down from the vehicle and inched forward in a daze. Commotion swirled around him as his relatives pulled an unconscious man from the passenger's seat. After helping to bring the body into the clinic, a young man stared at his reflection in the truck's window, sniffing tears away.
The family was from a village outside Mosul — ISIS's capital in Iraq — that has become the scene of intense fighting. As the Iraqi army tries to recapture surrounding villages from ISIS, residents have begun fleeing, joining thousands of other internally displaced people who have poured into Makhmour in recent weeks, according to commanders with the Kurdish peshmerga forces that control the town. The young man at the clinic said his father was among the dead; he had stepped on an improvised land mine while the family was in flight. "We were trying to run," he said.
Kurdish commanders warn that the humanitarian situation in Makhmour is becoming dire. Iraqi forces have been battling ISIS in villages south of Mosul for nearly two months, they said, and civilians have been fleeing into their territory daily, sometimes carrying the bodies of their loved ones who were killed in crossfire and by improvised mines along the way. A surge in the fighting saw an influx of more than 2,000 people this weekend, the commanders said, sending authorities scrambling to manage the human tide. "There are a lot more people coming," said Gen. Mahdi Yunis, who was giving orders on his cell phone to address the casualties and coordinate supplies. "Right now there are hundreds of them on the way."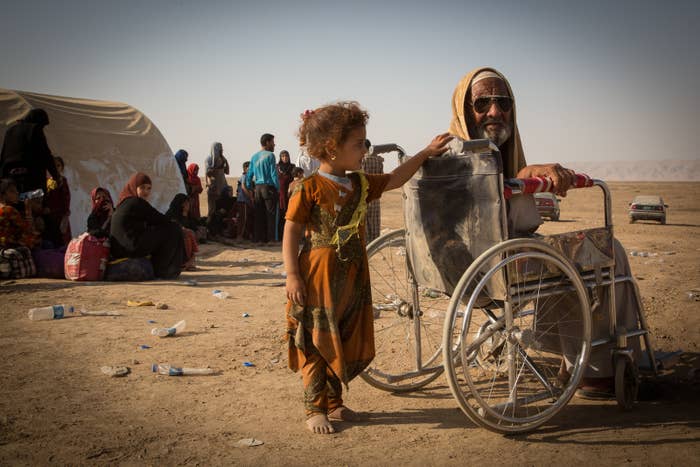 The crisis in Makhmour offers a grim preview of the looming civilian suffering once the promised offensive to retake Mosul kicks into gear. The U.S.-led coalition fighting ISIS announced this spring that shaping operations for that offensive had begun — and Mosul will likely receive even more focus from the forces fighting ISIS following its loss of the key city of Fallujah, 250 miles to the south, last month. Though the timeline remains uncertain, U.S. and Iraqi officials have repeatedly vowed to capture Mosul.
The Kurdish commanders in Makhmour warned that the number of fleeing civilians will multiply once that offensive gets underway. The Fallujah battle created its own humanitarian crisis, with families stranded in the desert after fleeing the city as aid agencies struggled to cope. Mosul is far larger — U.S. officials have estimated that nearly 1 million people remained in the city after ISIS took control, in June 2014 — and may see the militants more entrenched. A U.N. official in Iraq estimated in March that about a million people could be driven from Mosul and the surrounding area by the offensive, adding to the nearly 3.3 million who have already been displaced internally. "It's going to be a disaster," said Gen. Zirean Shioe'e, another commander in Makhmour, who worked with U.S. forces in Mosul during the Iraq War.
Progress for the Iraqi military has been slow, but civilians have still been fleeing steadily. Yunis, the peshmerga commander, said that even on quiet days, a few carloads of people might come his way. The recent fighting has been concentrated in an area southeast of Mosul, called Hajj Ali — part of the Iraqi army's bid to control the nearby town of Qayyarah and its airfield, an important step for an eventual offensive into Mosul. The route civilians take from Hajj Ali to Makhmour takes them through areas marked on peshmerga military maps as minefields, where ISIS has deployed improvised explosive devices in the fashion of anti-personnel land mines.
At the checkpoint on the edge of Makhmour that receives those fleeing on Sunday, peshmerga soldiers kept watch over the chaotic scene, as families arrived by foot, or in cars. Some brought livestock with them; others only carried small bags. A small row of tents had been erected in the dirt; the makeshift camp was a stopover before people could be transported to better-organized facilities. Relatives and neighbors who were reunited hugged one another. Children crowded around a running hose to fill plastic water bottles. A worried middle-aged man, who stood near a small pink backpack and some shopping bags, said his daughter had gone missing along the treacherous way. "These are all of her things," he said.
Saleh Obeid, 55, a school principal from Hajj Ali, said the village had lately been afflicted by lack of electricity, running water, and food. He remembered the walls of his house shaking from artillery fire before he finally worked up the nerve to flee. "I swear, it was scary," he said.
A former police officer from Hajj Ali, who asked to remain anonymous to avoid endangering relatives in ISIS territory, said the fighting gave people a chance to escape after living under the militants' control for two years. Residents had been executed in the past, he said, for trying to flee. "They kept tightening their grip, and you just couldn't leave," he said. "They would have shot us."