This ISIS Militant Is Walking Free Despite New Crackdown In Turkey
"I will stay here and do my job," says one ISIS militant in Turkey just hours after police raids targeted members of the group throughout the country.
ISTANBUL — The ISIS militant struck a defiant tone just hours after Turkish authorities launched sweeping raids to arrest his colleagues across the country. "I am [still] living my normal life," he said.
The militant, a Syrian in his mid-30s, has been based in Turkey for more than six months. He is exactly the kind of operator who presents a dangerous conundrum for the Turkish government as it steps up its confrontation with the extremist group.
News of Friday's raids — which saw the detention of more than 250 suspected members of ISIS as well as leftist terror groups — came as the Turkish military launched its first airstrikes against ISIS in Syria. This followed a skirmish between ISIS fighters and Turkish soldiers along the border the previous day, leaving a Turkish soldier dead. It was the first direct confrontation across the border between the two sides.
The U.S. government also said on Thursday that Turkey had agreed to open its air bases to the U.S.-led coalition carrying out airstrikes against ISIS in Syria — a move that analysts of the conflict billed as a major escalation.
Turkey's confrontation threatens blowback from the extremist group — which is ingrained across its southern border and, as the recent arrests show, has covert members around the country. "I think Turkey has a big vulnerability against ISIS, and unfortunately I think the group will strike back now," said Soner Cagaptay, who directs the Turkish Research Program at the Washington Institute. "The 'cold war' is over."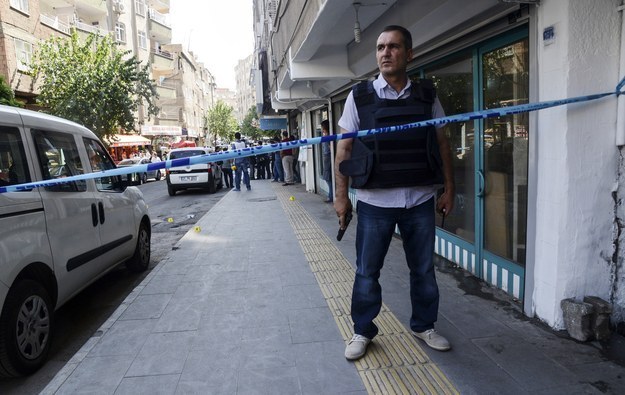 Turkey was slow to recognize the threat posed by ISIS as it kept an open-door policy for Syrian rebels — as well as foreign jihadis — in an effort to help them fight the Syrian regime in a civil war that began in 2011. By the time the ISIS burst into the international consciousness last summer by seizing the Iraqi city of Mosul and declaring a hardline religious state, the group already had a foothold in Turkey.
The Turkish government has grappled since with how to crack down on ISIS without sparking a backlash. "ISIS has taken the opportunity in my view to establish a pretty good network inside Turkey," Cagaptay said, adding that recent politicized purges in the Turkish police forces has weakened their capabilities. "It has safe houses, sympathizers and smuggling routes. And also I think it has probably learned a good deal about the vulnerabilities of the Turkish security system."
On Monday, a suicide bombing in the Kurdish-majority border town of Suruc killed 32 people. Turkish officials have blamed the attack on ISIS — which is fighting a bitter battle against Kurds in Syria — and Cagaptay said the group may attempt more attacks against Kurdish targets in Turkey.
The ISIS militant spoke to BuzzFeed News on condition of anonymity, because he feared arrest from authorities if his name was disclosed. He described his work as "security" — and one of his tasks is to monitor rival rebel groups along the border. Multiple sources — including an ISIS official and rival rebels — have confirmed his role within the group to BuzzFeed News. "I will stay here and do my job," he said.
The militant dismissed Friday's arrests, claiming that most of those arrested "are nothing to us." He also felt secure that his identity remained hidden from Turkish authorities. "I'm going outside shopping and traveling like before," he said.
ISIS still retains smuggling routes on the Turkish border, through which it is able to transport fighters and carry out basic trade. Turkey will likely face pressure from the militants if it moves aggressively to cut them off, said Firas Abi Ali, the head of Middle East analysis at IHS Country Risk, a research firm in London.
But now that the confrontation has begun, he added, "I think they can't risk doing it halfway."