This Is What It's Like To Be Christian And Live Under ISIS
"I was in my home, and it was like a grave," said 57-year old Sarkis Kirbukiyle, who lived under ISIS. BuzzFeed News' Mike Giglio reports from Syria.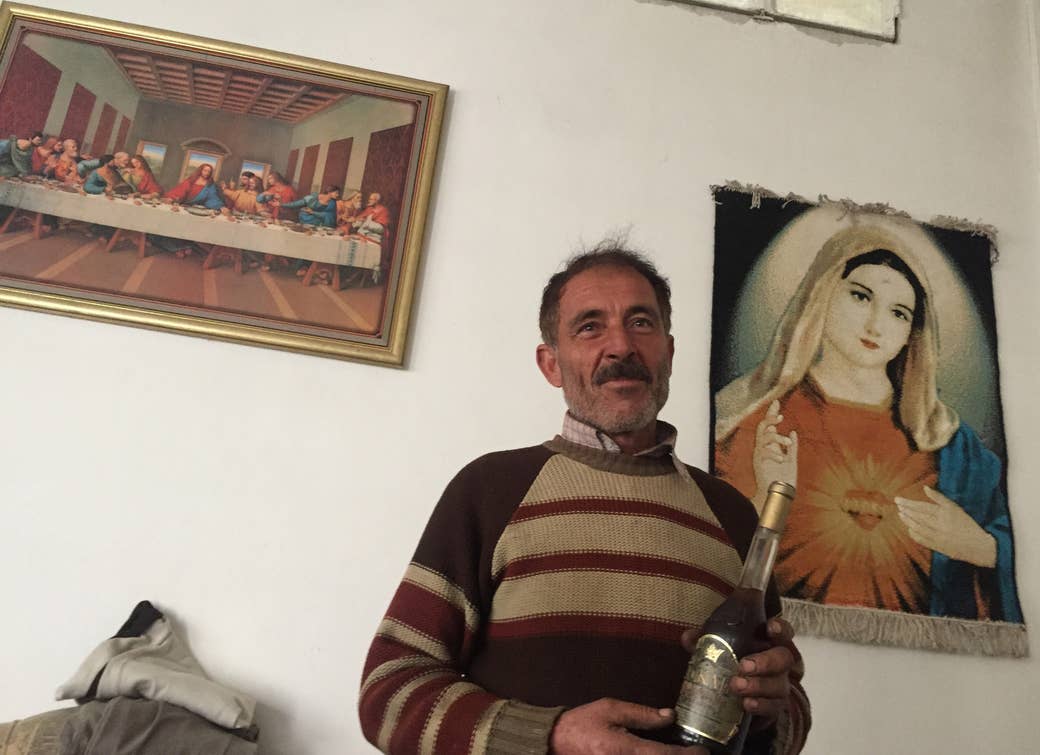 TEL ABYAD, Syria — Like the other Christians, Sarkis Kirbukiyle packed what he could and fled when ISIS militants captured his hometown.

But then he went back.

The mustachioed 57-year-old had lived in the same small apartment for 35 years, his bedroom window looking onto the quiet courtyard of the Armenian church in Tel Abyad, a town on the Syrian border with Turkey that fell to ISIS in June 2014. Taking refuge with relatives, he was going stir-crazy — until he got a call from an old friend.

The friend, a Muslim, had charted a far different course through Syria's civil war, radicalizing and becoming an official with ISIS. Still looking out for Kirbukiyle, he warned that if he didn't return to Tel Abyad, the jihadis would confiscate everything he owned, from his apartment to the shop he ran, which sold water pumps. There was a way to avoid this, the friend said. ISIS wanted Christians to pay jizya, the ancient tax levied on them during the times of Islamic caliphates — an era that ISIS, in its own extremist fashion, was trying to reclaim.

Kirbukiyle thought it sounded too dangerous: You cannot trust them; they can behead a person very easily. The friend promised to protect him if he followed the rules and paid taxes.

Afraid but determined to go home, Kirbukiyle returned to a town that was in the grip of ISIS's fanatical vision of Islam. He entered a building that had been converted into a religious court and paid jizya — which the jihadis calculated by estimating his net worth — of 107,000 Syrian pounds (about $566) for the year. The ISIS bureaucrat who received the money was an African man with a long, wispy beard. He gave Kirbukiyle a stamped receipt.

From there, Kirbukiyle would experience the strange and precarious life of a Christian inside ISIS's hardline proto-state. He witnessed some of the horrors the militants inflicted on their subjects — and saw the contrast between the Islam he'd known and respected from his neighbors and the alien barbarism ISIS practiced in its name. Along the way, he said he felt a jarring loss of dignity as a man suddenly exploited and oppressed — a personal struggle he's still working to overcome.

He is also an example of someone who came face-to-face with the jihadis and stood his ground. "I was surviving against death," he said, on a recent afternoon in his living room beside the church.

A portrait of the Virgin Mary hung on one wall, beside a framed print of Leonardo da Vinci's The Last Supper, as Kirbukiyle poured cups of tea. Ethnic Kurdish forces drove ISIS from Tel Abyad this summer, lifting the "nightmare" that had literally kept him awake — and haunts him to this day. "It's a nightmare that comes to me every night," he said.
Kirbukiyle padded over to his bedroom's barred window, which showed the walls of the church across a courtyard filled with trees. His apartment was attached to the church complex, and before the war he helped maintain the property. When he returned after paying jizya, however, he was horrified to find that ISIS had turned it into a prison and training camp.
Militants did exercises in the courtyard and gave lessons on religion and fighting techniques in the adjoining rooms. Some of the lessons were still scrawled in dry-erase marker on whiteboards inside: "My Muslim brother, be sure to pray before your death."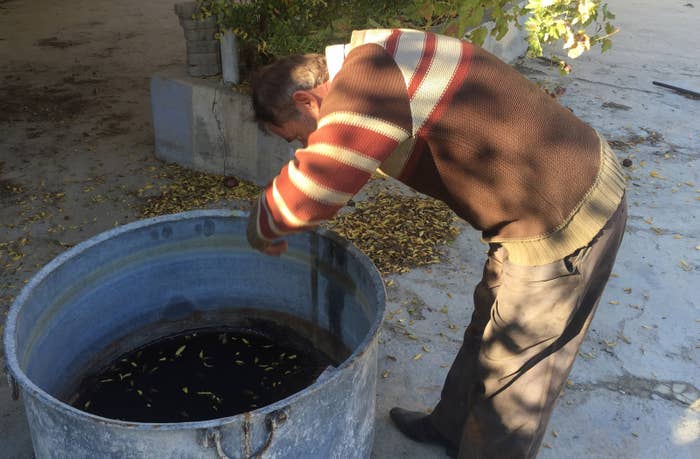 The jihadis also made an addition — a cluster of small cement cells they used as a prison. In the shadow of a palm tree, a large plastic bin held murky water. Kirbukiyle said he'd watched from the window as the militants drowned captives there. He believed there had been beheadings in the courtyard, too. The terrible commotion kept him up through the nights. "I didn't sleep for a year," he said.

Kirbukiyle stayed elsewhere with a friend for a time. But then he decided: "I will die if I stay in my own home or another home, so I will go back."

He seldom stepped out of his door. If he encountered his jihadi neighbors outside, he turned and walked the other way. He suffered abuse — both from the militants and from some locals who bought into their message of hate. He recounted seeing severed heads displayed in the town square, a bus driver forcing him to sit in the back, telling him that Christians were "animals." Once during prayer time, he said, religious police, taking him for a Muslim, escorted him to a mosque. Afraid to tell them otherwise, he knelt amid the worshippers and nervously mimicked the rituals.

"They were killing people every day, and people were afraid that they would be next, so they remained silent."
His trips outside grew increasingly sparing. "For me it wasn't a life," he said. "I was in my home, and it was like a grave. I left my grave every day in the morning, just to go to the supermarket, buy what I need, and go back to my grave."

The religion ISIS practiced was far different from the Islam he'd known all his life. He recalled Muslim neighbors he used to drink with, and others he considered his friends. He saw them as prisoners to ISIS like him — and staying in Tel Abyad became an act of defiance. "Christians and Muslims are brothers, and I will stay among the real Muslims," he told himself. "You are not real Muslims, and you cannot kick me out of my town."
He added: "Before ISIS came, Muslim people were my neighbors and my friends. No one insulted me before, and no one told me I'm an infidel. They respect me and I respect them. But ISIS, they just came to destroy the country."
Muslims from Tel Abyad — who supported Kirbukiyle's account of what happened to the church and town, and his story about paying jizya to stay — were furious about the way he'd been treated.
"ISIS came to create problems between us and Christians — but the Christian people knew the game," said one 41-year-old Tel Abyad native, who goes by the nickname Abu Khaldoun, and requested anonymity to protect his safety. "We are real Muslims in Tel Abyad, and we've been living with our Christian brothers for a very long time."
Abdulghani al-Hamed, 37, said ISIS had "tried to spread hate between Muslims and Christians, but they failed."
"The church is a place of tolerance, compassion, and forgiveness," he said, "but ISIS converted it into a place of torture, murder, and detention."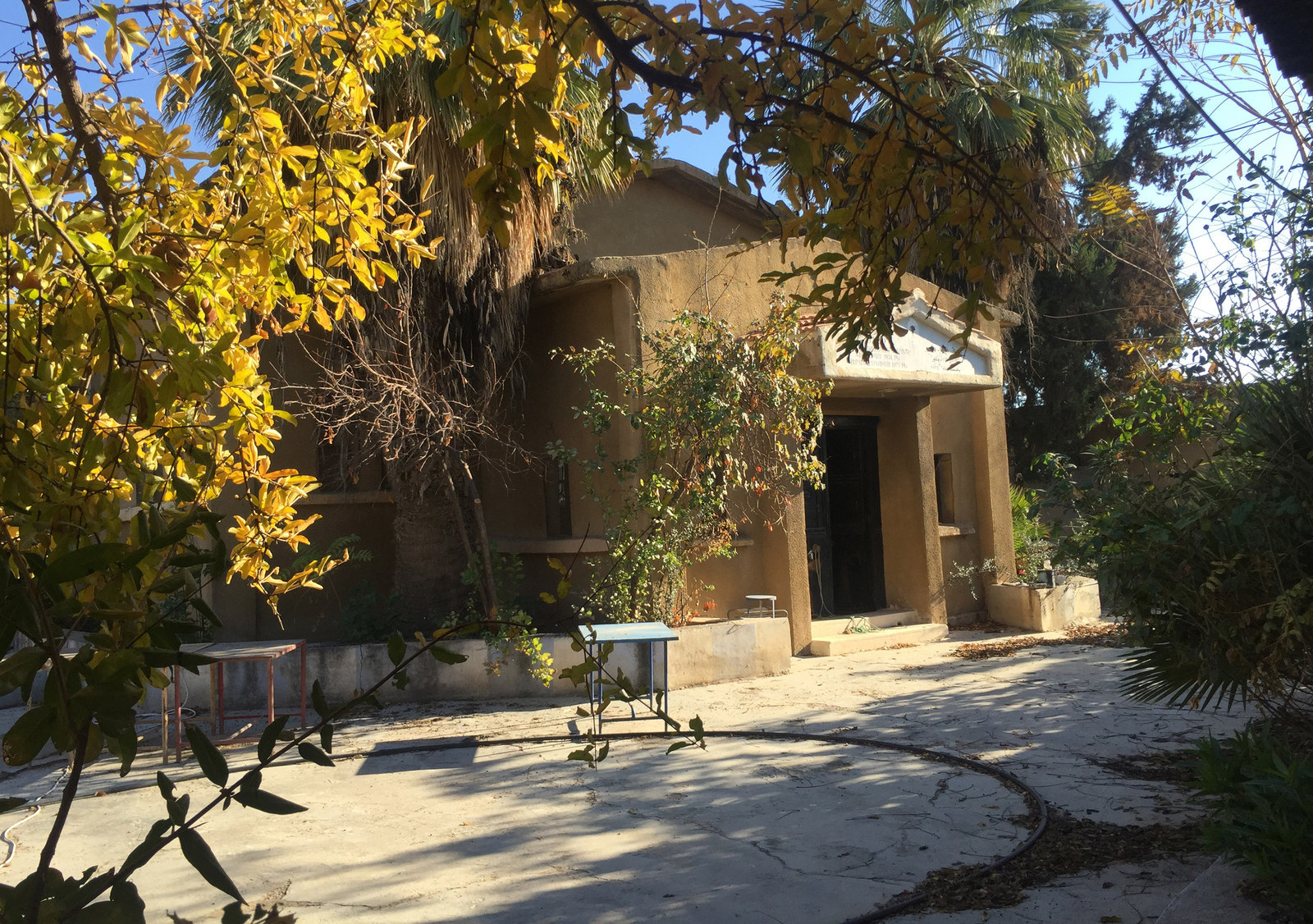 Another resident, who goes by the nickname Abu Mansour, said that "everything changed" when ISIS took over. He remembered the militants raising their black flags and seeing fear in the eyes of his fellow residents. "It transformed into a city of horror. They were killing people every day, and people were afraid that they would be next, so they remained silent and submitted to laws that have nothing to do with Islam," he said. "All of us in Tel Abyad feel sorry about what happened to Sarkis."
The low point for Kirbukiyle came when an ISIS jihadi — a boy he guessed to be about 12 — approached him in the street and put a knife to his neck. "You're a woman and I will kill you," the boy told him.

The boy eventually relented and walked away. But added onto the rest of the humiliation and terror, the incident shattered Kirbukiyle. "Now I feel that I'm not a man, because I was scared, and I didn't know how to protect myself or my family," he said. "I just spent every night being afraid."

Long a drinker, Kirbukiyle began to drink heavily, staying drunk in his apartment to pass the nights.

To get the alcohol, he'd drive to Aleppo, where he had family, and return with bottles of liquor hidden inside his car. He could hide 21 bottles near the battery and another 21 elsewhere, around the tires and in the trunk, he said.

At his home in Tel Abyad, he pulled several bottles from a cupboard — Syrian arak, whiskey — and held them gently in his hands. ISIS was gone, but the trauma from its presence lingered, and he still turned to the liquor to get by. "Alcohol kept me alive. Because I couldn't sleep at the time, and every night I would drink half a bottle to help," he said. "Now it doesn't work for me. I drink every day just to sleep, but I still think about the past, and I can't."

Still, he hoped freedom from ISIS could mark a new beginning. "I feel like I was born when ISIS left," he said. "I'm like a child right now. I just want to go outside."