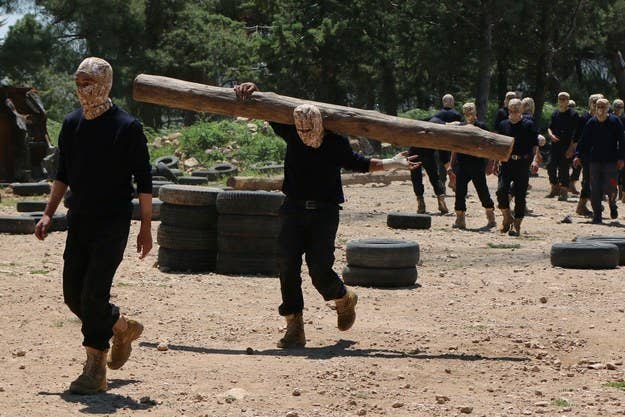 ANTAKYA, Turkey — Mohamed Zaatar says his relationship with the U.S. has brought him only misfortune. Yet the flamboyant commander still hopes to be included in a new U.S. program to arm and train Syrian rebels that will begin in Turkey soon. He doesn't have much of a choice after four years of war — his battalion has been decimated by ISIS, the regime and other extremists, and he's now stuck in Turkey. So he finds himself in the difficult position of deeply distrusting the U.S. government but needing its help. "We have found that the Americans are not our friends," he said over coffee inside a mall in the Turkish city of Antakya, not far from the Syrian border. "But we are waiting."
It was a year ago this month that the Obama administration announced plans for the program, which the Defense Department will run. The goal is to get religiously moderate rebels ready to fight ISIS — and it was billed at the time as an important new step in U.S. efforts to combat the militants, who had just overrun the Iraqi city of Mosul. Yet pro-Western commanders like Zaatar have been badly weakened by their extremist rivals in the year it took to get the program started. As the program gets underway, the Pentagon is stepping into a bitter history between the U.S. and its rebel allies marked by what rebels see as a long trail of half-measures and broken promises. "The reason for the delay [in starting the program] is that America is not serious," said Col. Ziad Hajj Obeid, a rebel commander who said he has helped to recruit fighters for it and expects to be involved.
"I'm sure they are not serious," he added. "But we have no choice."
Back when Obama announced the Pentagon program last June, Zaatar led a battalion that engaged in heated combat with ISIS and had been one of the first to fight the militants when an internal war against them erupted in early 2014. Called Wolves of the Valley, the battalion was part of a rebel coalition, the Syrian Revolutionaries Front (SRF), that openly sought an alliance with the West. Yet what U.S. backing they received was only enough to put a target on their backs, Zaatar said. "The U.S. supports us just to bring us down," he said.
After the U.S. began airstrikes in Syria against ISIS and another powerful extremist group — Jabhat al-Nusra, the local affiliate of al-Qaeda — last fall, the SRF and other U.S. allies found themselves battling both of these forces in addition to the Syrian regime. The SRF and U.S.–backed groups like Harakat Hazm were expelled from Syria over the winter as they called in vain for more support. "I blame the United States," Jamal Maarouf, the SRF's top commander, said in an interview near the Turkish border not long after his defeat.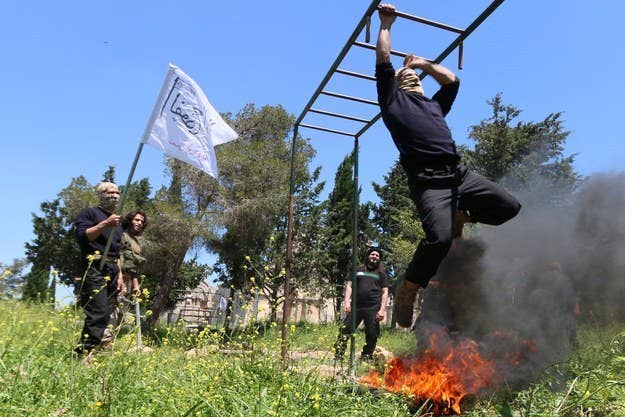 Despite all this, Zaatar said he and Maarouf submitted a long list of their fighters for consideration in the new U.S. program. "I have no choice but to try and join," Zaatar said.
Four years into the war, the Pentagon is starting anew as it builds its program, which will see rebels provided with weapons and ammo and trained by the U.S. military at bases in Jordan and Turkey. Officials said early on that the program would train 5,000 rebels per year, though a much slower pace now seems likely, at least at the start. Training reportedly began in Jordan last month and is expected to start in Turkey soon.
Previous U.S. support to rebels has been patchwork and halting: While the State Department sends nonlethal aid like food and night-vision goggles, the CIA runs a covert program to provide some groups with weapons and cash that the Wall Street Journal reported in January had gone "awry." These efforts reflect the Obama administration's long-standing reluctance to help the rebels grow strong enough to overthrow Syrian President Bashar al-Assad — even when threatening to bomb the regime over its use of chemical weapons, the administration said the attack would be "unbelievably small" — which has left a sense of deep mistrust with its allies on the ground.
In fact, some rebels think the $500 million Pentagon program is a way for the Obama administration to appear to take action in Syria while avoiding more difficult measures, such as instituting a no-fly zone to halt regime airstrikes, that would significantly alter the course of the war. "What kind of training are they talking about? After four years of fighting, I think we can train the U.S. army," said a fighter from the Syrian province and ISIS stronghold of Deir Ezzor who asked not to be named for security concerns and who expected to begin the U.S. program soon.
"I don't think the Americans are acting in good faith with this training," added a rebel official who declined to be named for fear of jeopardizing his ties with the U.S.
Experts on the region often say that a long-term strategy for defeating ISIS must include empowering a viable Sunni alternative. ISIS preaches an extremist version of Sunni Islam that has gained currency as Iraq and Syria spiral in sectarian strife. The Assad regime is dominated by the Alawite sect of Shiite Islam and propped up by its Shiite ally Iran, which also holds increasing influence over the government in Baghdad. But Col. Obeid, the Syrian commander, felt that developing a strong rebel force wasn't in the U.S. plans. "They want to train us to be militias, not to be a real army," he said.
He said the U.S. government "does not want to end the war in Syria." It remained too wary of what might happen if Assad was forced from power, he said — and this concern is gaining traction as ISIS spreads.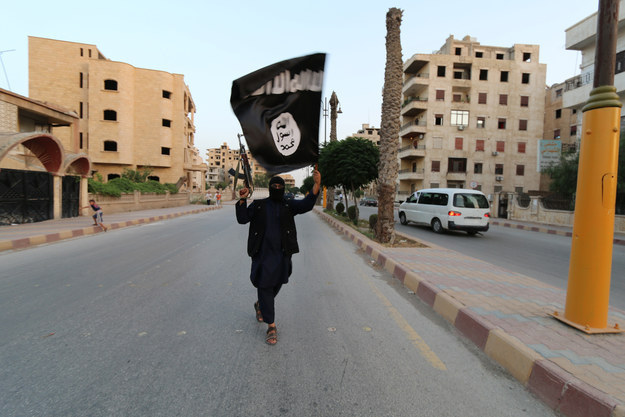 The delay in starting the program, and uncertainty among rebels about its intentions, has turned away some fighters who might have sought to enroll, Obeid said. "A lot of people went to join ISIS and Jabhat al-Nusra instead, because they are sure that the Americans are just giving empty promises," he said.
He added: "I accepted to be in this program only because if I didn't, I will be just a refugee."
It's unclear — even to many rebels — which of them will take part in the program. The Pentagon has undergone a lengthy vetting and planning process, leaving some rebels confused about whether they were accepted and when they might begin. A spokesman for the U.S. Central Command, Col. Patrick S. Ryder, said in an email that the Pentagon "cannot confirm groups or personnel participating in the program due to operational security reasons and host nation sensitivities."
A Capitol Hill source with knowledge of the program said both Zaatar and Obeid had recommended fighters and that it was likely many would be enrolled. Obeid has worked with U.S.–backed rebel groups in the past. "The U.S. government has worked with Col. Obeid for a long time," the source said.
Not all of those who expected to be in the program criticized the U.S. "We started fighting ISIS before the U.S. put them on the terrorism list," said a rebel commander based in Deir Ezzor, who declined to be named. "We support the program and we want to continue fighting them."
Turkey, a key backer for the rebels, borders ISIS strongholds in northern and eastern Syria, and its agreement to host the program was a strategic victory for the U.S. Yet Turkey also shares the rebels' insistence on the necessity of toppling Assad, arguing that the extremists feed off the chaos of a war that has killed at least 250,000 people to date.
Ryder, the U.S. Central Command spokesman, said in an emailed statement that "the level of detail and planning that has gone into starting this program is indicative of our commitment to doing this right rather than fast."
"[Train-and-equip] missions are challenging endeavors, even in the best of circumstances with longstanding partners using existing infrastructure, and this mission's complexity cannot be understated," he said.
He added: "From day one the program has been focused on preparing appropriately screened Syrians to counter [ISIS]. We recognize, though, that many of these groups now fight on two or three fronts, including against [ISIS], the Syrian regime, and other violent extremists. The train and equip program will train screened Syrian fighters to defend themselves and other Syrians from attacks, to prevent [ISIS] advances, to secure opposition-held areas of Syria, and to provide protection for the Syrian people."
The nuances might be lost on rebels who remain dispirited by the U.S. efforts that came before. "I am in the program because they promised us that now they are serious," said a 30-year-old fighter who goes by the nickname Abu Hamza. "But to be honest, I don't trust the Americans."