WASHINGTON — The US-led coalition fighting ISIS has admitted responsibility for the deaths of 36 civilians in three military strikes in Mosul after they were detailed in a BuzzFeed News investigation.

But the coalition has not issued condolence payments to the families of the victims for the loss of life and property, and, if its current policy continues, it likely never will. Despite estimates by one prominent monitoring group that coalition strikes against ISIS have killed at least 5,600 civilians in Iraq and Syria over the last three years — and the coalition's own admissions that it has killed at least 786 — it has offered condolence payments in just two cases, a spokesperson for the coalition said.
The spokesperson also said that "there is currently no formal system in place" for victims or families to request such payments from the coalition in the first place.
All of this is in contrast to the US military's own practices during its last war in Iraq, in which US commanders often approved payments as condolence for the loss of civilian life or to help cover damage to property. It has done the same over the course of the ongoing US war in Afghanistan. Condolence payments are considered gestures of sympathy and do not entail an admission of legal liability. "In general [the payments] were done smartly, and they were done out of a sense of fairness," said Craig A. Whiteside, a professor of national security studies at the Naval War College in Monterey, who issued the payments as a US infantry officer during the Iraq War. "And it generated some good will."
Congress sets aside funds for these payments that could be used in the war against ISIS as they were during the US wars in Iraq and Afghanistan. US officials have cited several reasons for their infrequent use today in Syria and Iraq — from the difficulty of fully investigating cases to the limited coalition troop presence. In Syria, where the US military has a relatively small ground force, there are "practical limitations," as a senior Defense Department official wrote in a recent letter to a member of the Senate Appropriations Committee. In Iraq, "particular considerations that arise when US military operations are conducted in partnership with another sovereign nation."
"In general, they kind of take the approach that they're doing this through the Iraqi [government], and therefore, this is an Iraqi issue," Whiteside said.

The battle to retake Mosul from ISIS was one of the deadliest urban assaults in recent history. More than nine months of intense combat brought heavy casualties to Iraqi forces as they drove ISIS from the most important city it held. But the civilians trapped in the city, who numbered more than 1 million at the battle's start, suffered most. ISIS executed some who tried to flee and took others as human shields. At the same time, neighborhoods were battered by US-led strikes. Most were airstrikes, but the coalition also deployed heavy artillery in Mosul, such as advanced HIMARS rocket launchers that can fire up to six guided missiles at a time from 40-plus miles away. In some parts of the city, entire blocks were reduced to rubble. Airwars, a monitoring group tracking the issue, currently estimates that coalition air and artillery strikes killed between 1,093 and 1,572 civilians in Mosul.
The coalition, which is dominated by the US military but consists of dozens of nations, has not kept pace with the flurry of allegations of civilian casualties that have emerged from civilians, activists, human rights groups, NGOs, and journalists. It has confirmed just over 300 fatalities from its strikes in Mosul to date, said Airwars Director Chris Woods. Though it has thousands of troops embedded with local security forces, the US does not send personnel to investigate potential incidents of civilian casualties on the ground. If cases like those detailed in the BuzzFeed News report are not independently documented, Woods said, "they would be overlooked entirely, except by the people they affected."
The same situation played out in the battle for the Syrian city of Raqqa, where US-backed forces declared victory in October. As in Mosul, the combination of ISIS brutality and intense coalition bombardment wreaked havoc on civilians. "The saturation bombing from the coalition was of an intensity equal to what we saw in western Mosul. And the civilian toll from that has been inevitable," Woods said. At the same time, he added, ISIS used indiscriminate weapons that took a heavy toll on civilians and also targeted them directly. "ISIS used [vehicle bombs] and minefields and shot down civilians as they tried to escape. All of this is similar to what we saw in Mosul."
A married couple who fled from Raqqa to Turkey with their infant son during the battle — both teachers in their early thirties — described the grim calculation they were forced to make, weighing the risk of attempting to leave against the threat from artillery and airstrikes. ISIS even used drones to search for escapees, they said.
But the airstrikes became so intense that, late one night, the family took the gamble, sneaking past an ISIS checkpoint. "People are terrified because they are being attacked from everywhere," the husband said when he and his wife met for an interview this summer near the Turkish border, not long after they arrived. They requested anonymity to protect family members still trapped in ISIS territory. "The situation was so scary."
Coalition personnel can internally flag potential cases of civilian casualties if someone involved in a strike believes there may have been collateral damage, and this process has led to many of its assessments. For the rest, the coalition relies on reports from local sources and social media, as well as from monitoring groups, NGOs, and journalists. Those deemed credible enough to investigate are passed to a special team that can draw information from strike logs, satellite imagery, and interviews with those involved in the strike. Following a surge in allegations from Mosul this spring — and global outrage after an errant US strike in the neighborhood of al-Jadida killed more than 100 civilians — the coalition expanded the team tasked with investigating cases. It currently consists of seven people.
The three strikes in the BuzzFeed News report were documented during a journalist's unauthorized visit to Mosul in May. The findings — including GPS locations, photographs, and phone numbers of witnesses — were provided to the coalition, which said at the time that it would look into the allegations.
In the first incident, which took place in December, a strike killed the wife and three young daughters of a man named Hassan Ali Hassan in their home after he stepped out to run an errand, leaving him to collect their body parts from the rubble. The coalition concluded: "During a strike on an ISIS mortar position engaging partner forces, it was assessed that four civilians were unintentionally killed."

In the second, which took place in March, a strike killed the nephew and four nieces of a man named Zayd Younes Mohamed, who lived next door. The coalition concluded: "During a strike on an ISIS machine gun position engaging [Iraqi security forces], it was assessed that five civilians, not previously observed during the engagement, were unintentionally killed."
In the third incident, which also took place in March, witnesses and relatives described another strike in the al-Jadida neighborhood that destroyed two civilian homes. The coalition concluded: "During a strike on ISIS fighters engaging partner forces from a fighting position, it was assessed that 27 civilians in an adjacent structure were unintentionally killed."
The coalition also said that it had reopened an investigation into a fourth case detailed in the report. In that incident, a man named Mohamed Ghassan Salem lost his mother, father, pregnant wife, and 5-year-old son in an April 2015 strike that destroyed his home.
The coalition said that two of the allegations documented in the BuzzFeed News report were "not credible." Those were a December strike near an ISIS base that destroyed a neighboring home, killing eight civilians, and a January strike that killed more than a dozen civilians. Evidence of an air or heavy artillery strike was readily apparent in each case — from flattened homes and corroborating testimony from multiple witnesses to an elderly neighbor who limped from a leg wound suffered in one of the attacks. In each case, the coalition said that it had carried out "no air-to-ground or ground-to-ground strikes" in the area at the time. But the "not credible" assessments do not include air and artillery strikes from Iraqi security forces, which are conducted in concert with the coalition's own campaign, the coalition spokesperson said.
Even in cases where the coalition does admit to killing or injuring civilians, victims and their families are unlikely to find relief — or to hear from the coalition that it has accepted responsibility for the strikes. When contacted recently by phone, both Hassan and Mohamed said they'd received no word from the coalition that it had determined it was responsible for the attacks that killed their families. (Relatives of the victims from the al-Jadida strike could not be reached.) "They have never communicated with me," Hassan said of the coalition.
The three admissions, like the results of all of the coalition's investigations into allegations of civilian casualties, were released in a monthly report on the coalition's website.
Members of Congress and human rights groups have been pressing the coalition to more openly and forcefully address the issue of civilian casualties. During the Iraq War, Sen. Patrick Leahy, the Vermont Democrat who is vice chairman of the Senate Appropriations Committee, sponsored a bill that set aside funds for condolence payments for civilian deaths during US operations. Leahy has pushed the Defense Department to make use of these funds — and for greater clarity on how allegations of civilian casualties are being handled.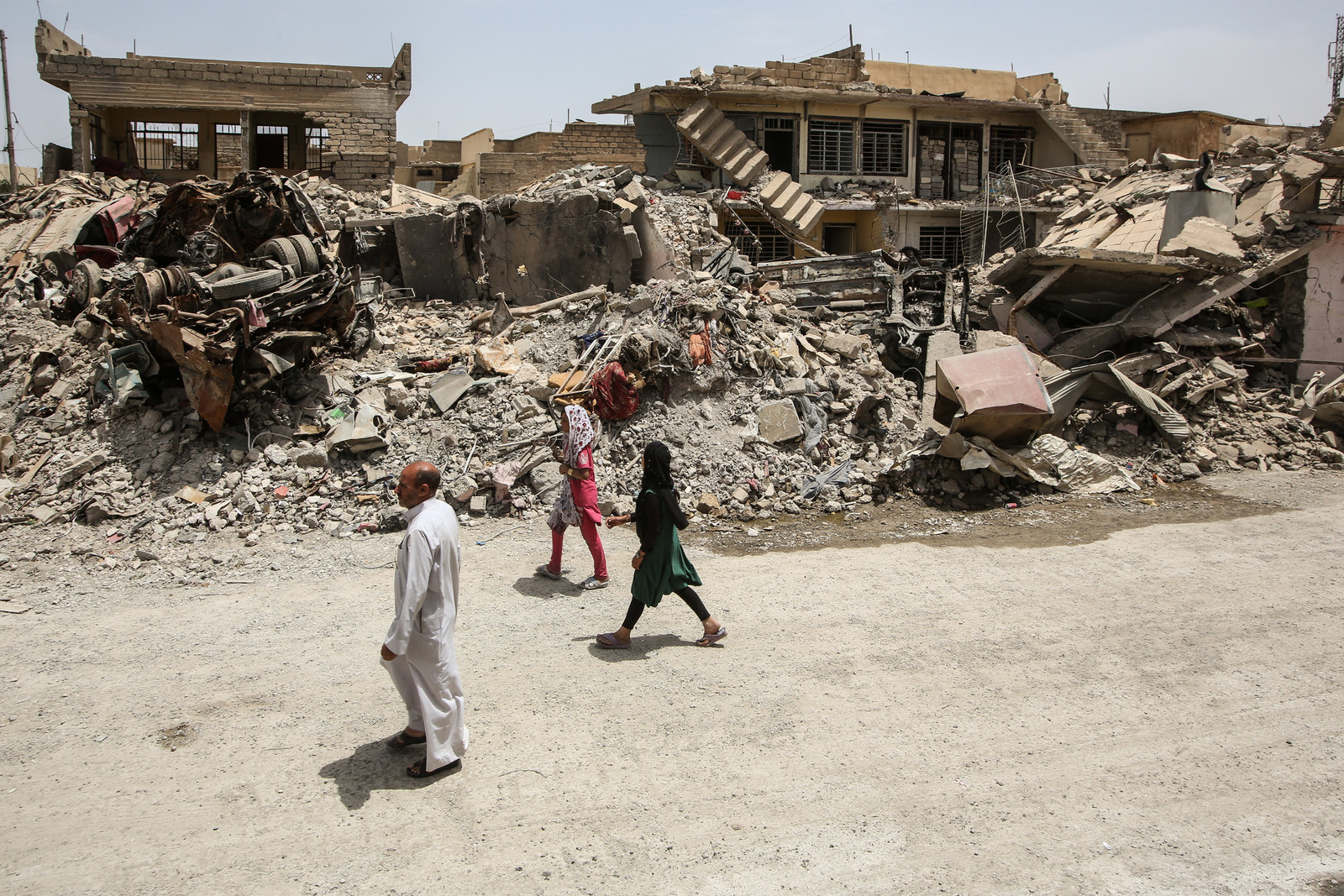 "The number of civilians who have been killed and wounded in the fight against ISIS in Iraq is staggering. ISIS has committed countless atrocities against civilians, but US bombs and our Iraqi allies have also caused many civilian casualties," Leahy said in an emailed statement. "There are journalists and humanitarian aid workers in Iraq documenting these cases. United States military personnel should investigate these incidents so we can help innocent people who we inadvertently harmed. There is no excuse for not using the authorities and funds that Congress provided to help them."
US officials stress that the anti-ISIS coalition is careful to avoid civilian casualties. "I challenge anyone to find a more precise air campaign in the history of warfare," Lt. Gen. Stephen Townsend, the US Army officer who commands the coalition, wrote in a recent opinion column. He also contested the civilian-casualty numbers used by Airwars and other monitoring groups.
In contrast with ISIS, which targets civilians intentionally, and with the Syrian and Russian militaries that do the same with airstrikes in Syria, the coalition works to avoid collateral damage. On the front lines in Mosul, the US-backed Iraqi special forces who led the offensive were on constant watch for civilians during their assaults. Even with Iraqi forces in harm's way, coalition strikes were often called off over concerns for civilians nearby.
Yet groups like Amnesty International and Human Rights Watch have alleged that the coalition did not take enough precautions during strikes in both Syria and Iraq. They have likewise called on the coalition to issue condolence payments when they unintentionally kill or wound civilians or damage property, saying such payments are in line with international law.
The Iraq War and Afghanistan provide "an important guide for how the US has addressed issues of civilian casualties that should be the starting point for all conflicts going forward," said Sarah Margon, the Washington director at Human Rights Watch. "There is no reason a similar system can't be set up for Iraq, Syria, or anywhere else in the world where the US is engaged in military operations."
While leading US troops through some of the most difficult phases of the Iraq War, Whiteside, the Naval War College professor, considered condolence payments useful to the mission. "I always said those [condolence] payments were the best money we ever spent in Iraq and Afghanistan, because it was a small amount, and it helped us maintain good relations," he said. "The US needed some goodwill in Iraq in order to buy time for the Iraqi security forces to stabilize the country."
The payments were often as little as $2,500. But Whiteside noted that the importance was not just the money, but the gesture involved. It has long been common, in both Afghanistan and Iraq, for families and tribes to use such payments to address grievances over damage to property and wrongful death. "It might seem strange to us, but it certainly was not strange to them. They completely understood it," he said. "Did we win their hearts and minds? Hell no. But they respected the fact that it was a mistake, we owned up to the mistake, and we acknowledged it [with] a token of our apology. So it wasn't just, 'Yes, sir, we killed your family. It's combat. Have a nice day.'"
The US mission is different in the war against ISIS. Now, in Iraq, it is fighting at the invitation of a sovereign nation, while in Syria, the coalition's strikes are tolerated by a weak and hostile regime. In either place, the US doesn't have the same capacity to investigate the incidents and distribute payments after vetting the recipients as it had when the US military had a larger presence in Iraq. US soldiers also don't face the same risk from angry locals.
"We were the actual terrain holders [during the Iraq War]. It's different when we have our 18-year-olds on the ground that we don't want to get shot at because people are angry," Whiteside said. "But if you look at it strictly from the big picture, anything we do to help the Iraqi government regain the legitimacy of its citizens is only good for us. And that could be the case with [condolence] payments."
Mohamed, the Mosul resident who lost his nieces and nephew, said the family was still hoping for help. He said they had contacted the Iraqi government seeking compensation, but had been refused. "I don't know what to say. We have suffered a lot — we have lost our children, our houses, and our cars," which the family relied on to make its living, he said. "I really hope they will address the situation of the victims' families."
Vera Bergengruen contributed reporting.
UPDATE
A paragraph in an earlier version detailing difficulties in dealing with the coalition's media office has been removed. A spokesperson cited communications problems for the difficulties.