Syrian Opposition's Dreams Of Anti-Aircraft Weapons From U.S. Might Have Ended With Flight MH17
"Do you want the Manpad that you supplied to the opposition to be the one that shot down the Malaysian airplane?"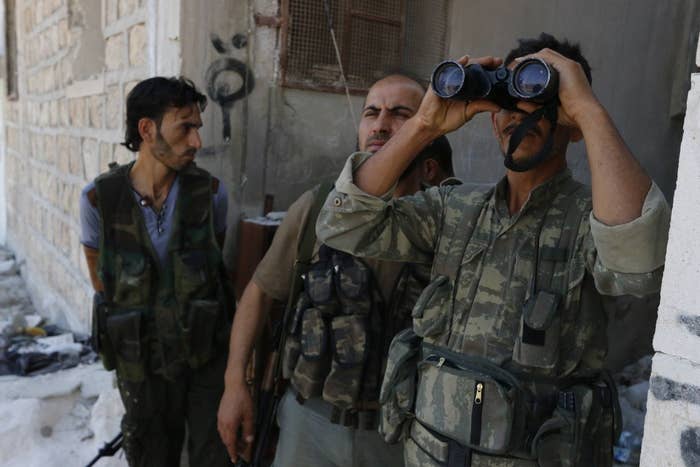 ISTANBUL — The day after Malaysian Airlines Flight 17 was shot down in Ukraine, with news of the tragedy still sinking in, a Syrian TV host known for his opposition sympathies posted a message on Facebook.
"After the Malaysian plane was downed by a surface-to-air missile in Ukraine," wrote Faisal al-Qassem, who has a talk show on Al-Jazeera, "the Syrian opposition's dream of getting anti-aircraft weapons is like the devil's dream of going to paradise."
The message captured what many Syrian rebels and activists must have been thinking. They had been pleading for years for their international allies to provide them with surface-to-air missiles, to combat the devastating air power of the Bashar al-Assad regime. But the Obama administration had refused to allow it — worried that the weapons could fall into the wrong hands, or that rebels could accidentally cause a disaster like the one in Ukraine. Now the prospect of getting them seemed more distant than ever as a worst-case scenario played out for a different set of rebels and their Russian backers 800 miles away.
As one rebel commander in northern Syria put it, after first expressing his sympathy for the victims of MH17, "Maybe [the U.S.] will take this as even more of a reason not to do it."
The commander — a defected lieutenant colonel who goes by the nickname Abu Ahmed and leads a battalion called Ahrar al-Sahel — had a somber outlook on the possibility of international support. "If the international community wanted to give us anti-aircraft weapons they would have done it long ago, before so many thousands were killed," he said.
Moderate rebels, in particular, largely share this attitude, weary of waiting for meaningful aid in the form of anti-aircraft and other heavy weapons as they fade from their once-prominent place in the rebellion, rolled back by the regime as well as extremist rivals. Yet recent weeks had seen rare glimpses of hope. Following the surge of the Islamic State of Iraq and Syria, an al-Qaeda offshoot, in Iraq last month, the Obama administration announced plans for a $500 million program to train and arm moderate rebels, which would be its most intensive effort to help them to date.
While the plan made no mention of anti-aircraft weapons, it suggested a possible thaw in the administration's icy attitude on military assistance to the rebels — and some of the rebellion's backers in Washington were optimistic that anti-aircraft weapons might be coming by other means. Before the MH17 crash, according to one congressional staffer briefed on the deliberations, the U.S. had been considering proposals to allow its allies to provide the rebels with modified versions of shoulder-fired surface-to-air missiles known as man-portable air defense systems, or Manpads.
But now the same staffer, who spoke on condition of anonymity, had serious doubts, even though it was a farther-reaching and more powerful kind of surface-to-air missile that had brought MH17 down: "I just think that this administration has been so hesitant anyway — and whether the weapons systems are comparable or not, or obviously even the situation is not comparable — I think in their minds it's all one in the same, and I think this could potentially change the calculus."
The nightmare in Ukraine, in fact, seems to have reinforced the Obama administration's confidence in its cautious approach to the rebels in Syria — particularly when it comes to anti-aircraft weapons.
"We have always expressed concern about the proliferation risk associated with anti-aircraft systems," Bernadette Meehan, a spokeswoman for the White House National Security Council, told BuzzFeed. "For instance, in Syria, there have been calls to provide Manpads, but we've always been concerned about the danger that those types of weapons could fall into the wrong hands or pose a risk to civil aviation."
In backing the rebels in eastern Ukraine, Russian President Vladimir Putin has pursued a course much the opposite of U.S. Syria policy. Russia has pumped heavy weapons into the self-styled separatist republics in the regions of Donetsk and Luhansk, including Manpads, and threatened to intervene militarily on their behalf. A number of Russian citizens with ties to the country's intelligence services are helping to lead the rebellion on the ground. The U.S. has also accused Russia of firing rockets across the border at Ukrainian forces — and of providing rebels with the anti-aircraft weapon, a vehicle-mounted missile system known as a Buk, that they likely used to down MH17, mistakenly believing it to be a Ukrainian military plane.
Now Putin is facing the backlash — he has become more of an international pariah than ever amid the furor over the attack, and the U.S. and European countries agreed to their most severe round of sanctions yet on Monday. "[MH17] points to the risk of arming proxies," said a senior U.S. administration official, speaking on condition of anonymity.
Oubai Shahbandar, a senior adviser to the Syrian opposition based in Washington, D.C., who has been lobbying to see moderate rebels provided with Manpads and other heavy weapons, was apoplectic at the idea that what he called Russian "adventurism" in Ukraine might hurt rebel efforts to get arms in Syria. "It's apples to oranges. There is no comparison," he said, noting that Russia is a key backer of the Assad regime, which has bombed cities using Russian-made jets. "Anyone who tries to make that comparison is living in a parallel universe."
Manpads could not have reached the altitude that MH17 was flying when it was hit — or that commercial airliners fly generally. But when asked if he worried that the U.S. might be more hesitant to allow rebels to get Manpads in the face of the MH17 disaster, Shahbandar replied: "Absolutely — absolutely, absolutely and absolutely."
He added that rebels were willing to address U.S. concerns about proliferation by undergoing training and vetting before receiving Manpads. And he suggested that the weapons could be equipped with GPS tracking and other safeguards, such as fingerprint scanners. "The difference is that the Russians are actively promoting proliferation of advanced missile systems, while the Syrian rebels have made it clear to the United States and its allies that that they are willing to work with them to guard against proliferation," he said.
Yet serious doubts about providing Syrian rebels with Manpads remain — and may have only increased. "There are ways in which the United States itself and some of its allies can keep tabs on some of these [heavy] weapons, but it's not foolproof," said Steven Simon, a fellow at the Middle East Institute and former senior official on the Obama administration's National Security Council. "So the idea of having a lot of confidence in what happens to these weapons once you hand them over is just fictional. It's difficult to have that kind of control. And this goes all the more so for Manpads."
Simon added: "Do you want the Manpad that you supplied to the opposition to be the one that shot down the Malaysian airplane?"