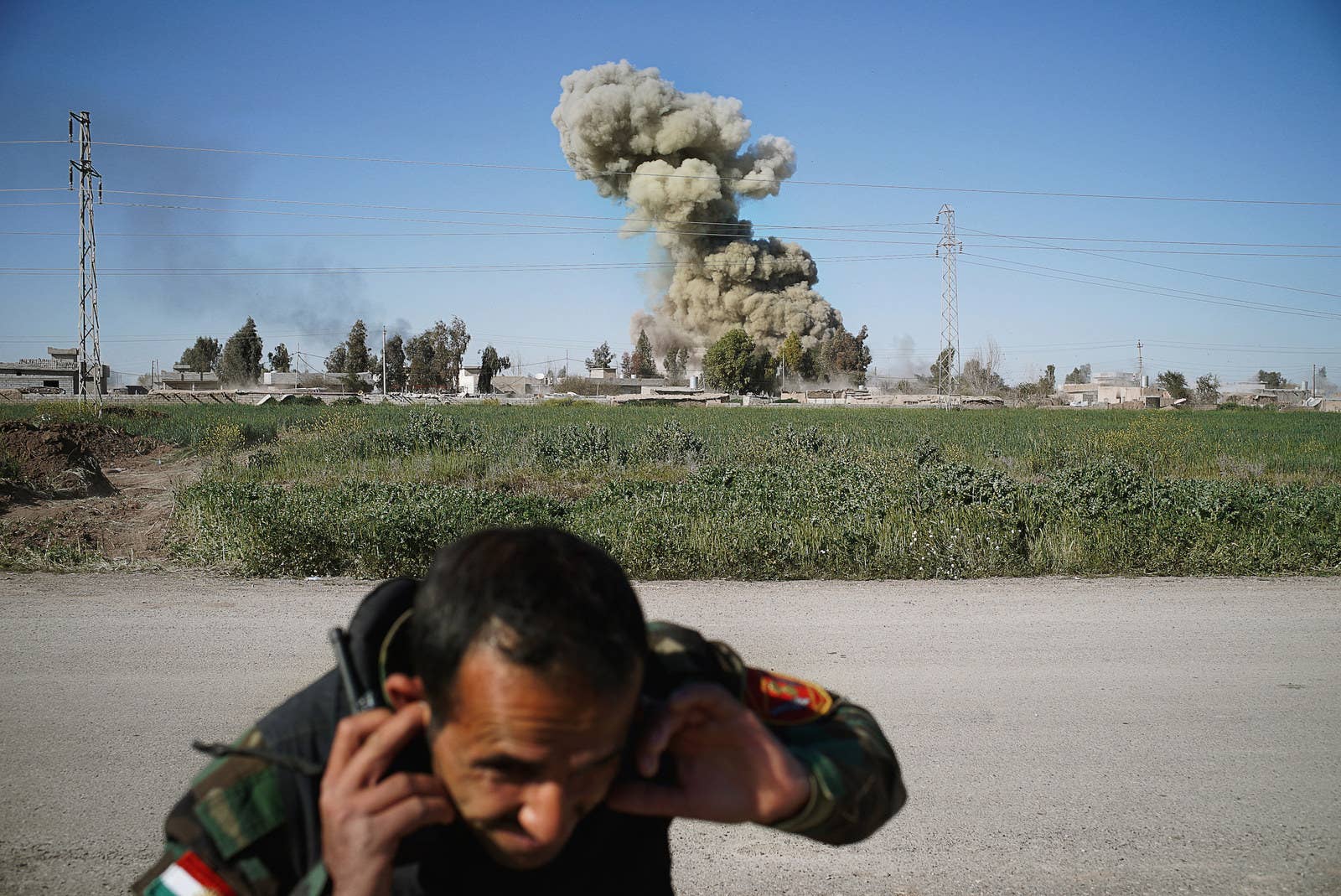 MULLAH ABDULLAH, Iraq — Soldiers strapped on their helmets as Col. Mohammad and his bomb-disposal team pushed closer in an armed convoy toward the front, through villages newly freed from ISIS control. The ethnic Kurdish forces working to roll ISIS back in northern Iraq relied on specialists like Mohammad to cut through the web of explosives the militants left behind. They snipped wires in booby-trapped homes, found and detonated roadside bombs, and regularly lost their lives.
When the team reached the battered village of Mullah Abdullah, outside the city of Kirkuk, they found a sedan packed with explosives. Soldiers watched warily as Mohammad approached, then stepped back as a specialist prodded the car with a rod. ISIS designs bombs to detonate on specialists, who rely on simple tools to survive: metal wire cutters from a hardware store, a laser pointer to scan for tripwire. "There are too many tricks," Mohammad said. "All we have to count on is our eyes."
ISIS is using improvised explosive devices, or IEDs, in staggering numbers across its fronts in Iraq. Experts say the weapon has never been used on this scale before — it is "unprecedented," says Jonah Leff of the arms-tracking firm Conflict Armament Research, and "a revolution in their use and deployment."
IEDs were the weapon of choice for Iraqi insurgents during the U.S. occupation — and their use by ISIS now is playing a crucial role as the war against them reaches a pivotal moment in Iraq. While U.S. warplanes pound the militants, they face multipronged assaults from local forces: the Kurds, Iraqi troops, and Iran-backed militia. New offensives countrywide have been billed as preludes to a battle for the northern city of Mosul, the prize of ISIS's summer onslaught and the Iraqi heart of its self-styled caliphate.
The offensives span from Kirkuk in the north to the edge of Anbar province west of Baghdad and the city of Tikrit, where some 20,000 militia and Iraqi soldiers are engaged in the largest operation against ISIS to date. All have slowed amid the havoc wreaked by IEDs. Fighters from each of the forces battling ISIS say that — like U.S. troops before them — they suffer most of their casualties from the bombs.
In hard-won territory in Kirkuk, Anbar, and Tikrit over the last two weeks, soldiers and specialists scrambled to deal with the IED threat, defusing and detonating what they could or simply stepping over suspicious wires. Their efforts at bomb disposal ranged from the professional to the reckless. Kurdish forces, called peshmerga, which are increasingly America's main ally on the ground, deploy special explosive ordnance disposal (EOD) units whose members work with little training and rudimentary equipment in what the U.S. military treats as a highly specialized field. In Mullah Abdullah, Mohammad's team destroyed the car bomb safely — they detonated it from afar with a homemade charge, and the blast blew out windows a quarter-mile away — but peshmerga specialists often fall victim to the bombs they're working to neutralize.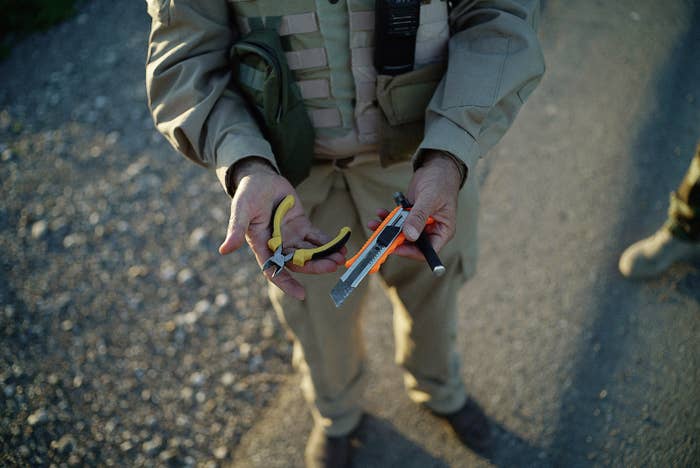 The Iraqi government has skilled EOD technicians with experience dating back a decade. But they say they're overwhelmed by the scale of IEDs and the chaos of the myriad battlefields. Some government soldiers have attempted to fill the gap with ad hoc training. The militia, meanwhile, appear to rely on some assistance from Iran as well as inexperienced volunteers whose main qualification is a willingness to sacrifice themselves to the bombs. "The whole country is surrounded now by IEDs, so what do you expect of us?" said Settar al-Khaffaji, a retired Iraqi colonel and official with the militia group Abu Fadhil al-Abbas. "We have to clear them ourselves."
On a recent afternoon, crater after crater lined a road to the front outside Kirkuk as Mohammad and his men prepared to detonate a last IED before the sun set. Pickup trucks full of camouflaged soldiers took care to straddle the median as they passed. The team had dispatched around 45 IEDs that day — inching up to place a small charge on each, then taking cover in an armored vehicle as the blasts pulsed the air, showering dirt onto the asphalt. Across a field from the road, a collapsed house was a reminder of the danger: The previous day an IED had killed four of their colleagues there.
The peshmerga have defused or detonated more than 6,000 IEDs along their 650-mile front with ISIS since the war began in August, Kurdish officials said. Those were the ones they'd been able to find. Mohammad pointed to the fields that stretched to a set of hills on one side of the road and the village with the flattened home on the other. "To be honest, we believe that those open fields beneath the hills, and the hills, are filled with IEDs. All those houses are full of IEDs," he said.
"This is a hidden enemy," said a 46-year-old lieutenant in tan fatigues and designer sunglasses, who gave the nickname Abu Akram. "The fighters, you see them on the other side. But I don't know where this enemy is going to attack."
Like most officers working with IEDs, Abu Akram declined to be photographed or use his real name. Mohammad, likewise, requested to withhold his first name. It showed the sensitivity of their work: The specialists worried ISIS would target them to eliminate a crucial source of expertise. Abu Akram said he'd identified 12 main types of IEDs used by ISIS, but the militants kept changing tactics. "When you beat them today, they will think of a way to build an even more sophisticated bomb, so you won't beat them again," he said.
One specialist recounted a U.S. expert calling the EOD teams "insane" when he saw how they worked.
Experts and local soldiers said ISIS employs its IEDs — which can come in the form of suicide attackers, car bombs, roadside bombs, and booby traps — with increasing sophistication. The group's predecessor, al-Qaeda in Iraq, was infamous for its use of the bombs. But ISIS truly stands out in deploying the weapon en masse, in the fashion of landmines, which are banned under international law because they cause indiscriminate carnage both during a conflict and after it ends.
The IEDs that the EOD specialists uncovered were often simple and complex at once. They could be made with basic items like paint, fertilizer, kitchen pots, and jerry cans. They could also have devious designs, like a cell phone the militants called to trigger the bomb when the specialists arrived or a device that detonated it if it moved. The vast territory and resources ISIS controls, meanwhile, appeared to allow it to produce some IEDs on a large scale: Some peshmerga specialists believed there were workshops or factories. One type of IED they found often outside Mosul had containers made from oil pipeline. The thick metal cylinders were cut and welded with precision, with a hole for the fuse drilled on one end. The explosives were packed in so tightly that a captain said it took 30 minutes to spoon them out. He thought the packing had been done by machine, but chemical reactions in the explosive mix could also account for what he described.
The peshmerga specialists working through the lines of IEDs had little training from their Western allies and lacked modern tools like signal jammers, X-rays, and robots. Even their metal wire cutters were a dangerous departure from the norm: Professional EOD technicians use plastic or ceramic ones to avoid short-circuiting the bombs. One specialist recounted a U.S. expert calling the EOD teams "insane" when he saw how they worked. Though officials wouldn't give figures, the peshmerga seemed to lose EOD specialists with most major operations. "When one of our men dies in an explosion, you will be collecting the pieces," said the general who heads the peshmerga's EOD division. "And this is very hard to see."
Michael Knights, an Iraq expert at the Washington Institute for Near East Policy, said ISIS's success in employing an "economy of force" has been surprising. "They have a defensive model," he said. "That model is restless counteroffensive operations that keep the enemy scared and on its back foot combined with the use of massive harassment [IED] minefields. To just instill delay on everything. To make every single task the coalition has to do one and a half times as hard. And that's been very effective."
IEDs would play a crucial role in any battle for Mosul, which U.S. and Iraqi officials have said will begin this year. "These are the world-class leaders in IEDs," said Christopher Harmer, an analyst at the Institute for the Study of War. "The U.S. was barely able to deal with this. If these forces are seriously considering moving into Mosul, how will they deal with the IED threat?"
Soldiers who push into ISIS territory looking for a fight often find themselves instead facing explosive traps and sniper fire. "There is no confrontation between fighters," complained a fighter with the Badr Brigades, one of the largest in the coalition of Shiite militias that has taken up arms against ISIS, which preaches an extremist version of Sunni Islam. "It's not like a normal war."
The fighter and his colleagues stood along a pockmarked road in a village called Saadan, on the edge of Al-Garma, a district on the outskirts of Anbar province where Iraqi forces and Shiite militia launched an offensive against ISIS this month. They'd won the village the previous week; it was a mess of battered buildings and decapitated palm trees. Some of the IEDs that had covered the area remained. "Don't ever step on the other side of this road," a fighter said.
A dirt path off the road led to graves where ISIS had buried some of its dead. The militiamen had fired on the area for days with mortars and machine guns, but by the time they arrived, most of the ISIS militants were gone. They left hoses and copper wire strewn about the path; some were attached to nothing and others the fighters took care to step around. A green set of Shiite prayer beads sat atop a pile of dirt, as if appealing to the religious-minded fighters to pick it up. "That is probably an IED," one of them said.
Gen. Qasim Attiya of the Baghdad Operations Command, which is helping to run the war effort in the area, said government and militia forces had won about five miles of Al-Garma in 10 days of fighting and uncovered hundreds of IEDs in the process. "We told our soldiers not to enter the houses, because most of them are targeted," he said. "Our engineers are working day and night to remove IEDs."
The scale of the IED threat leaves much of the disposal work to be handled by amateurs.
The Badr fighters said they had their own teams to deal with IEDs. As they walked through Saadan, explosions sounded in the distance — the specialists at work, they said. But the fighters refused to let the specialists be interviewed. A Badr commander could be overheard explaining the reason to a colleague: "because the experts are from Iran, and they don't want to be seen."
Mohammed Naji Mohammed, a Badr leader in the area, said Iranian specialists had been providing training and guidance on IED disposal, though he didn't say what they were doing in the field. Many of Badr's fighters are new and inexperienced, having answered a call this summer from Iraq's top Shiite religious authority to rise to the country's defense. They needed the assistance, Mohammed said. "Our best bet is to ask Iran for help," he said. "We don't have the experience to deal with all the IEDs in the field, so we have to rely on them."
Fighters from Badr and other militia make up the vast majority of forces in key government offensives — in Tikrit, for example, they number 20,000 compared to just 3,000 troops from the Iraqi military, according to America's top general. The heavy involvement of the militia, plus the presence of Iranian troops and advisers on the front, has led the U.S. military to keep its distance, concentrating its efforts elsewhere.
Iraq's top EOD technicians are based at the interior ministry's vast compound in Baghdad. They put their training and experience to work in the field, but the scale of the IED threat still leaves much of the disposal work to be handled by amateurs. "Unfortunately the whole place has become a frontline. And we have to work fast," said a lieutenant in the interior ministry's EOD team, who gave only his first name, Samer. "We don't have time to clear everything."
"We are working with a lot of people who don't have experience," he said. "These people don't know how to even walk through the fields. They come to tell us there's an IED, and then they walk right up to it."
Inside the division's headquarters this week, the bell rang at regular intervals, sending teams out to address suspected IEDs around the city, which remain a constant problem. Col. Riyad al-Musawi, the division's manager, said his teams across Iraq were overwhelmed. He criticized the U.S. for not doing more to help, saying he relied on tools like robots the U.S. had donated a decade ago, and that much of it was falling apart. "It's not just people. I don't have enough equipment," he said. He had hosted some EOD workshops for Shiite militia to fill the gaps, he added, "but it's not enough."
"I've been in the field so long and still can't consider myself an expert. These people have been coming to the field in just the last year," Musawi said. "We are familiar with the idea of IEDs. But the difference is the number and the quality and the amount of explosives they pack into each. It gets bigger and bigger."
In Tikrit, an EOD specialist seemed to be anyone willing to do the job — and the rash efforts at bomb disposal mirrored the effort against ISIS generally, with the Iraqi government relying on tens of thousands of religiously motivated volunteers as its U.S.-trained and -equipped military continues to fade into irrelevance.
Ahmed Abdul Wahad, 32, was a police officer when the conflict with ISIS began but took a one-week EOD course in Baghdad last fall, "because nobody else would do it," he said, standing in the Tikrit suburb of Al-Alam as residents returned amid bursts of celebratory gunfire. "After that I had to go out in the field to learn."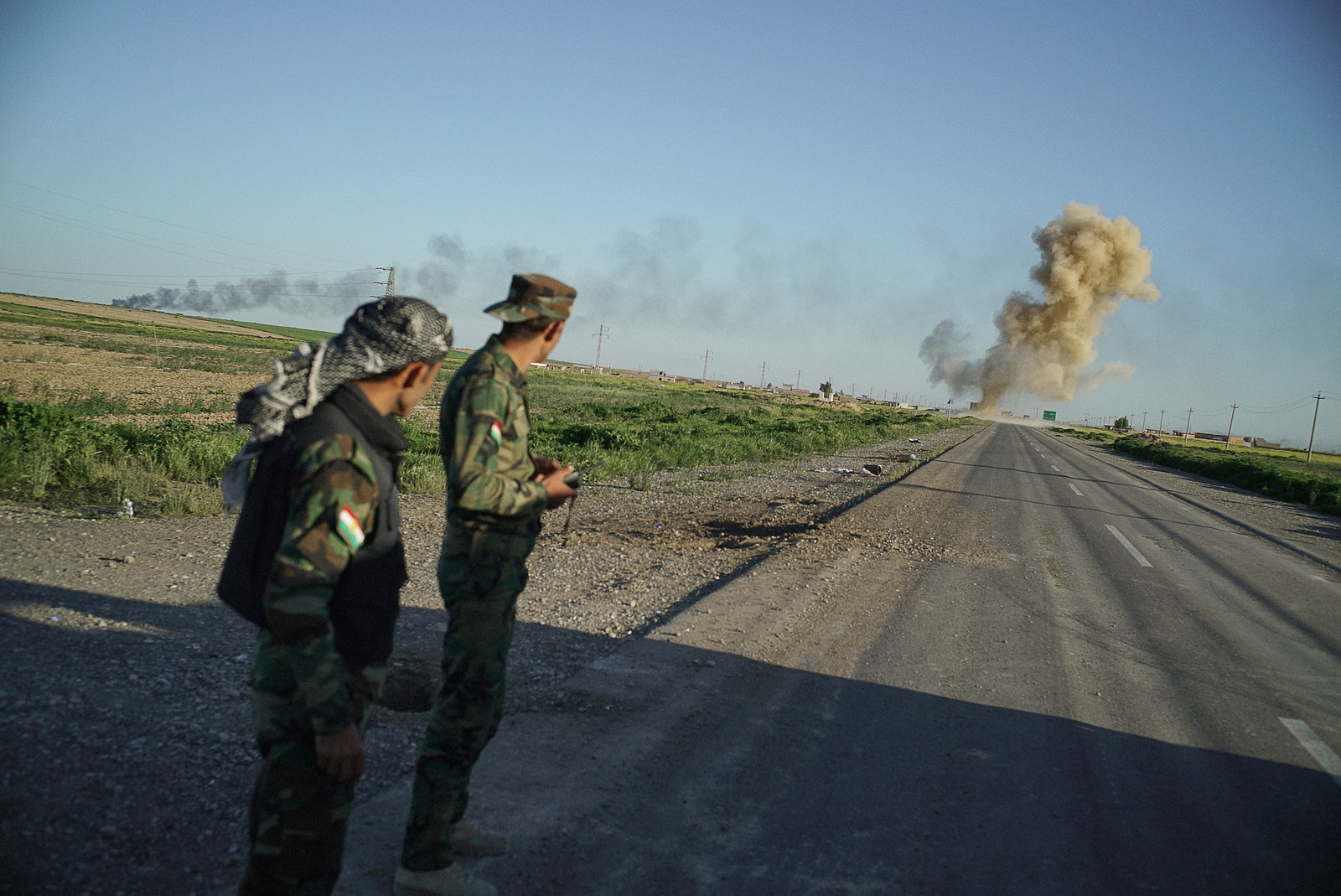 The road from Baghdad through the city of Samarra and to Tikrit is lined with checkpoints manned by different Shiite militia. At times, the various groups appeared at odds with one another. At one checkpoint, manned by the militia group Hezbollah, which says it has no ties to the Lebanese militant group of the same name, an altercation erupted when a Badr Brigades convoy that included local and international journalists tried to pass. "I don't give a fuck about you," one commander said to another. Hezbollah fighters later fired warning shots and threatened to blow up a news van with a rocket-propelled grenade.
With the militia groups competing for status and influence, even when government EOD teams are available, it might be hard for them to navigate the territorial maze. "Part of the problem is ego and glory," Musawi of the EOD division in Baghdad said.
Fighters in Al-Alam said IEDs were killing their comrades regularly. Sabbah Nadem, from the Iraqi national police, had photos on his phone that showed how ISIS had converted a farm building nearby into an IED workshop — artillery shells lined the floor, waiting to be converted into bombs. Ahmed al-Juburi, 24, was one of the militia fighters who considered himself an expert on handling IEDs. He said he had no formal training and had learned on the job; he was someone other fighters called on when they came upon a booby-trapped home or roadside bomb. "To be honest, if you're talking about real EOD, we have very few people. But a lot of us picked up experience," he said.
"What we had is one expert who taught some groups, and those groups taught other groups," said Raed Allawi, 55, a retired Iraqi general who is now a commander with the Badr Brigades. "The number of IEDs is so high that we all had to step in."
Allawi said the men tried to smell for explosives, and that when they suspected IEDs along a road or in a home, the first response was often to try to detonate them with bullets or grenades. Otherwise the amateur specialists attempted to defuse them. "We have to," Allawi said. "We are in a crisis right now."
The bombs hidden in homes and fields across the country promise to leave a lasting effect. "These are intended to be victim-activated, and there's no way they're going to distinguish between civilians and combatants," said Mark Hiznay, a senior arms researcher at Human Rights Watch.
He said ISIS uses IEDs no differently than factory-made landmines — which littered parts of Iraq after widespread use under the Saddam Hussein regime and required years of intensive effort to clear. "Now it's like going back to square one," he said. "And the result is that you're going to have civilians wandering into these areas and losing lives and limbs."
On an afternoon last week, not far from a frontline southeast of Mosul, a peshmerga captain walked through a field where he and his team had detonated more than 10 IEDs, ducking for cover as shrapnel flew over their heads. The craters were fading as winter turned to spring; the captain said that if there were any IEDs left, they could be harder to find amid the flowers and grass growing everywhere. He thought the area was safe now, but his eyes scanned the ground. "We're still looking," he said.
The craters were more recent as he climbed a hill where ISIS had once kept a sandbagged post, laying IEDs around it in all directions. The most recent were two weeks old. When he reached the top, the captain began to move more carefully, surrounded by brush that was newly overgrown. "Maybe just stay on the path," he said.
With additional reporting by Ayman Oghanna in Iraq.