The Anatomy Of A Standoff In Crimea
At besieged bases around Crimea, the standoffs between Ukrainian and Russian troops are the front lines of a raging psychological war. This is what happened when one commander decided to fight back.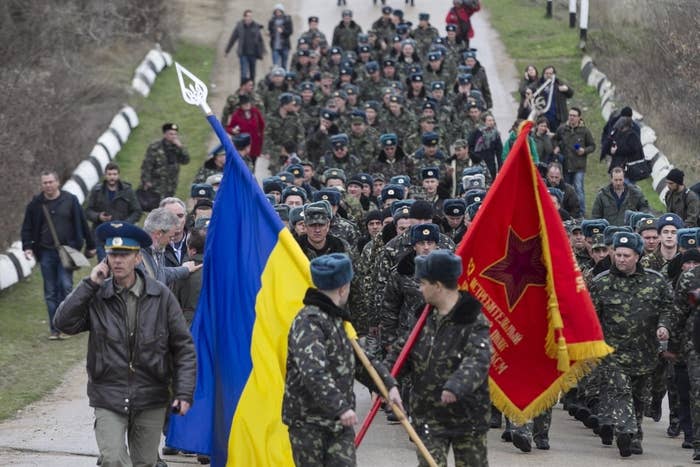 BELBEK AIR FORCE BASE, Ukraine — Russia's psychological war over the Crimean peninsula has taken many turns in the days since its unmarked forces surrounded the airports and military bases here, from naval blockades and ultimatums for surrender to threats of war from Russian President Vladimir Putin himself.
But the front lines are the standoffs that have become a regular feature at besieged bases around Crimea — in which out-gunned Ukrainian soldiers stare down the Russian forces who hope to intimidate them into leaving so they can win Crimea without firing a shot.
On Tuesday morning, one commander decided to turn the tables on the Russians and fight back.
Col. Yuli Mamchur, 42, heads the 204th tactical aviation brigade at the Belbek air force base near the Crimean port city of Sevastopol, which has been overrun by Russian troops bearing automatic weapons and sniper rifles.
At around 8 a.m., Mamchur gathered his men from their barracks and marched them back into the base. The idea was to take a stand — and maybe this time to make the Russians back down. Mamchur's men weren't armed.
The Russians seemed at a loss for how to respond to the brazen move, according to accounts from journalists at the scene that early — firing into the air as Mamchur's column approached.
Then the two sides reached a tenuous truce: Mamchur's men would stay while he and a counterpart for the Russians negotiated. They set the deadline for an agreement for 12 p.m.
Here's what happened next.
Thirty minutes from the deadline, the sprawling base was mostly quiet, with just a few scattered Ukrainian troops manning their posts.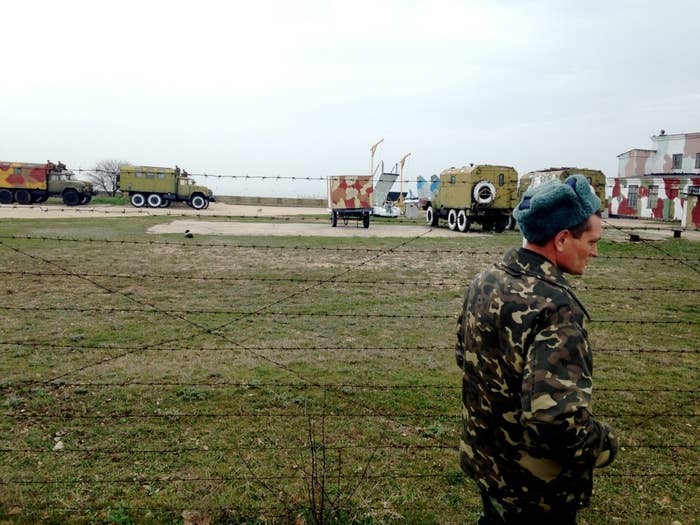 About 200 of Mamchur's men waited in a field by the base, anxious over what might come next. They were surrounded by Russian troops armed with automatic weapons one one side, and sniper rifles on the other.
Some 50 yards away, Russian snipers could be seen keeping a careful eye on the Ukrainians, their helmets just visible above a drop in the ground.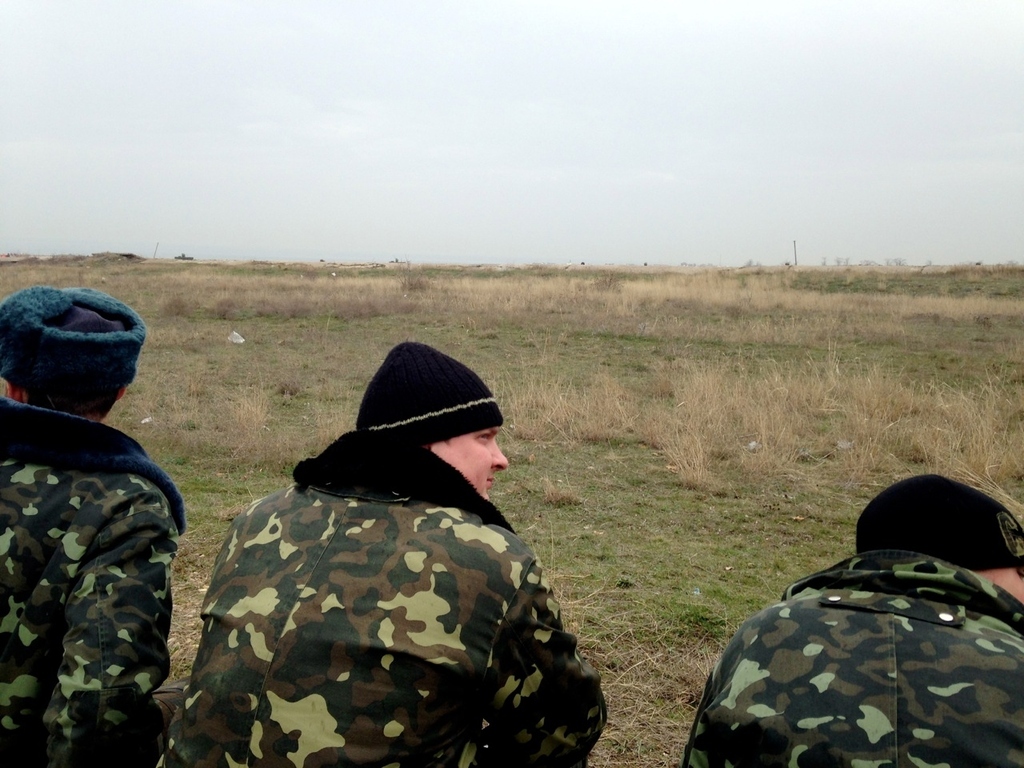 The deadline passed at 12 p.m., and one Ukrainian soldier marked it by raising a Ukrainian flag. Meanwhile, some began to see Mamchur as a symbol of resistance.
"I am just a military soldier who is trying to fulfill my duty," Mamchur told BuzzFeed. He said his orders from Ukrainian high command had been, simply, "to act according to the situation on the ground."
He said he'd chosen nonviolent resistance against the Russians because "I don't have any other option." Asked if he expected bloodshed, he replied: "Hope dies last."
Later, Mamchur announced that there had been no deal. With tensions mounting, some of his men tried to ease nerves with an impromptu soccer match as the Russian soldiers looked on.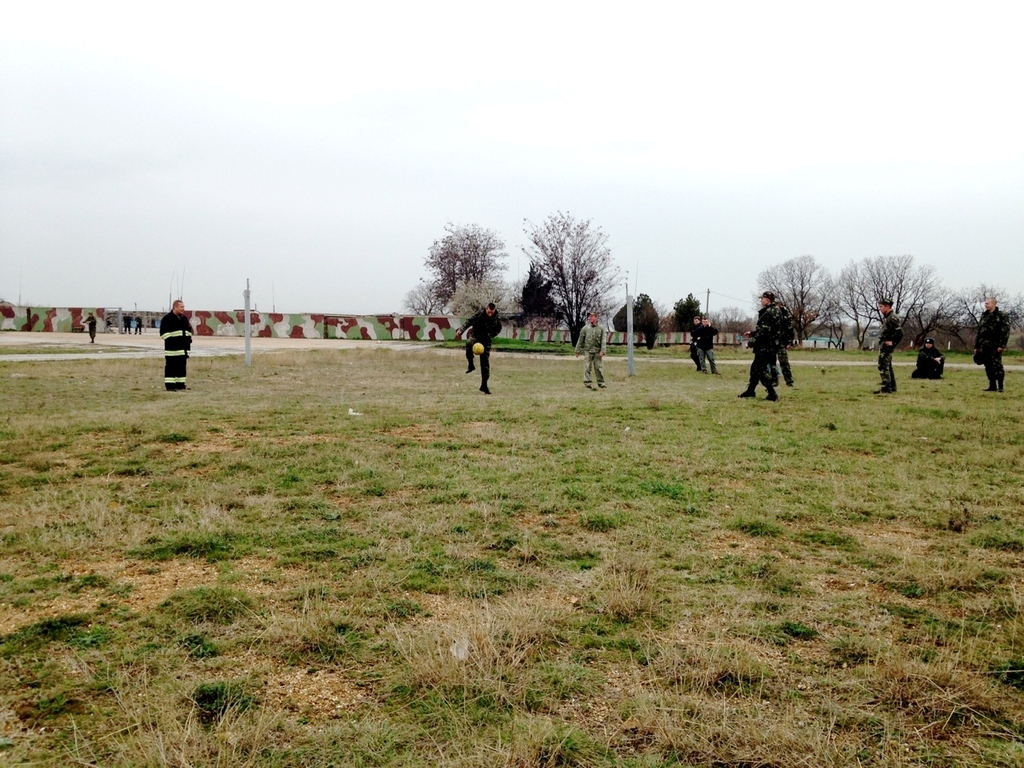 Then these guys showed up, bringing the soccer game to a sudden end.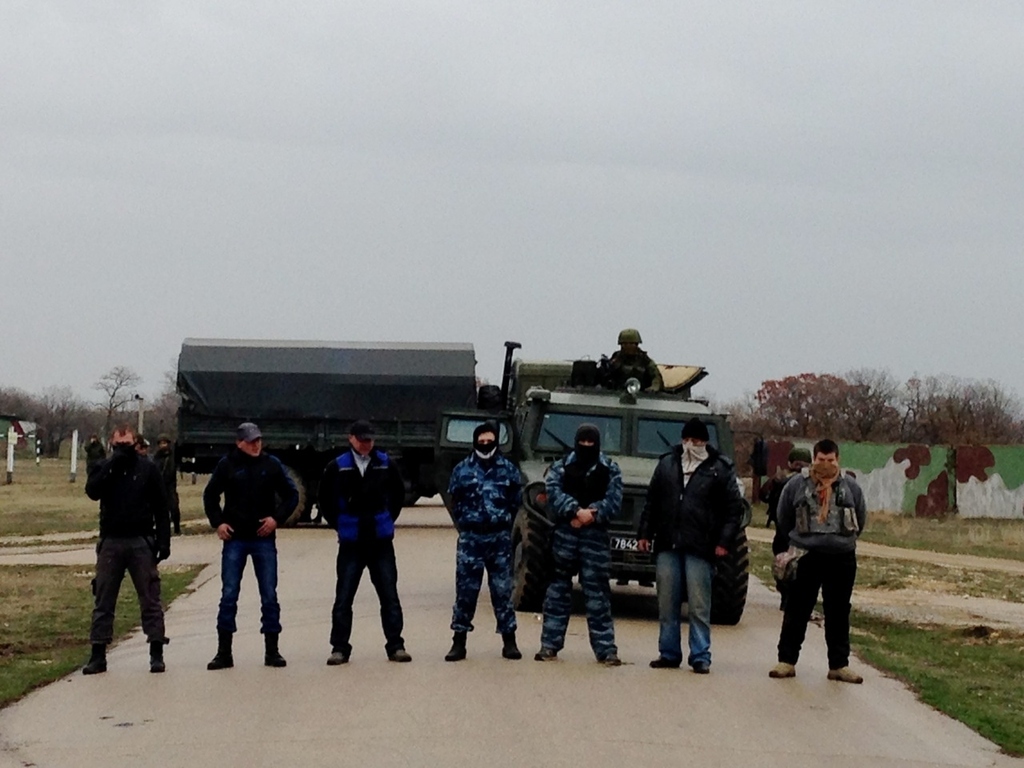 The masked men then engaged in a surreal scene with the journalists on hand, who lined up to take photos, and to shout questions that were answered in English with a stern "no comment."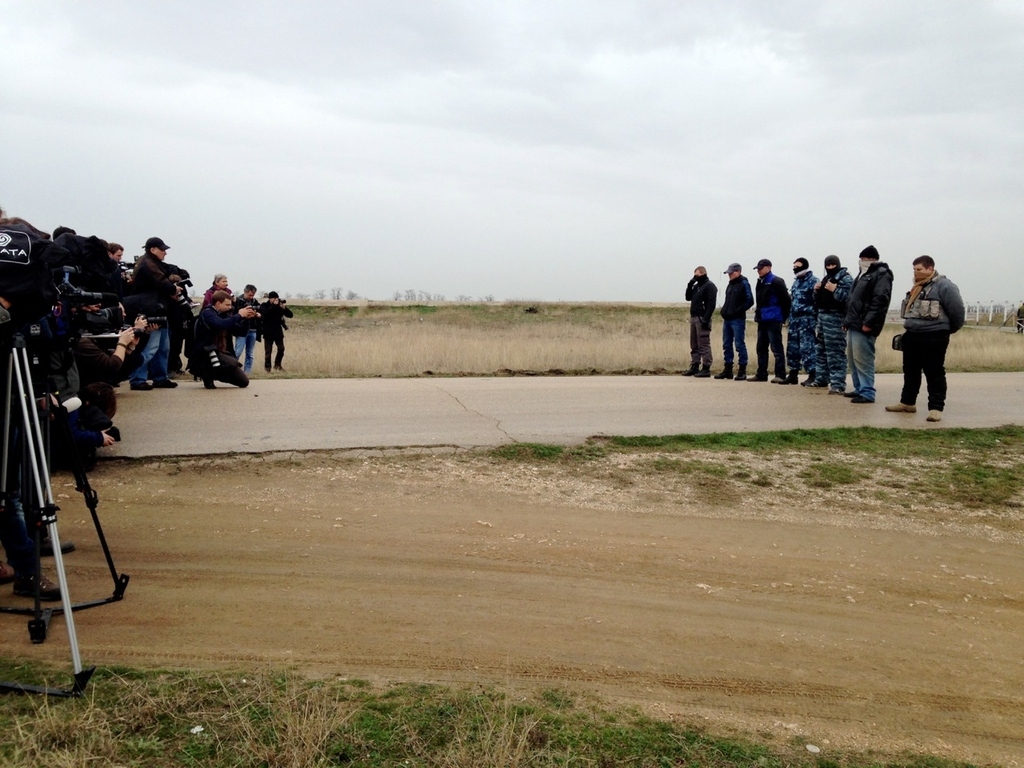 Mamchur, meanwhile, engaged in a tense negotiation, squaring off amid a swarm of reporters with a man in a mask.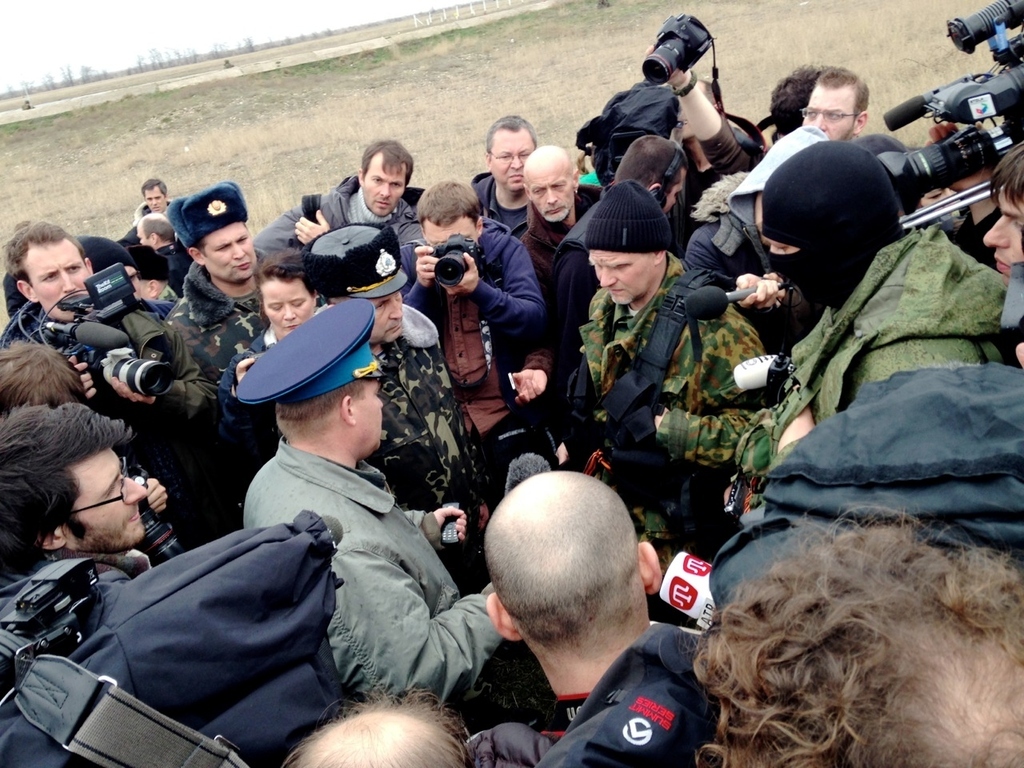 The harried negotiations broke down, and Mamchur lined his men up in formation.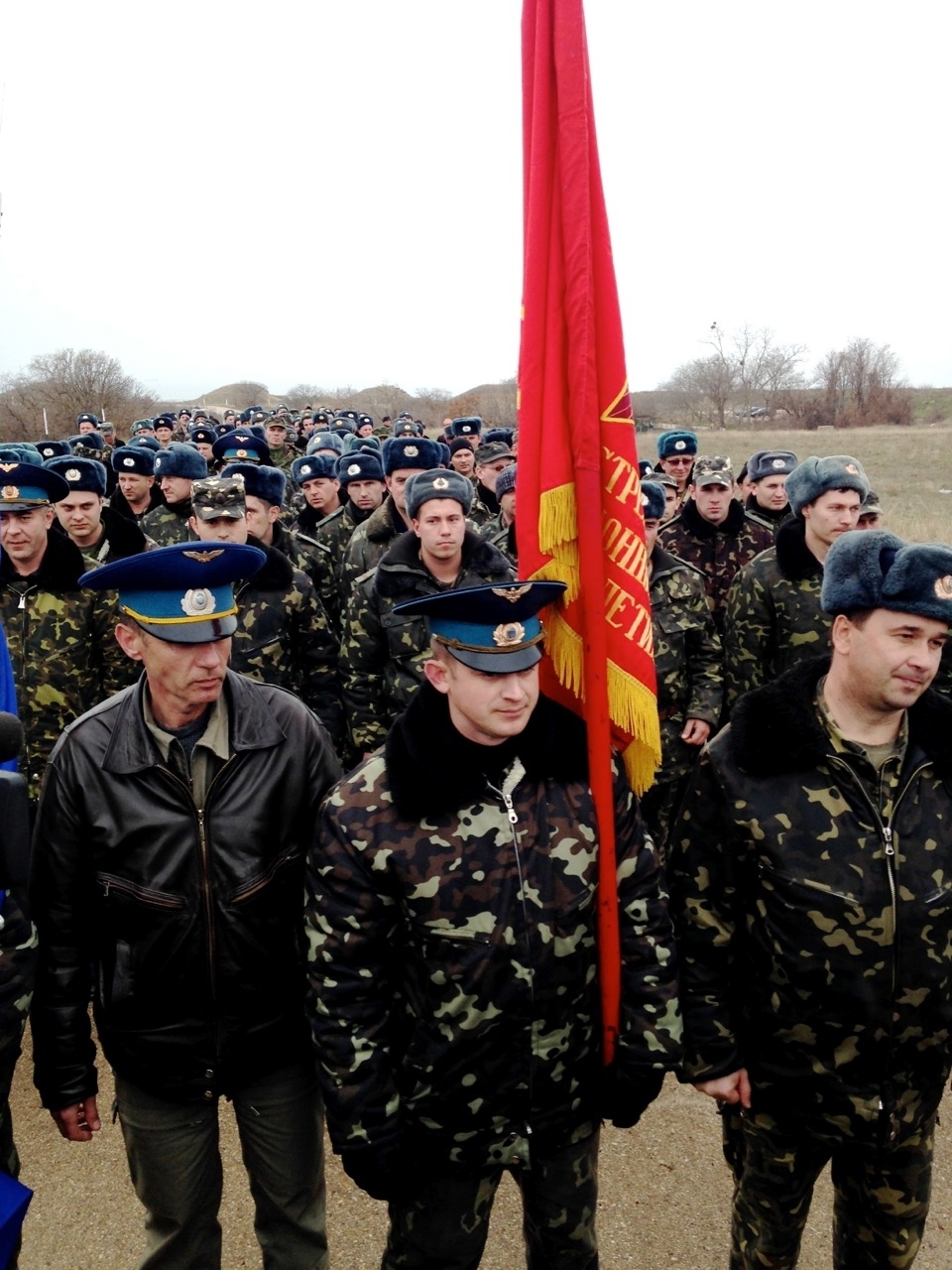 Instead, the men did an about-face — and began to march back to their barracks.
It was a long walk home, on a road that winded past the Black Sea. The soldiers were mostly silent.