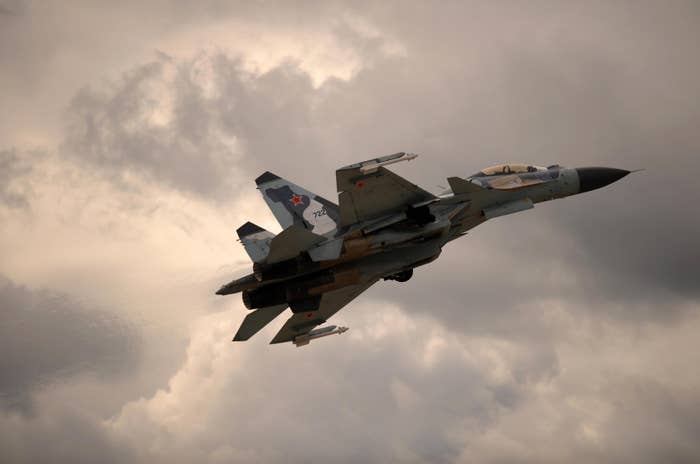 Raed Fares, one of Syria's best-known activists, doesn't think his U.S. connections will offer him any protection from the Russian airstrikes now pounding opposition-held territory across the country. In fact, he thinks the U.S. ties may even put a target on his back. "To be honest," he told BuzzFeed News by Skype, "I'm afraid."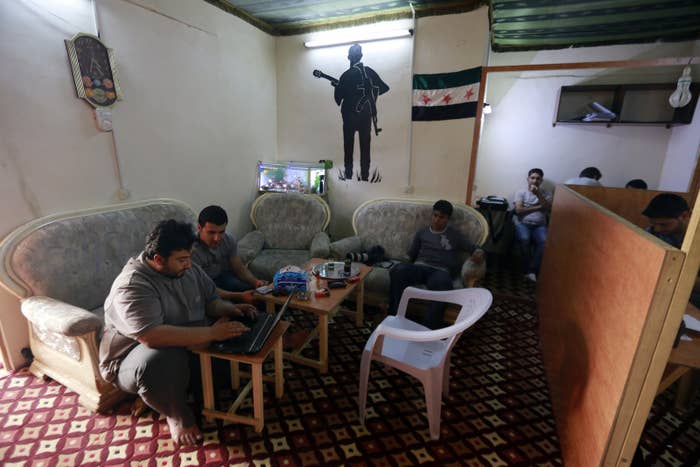 From the northern town of Kafranbel, Fares leads protests against both ISIS and the Syrian government of Bashar al-Assad, often featuring the town's trademark signs, handwritten in Arabic and English, which circulate widely on social media in the West. He also runs a radio station and media center that receive support from the U.S. Now that the Russian strikes, which began on Tuesday, have hit rebels backed by the U.S. government, Fares said, he was bracing for a similar fate. "It won't protect us," he said of the U.S. support he receives, about which he has always been up front. "It may well make us more of a target."
Russia has claimed that its strikes are focused on ISIS. But they have so far centered instead on other rebel groups fighting Assad, a longtime Russian ally. That has included even rebels backed by the U.S. government. In interviews with BuzzFeed News, several Syrians who have received U.S. support, civilian and military alike, said that they feared suffering a similar fate. "They don't care if the U.S. supports us," Jamil al-Saleh, the head of the U.S.-backed rebel battalion Tammaju al-Aaza, told BuzzFeed News on Tuesday, after his group was targeted in the first wave of Russian strikes.
Other commanders with U.S. ties echoed these concerns. A number of rebel battalions have received covert U.S. support since 2013 via a program run by the CIA, in which they receive weapons such as TOW anti-tank missiles. Hassan Haj Ali, the leader of Suquor Jabal al-Zawiya, who said the battalion receives support from the U.S. and its allies, said a training camp run by the group in northern Syria had been hit by Russian jets on Wednesday. "We were shocked yesterday when they bombed Tammaju al-Aaza," he said. "And we realized our turn would be next."
"Right now we are on the front lines with both the regime and ISIS," he added. "They attacked us to support Assad."
There are myriad rebel groups fighting Assad in Syria, including ISIS and Jabhat al-Nusra, the local branch of al-Qaeda. Other battalions span a spectrum of political and religious leanings, from moderate to hardline Islamist. U.S. support has centered on what U.S. officials say are carefully vetted battalions with relatively moderate views, and they are far weaker than many hardline religious groups.
American officials, including Secretary of State John Kerry and Secretary of Defense Ash Carter, have spoken of the need to "deconflict" with Russia, or ensure that the various aircraft operating over Syria don't accidentally engage. It seems, however, that those talks have done little to protect U.S.-tied rebel groups. The Pentagon on Thursday said it "wouldn't engage in hypotheticals" when asked if the U.S. would defend the American-supported groups.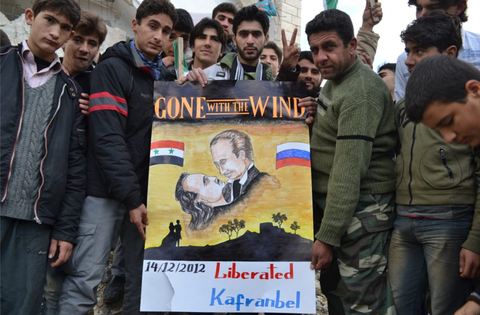 Hassan Hamada, who said his Division 101 Battalion likewise had received U.S. support, said he and other rebel commanders were caught off guard by the Russian strikes. "We were surprised because they attacked groups that get support from the U.S., but now we realized that they are fighting the U.S. through us. They sent a message to the U.S. that says that we will protect Assad, even if you don't accept it."
Osama Abu Zaid, a spokesman for the Western-backed Free Syrian Army (FSA), an umbrella group that includes U.S.-backed battalions, said Tammaju al-Aaza, Suquor Jabal al-Zawiya and Division 101 had all received U.S. support. "Russia doesn't care who supports the FSA," he said.
Fears of Russian attacks extended to U.S. allies on the civilian side as well. One liberal media activist, who, like Fares, receives backing from the U.S., said he expected the Russian strikes to soon target civilian as well as rebel groups opposed to Assad. "This has been a tactic the Syrian regime has used since the beginning of the militarized offensive on the opposition, and we don't expect this tactic to change given an overall success when Assad has practiced it," he said, speaking on condition of anonymity to protect his safety.

The difference, worried one former U.S. official who has worked to support members of the Syrian opposition, is that Russia will be far more effective in such attacks. "The fucking Russians are attacking U.S.-affiliated humans and are probably a lot better at it than the fucking regime," he said, speaking on condition of anonymity due to the sensitivity of his previous work. "As it stands, many of my friends in Syria have been dangerously close to alleged Russian strikes in areas I have zero confidence contained legitimate targets if Russia's true concern is ISIS."