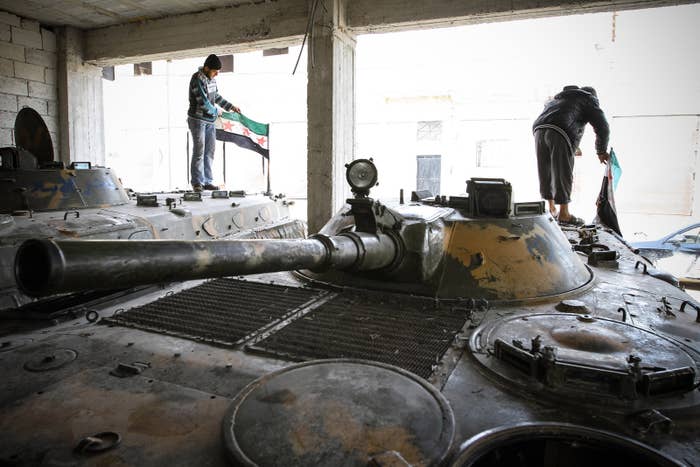 Rebel leaders told BuzzFeed News that the Russian airstrikes that hit targets in Homs, Latakia, and Hama on Wednesday seemed to be aiming not at ISIS, but at those fighting against Bashar al-Assad, some of whom are backed by the United States and other Western powers.
In an interview from Syria via Skype, the top commander of Tajammu al-Aaza, a rebel group in Hama, said it had received support from the U.S. but been targeted by Russia anyway. "We were targeted because we are on the front lines against the regime," said the commander, Jamil al-Saleh. "They don't care if the U.S. supports us."
Tajammu al-Aaza is a rebel group fighting under the banner of the Western-backed Free Syrian Army (FSA) that is widely believed to have been vetted by the CIA to receive U.S. support, including TOW anti-tank missiles. A number of rebel groups have received such covert U.S. support, which is separate from the much-maligned Pentagon program to arm and train rebel groups to fight ISIS.
The FSA began the Syrian civil war as the main military opposition to Assad. As the conflict has progressed, and extremist groups like ISIS and Jabhat al-Nusra have risen, the FSA has seen its position on the battlefield relatively diminished.
Groups like Saleh's have nonetheless been a thorn in the side of the Assad government — and even though Russia has painted its strikes as a bid to fight ISIS, it is widely seen as stepping into the war to prop up its faltering ally in Damascus.
In fact, the announced strikes on Wednesday came in areas with little if any ISIS presence. In an interview, Osama Abu Zeid, an FSA spokesman, said that Russia had failed to target ISIS at all, focusing its effort instead on rebel groups fighting the government. "Russia started bombing FSA to end the revolution," he said.
Russia reportedly asked Pentagon officials to clear out of Syrian air space before launching the attacks, Fox News said, though U.S. officials later walked back the idea that it had accommodated such a request. Even so, now that Russia is sharing the skies with both the U.S.-led coalition bombing ISIS and the Assad regime, its alleged attacks on non-ISIS groups put the Obama administration in an uncomfortable place.
"We were fighting only the regime," Saleh said. "We get support from friendly countries — I don't want to say that only U.S. supports us — and the Russians are against us."
He added: "Assad brought his friends to help him and destroy the FSA."
Saleh said his fighters had watched Russian jets do reconnaissance flights for days ahead of the attack.
Abu Zaid, the FSA spokesman, added that the Russian strikes had killed civilians, echoing claims by a number of rebel and opposition groups. "Russia came to fight the Free Syrian army, not ISIS," he said.