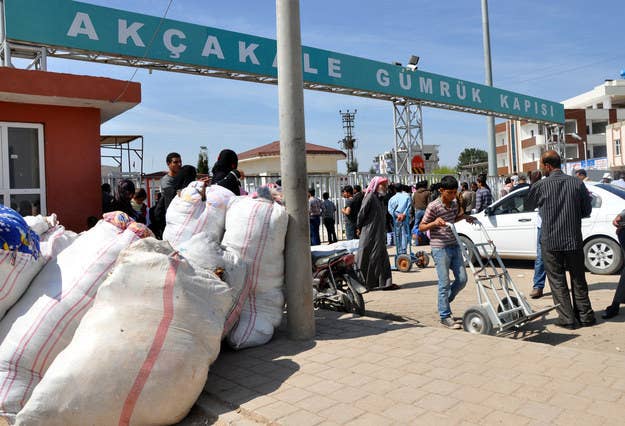 AKCAKALE, Turkey — From his small storefront along a dusty street in this Turkish border town, a trader in his thirties spends his days smuggling into ISIS's self-styled caliphate. It's not weapons or fighters that he sends into Syria but the stuff of normal life: car parts, carpets, and clothes; toys, electronics, lingerie. "I send everything, as if to a regular state," he said.
Turkey's porous border with Syria is notorious for the shadowy dealings that maintain the ISIS war machine, from smuggling foreign jihadis to selling black-market oil and antiques. But it can also be a gateway for the everyday supplies that civilians living under ISIS — often because they have no place else to go — need to live their lives.
On a winter afternoon near the border gate in Akcakale — which leads to ISIS's Syrian capital of Raqqa, and is officially closed — the streets bustled. Border guards often let Syrian refugees cross here informally by foot. So do entrepreneurs like the trader, who fill handcarts with goods. Carts were filled with bundles of clothes, and more merchandise was piled in shops across the street: space heaters, carpets, diapers, microwaves.
A few blocks away, the trader rolled up a metal grate to reveal stacks of tires. This is big business in ISIS territory, he said: Fuel is cheap and residents rely on their cars to get around. Because his work is technically illegal, he spoke on condition that he not be identified.
The lack of independent reporting from ISIS-held Syria means little information has emerged on how residents lead their lives. The consumer goods sent from Turkey offer just a small glimpse. The trader listed other top-selling items that he and his colleagues send across the border: from children's toys and light bulbs to conservative religious clothing, lingerie and jewelry made from Indian gold. MP3 music players are sent with the promise that they won't be used for music, he said. He refuses to deal with alcohol and cigarettes at all. "Anything that's forbidden, we don't work with it," he said.
"Everything is available in Raqqa — except cigarettes and alcohol," said Sarmad al-Jilani, the Turkey-based coordinator of the activist group Raqqa Is Being Slaughtered Silently.
A 26-year-old resident of the city agreed. "People can buy anything they want, if they have the money," she said via Skype.
Jilani said goods reach the city from Iraq as well as Turkey, including high-end U.S. products like laptops and cell phones.
There is a booming business in new iPhones along the Turkish border, the trader said. But there is also a pressing need for staples such as grain, sugar, and cooking oil. Many factories and farm fields in opposition-held Syria have been destroyed; the trader said Raqqa residents can find only limited supplies from areas controlled by the Assad regime. "They are living on imports," he said. "These are the basic nutrients of life."
The trader was proud of his work — and felt that the prospect of well-stocked stores brought Raqqa a sense of normalcy. "It's like a country," he said.
With additional reporting by Munzer al-Awad in Turkey.