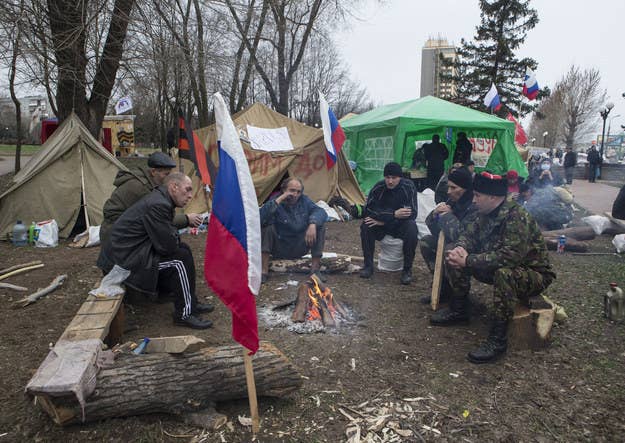 OLEXEYEVKA, Ukraine — As pro-Russia crowds stormed government buildings across eastern Ukraine last Sunday, two men approached a makeshift military base in the small town of Olexeyevka, less than half a mile from the Ukraine-Russia border, and began to menace the soldiers inside. "We will kill you if you don't leave this place," they said.
The base belonged to a contingent of Ukrainian border guards who had built it only the previous month, hauling Soviet-era tents out of storage and cleaning out old debris from what had been a storage lot. With Russian forces massed across the border and fears of intervention high, the men at the base had come to reinforce Ukraine's first line of defense against the growing threat from its neighbor — and the mysterious men that night showed how murky it could be.
When they slipped back into the night, the border guards were left wondering just who exactly the two men were — locals angry at the sudden influx of troops? Separatist agitators on orders from Moscow? Or maybe even Russian spies? The men had said they were from a nearby Ukrainian town, but locals later said that no one matching their description lived there.
Border guards like Lt. Col. Vasiliy Polevoy, an 11-year veteran of the guards and senior officer at the base, have spent most of their time dealing with this issue since unrest first gripped eastern Ukraine in March following a bloody revolution in Kiev that ousted the country's president. Tens of thousands of Russian troops have since massed just a few dozen miles away at the border, prompting Ukraine's government and Western powers to voice fears of an impending invasion. Guards like Polevoy, however, say they are more concerned about infiltration: "provocateurs" sent across the border from Russia to stir the kind of unrest that had been gripping eastern Ukraine since March.
Russia denies causing the turmoil in the east, and blames the troubles on Western governments for backing the new government in Kiev, which it says encourages far-right forces intent on wreaking havoc. But considerable evidence pointing to a Russian hand in Ukraine's recent troubles has put Ukraine on red alert. Conscious of losing the information war to Russia's propaganda machine, Ukraine has turned away more than 20 Russian reporters at the border, according to the Organization for Security and Cooperation in Europe. Kiev has even ended unrestricted travel for Russians to Ukraine, a move that would have been unthinkable only two months ago.
The same day that the men slipped toward the base in Olexeyevka, pro-Russian protesters in the eastern cities of Donetsk, Kharkiv, and Luhansk seized provincial government offices and security services buildings and declared their intent to hold independence referendums that would eventually see them join Russia. The revolts, broadcast live on Russian state TV and accompanied by a flood of rapturous tweets about a "Russian Spring" from pro-Kremlin bloggers, bore more than a passing resemblance to disturbances in the same cities on March 1, during which activists stormed government buildings and raised Russian flags over them. At least some of that unrest turned out to have been led by Russian "tourists," including a Moscow native who later bragged on Facebook about raising the Russian flag over Kharkiv's government building.
Accusations have flown that Russian agents have been stirring the most recent unrest — either to destabilize the area ahead of presidential elections set for May or to create a pretext to invade. Ukraine's security agency, the SBU, announced several arrests this week of Russian citizens it said were part of "diversion groups" sent across the country's porous border to spread chaos in the east.
But many of the activists who occupied government buildings this week insisted they were Ukrainian, with one protest leader in Donetsk saying he received nothing more than advice from political operatives in Moscow. Many have made a point of waving their Ukrainian passports at reporters; none of the 63 separatists arrested after police cleared the government building in Kharkiv turned out to be Russian citizens.
The SBU has pointed to the example of Roman Bannykh, 28, who was apprehended crossing the border near Luhansk. Bannykh allegedly coordinated a cell of three Ukrainians and one Russian who supplied separatists with weapons and explosives.
Then there's the case of recent Russian college graduate Maria Koleda, 22, who was arrested for wounding three people with a recalibrated pistol during scuffles outside a government building in the southern city of Kherson. She also allegedly organized "diversion groups" that planned to cause unrest in Donetsk, including with explosives she supplied.
The SBU released a screenshot from her page on Russian Facebook clone Vkontakte, where Koleda posed holding an automatic rifle.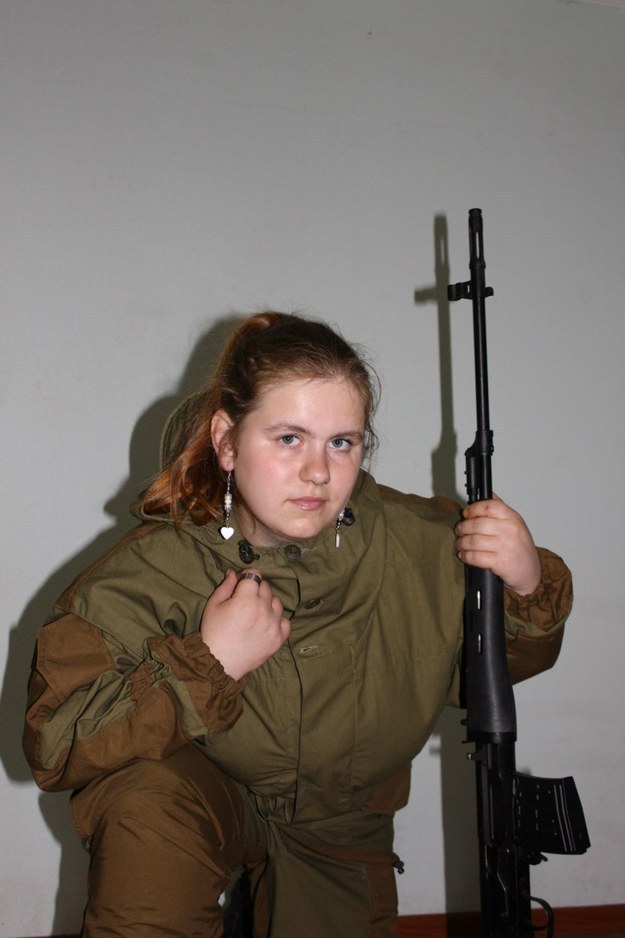 Washington believes that the series of disturbances in eastern Ukraine were organized and paid for in Russia, U.S. Ambassador to Ukraine Geoffrey Pyatt told BuzzFeed. "We certainly think there's an escalation — it's not a coincidence that all these building seizures took place at one time," said Pyatt. "Of course there's local unhappiness but it's clear that there've been efforts from outside to stir the pot and destabilize the situation," he added.
Another Western diplomat in Kiev said that Russia's concerns over Russian-speakers in the southeast were a screen for a "sustained campaign" of destabilization.
"If it were about the conditions they name at negotiations, that'd be one thing. Ninety to 95 percent of Ukrainians don't give a fuck about the language law anyway," continued the diplomat, referring to Russian support for a law that gives Russian de facto state language status in predominantly Russian-speaking regions. Moscow is demanding that Ukraine make it a second state language nationwide and devolve more power to the Russian-speaking southeast, a move Kiev says would be tantamount to the breakup of the country.
"But if one demand is met, there's always going to be something else," said the diplomat. "They're not going to stop."
U.S. officials point to numerous pages on Russian social networking sites, particularly the Facebook clone Vkontakte, that have called on Russians to visit Ukraine and take part in the diversion groups. Some of them boast of links to Viktor Medvedchuk, a Ukrainian politician known as the "Prince of Darkness" who says Putin is his daughter's godfather, and Alexander Dugin, a Kremlin-connected advocate of a greater "Eurasia" with Moscow at the helm.
In late March, a recording of a Skype conversation appeared online in which Dugin told separatists "not to find a common language with the new authorities in Kiev but rather act radically" and claimed that "the Kremlin is inclined to decisively struggle for the independence of South-East Ukraine."
In late March, a recording of a Skype conversation between Dugin and jailed Donetsk separatist leader Pavel Gubarev's wife Ekaterina appeared online.
Russian ultra-nationalist and neo-Nazi groups have also figured prominently in the unrest. In late March, Ukrainian authorities deported Anton Rayevsky, the leader of a group called the Black Hundred, from the southern city of Odessa, where he was allegedly plotting to cause disturbances on Ukraine's border with Transdniester, a breakaway pro-Russian region of Moldova. Dmitry Bobrov, who heads a group called the Russian People's National Socialist Initiative, posted footage of group members receiving military training before heading to Ukraine and claims to have "consulted" with groups in Kiev.
"The Russians keep harping on about the alleged neo-Nazis and radical nationalists in Ukraine, but it is quite clear they are hypocritically sending thousands of their own neo-Nazis and radical nationalists to destabilize eastern and southern Ukraine," said a Western diplomat in Moscow. Russia "then accuses the Ukrainian government of not doing anything to stop the lawless actions of these radical nationalists," the diplomat continued, citing numerous past instances where far-right groups have reportedly performed covert work for the Kremlin.
Russian Foreign Minister Sergey Lavrov rejected those kinds of accusations in an interview on Russian state television Friday. "They accuse us of having some agents from our secret services there. They're not there, we also don't have any troops there by definition," said Lavrov. Lavrov admitted that some Russian citizens were taking part in the demonstrations, but claimed that this was "nothing surprising" because "all sorts of people" had travelled to protest against Yanukovych last winter.
"It's first and foremost the fault of those who declared themselves the government in Kiev that people were reduced to despair when they raised Russian flags and cried, 'Putin, help us, save us from the fascists!" said Lavrov. Russia has no plans to incorporate Ukraine's southeast, Lavrov added, saying that doing so "contradicts the Russian Federation's core interests."
Moscow refuses to recognize Kiev's new government, which it claims is encouraging nationalists and "fascists" who persecute and terrorize Russian-speakers in the southeast. Much of the rhetoric has focused on the armed nationalist group Right Sector, which was highly visible during the protests in Kiev. Moscow has repeatedly attempted to portray it as a western Ukrainian equivalent to Islamic insurgent groups in Syria, even though many analysts say the Kremlin grossly overstates its influence. Almost none of its claims about the group have been independently verified; several have been proven false. That hasn't stopped state networks using it as a catchall bogeyman to terrify Russian-speakers in the east.
Russian state TV channels recently ran packages featuring a hospitalized man, Andrei Petkov, who appeared on different sides of the conflict on different networks.
Polevoy, the border guard, said local Ukrainians with Russian links were just as much of a concern as Russian "tourists." The guards, he said, had lists of suspicious people who had crossed into Russia in recent weeks — and who might try to return with new training and plans to stir further unrest. "It is much easier for [the Russians] to do it this way," he said. "And much more difficult for us to find out.
The SBU has arrested several Ukrainians who it says were members of Russian cells or working for Russian intelligence. One was spying on troop movements for Russia's Black Sea Fleet; another group was caught allegedly handing stolen computer files to a Russian agent in Kharkiv. But while Ukrainian authorities were working to identify potential Ukrainian provocateurs, Polevoy pointed out one problem: "A lot of the guys, they were not seen before in any political activity. We knew nothing about them before this happened."
And he said he guessed that most of the people Russia wanted to use to stir unrest in eastern Ukraine were likely already in the country. "This is something they have planned for a long time." New recruits, Polevoy added, were now being trained not only to prevent infiltrators from crossing the border — but also to deal with those "already in Ukraine."
The new courses being taught included dealing with explosives, uncovering weapons caches and managing hostage situations. "All of this appeared only recently," said Polevoy, who oversees the trainings.
As Col. Igor Momot, the top border guard officer overseeing some 25 miles of border, explained, Russia can cause plenty of trouble without sending one soldier to the area. "The experience of Crimea shows that this is a very big threat," he said.
The ragtag outpost — part of a surge in Ukrainian troops to the area in a desperate bid to ward off a potential attack — sat in the middle of farm fields. Around 400 people were housed in the newly set up tents, many of them fresh recruits. They had given the tents tongue-in-cheek names — Machine Gun Street was one — but the barracks feel of the camp belied the fact that the guards weren't used to the high military stakes. Only a few soldiers had flak jackets, and Polevoy said those had been donated by sympathetic local war veterans. "We never needed the vests before," he said.
The soldiers were also well aware of the increasingly fragile peace they had parachuted into. They tried to avoid any outward display of patriotism, for fear of angering pro-Russia locals. Col. Momot drove around in an unmarked SUV that had been provided by a local activist. "We are trying not to provoke the people," Polevoy said.
Polevoy said they received regular tips and warnings of alleged Russian infiltrators, that often turned out to be false alarms, which he guessed to be misinformation from the Russians. "My thought is that they are just trying to get us tired, so that when something real happens, we will not react," he said.
Max Seddon reported from Kiev, Ukraine.